10 Pieces of Truly Free Video Editing Software (with No Watermarks)
Seeing a watermark on your video after spending hours editing it feels infuriating. Yet a few video editing software developers are still using this practice to limit the free usage of their products. Originally, there's nothing wrong with watermarks – as long as you know they will be there after you export your project. However, most times, those watermarks catch you by surprise.
For creators who have been in this situation and those who want to avoid it in the future, we've put together a list of free video editing software with no watermarks. We've personally tested each editor on the list to make sure there's no company logo stamped all over the video after export.
The roundup below features video editors for Windows OS, Linux OS, Mac OS, and a couple of web-based tools. In other words, regardless of what you're using, we've got you covered.
VSDC (Windows PC)
VSDC is a free video editor for Windows PC users. It brings an array of tools that will help you apply minor edits like trimming a video, adding text, and removing the soundtrack – as well as more in-depth montage techniques like color correction, FX, and blending.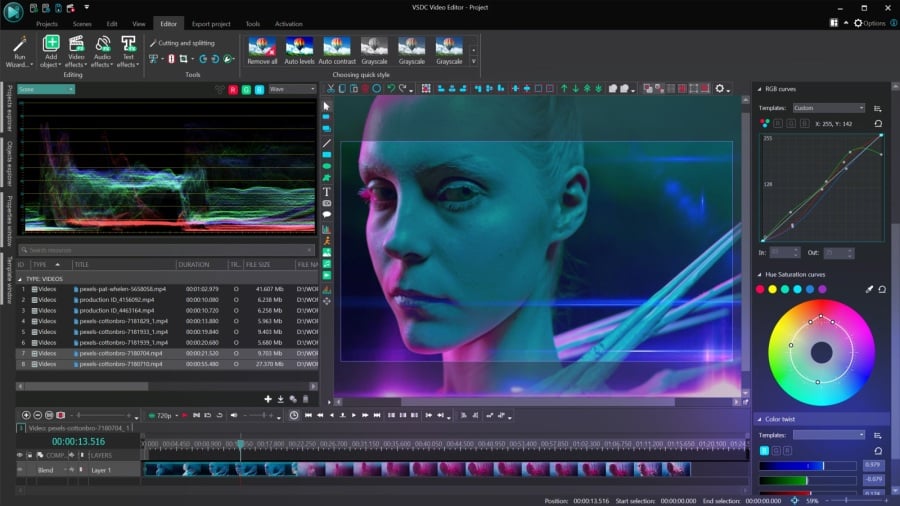 VSDC offers dozens of customizable video and audio effects, transitions, and color filters. However, one of its most prominent features is the extensive color correction toolset. For instance, in VSDC, you can manually adjust brightness, contrast, gamma, and other values, or you can use color scopes, channels, and wheels. But most importantly, you can perform color correction using the built-in LUT editor. Not only does it allow you to apply ready-made LUTs to your footage, but it also lets you create your own LUTs and save them as templates.
Apart from the video editing toolset, VSDC comes with a built-in video converter, a desktop screen recorder, a webcam video capture tool, a voice recorder, and a YouTube uploader. Compared to most video editors, VSDC is surprisingly lightweight. It works even on potato computers with just a couple of gigabytes of RAM and opens footage from any device without you having to convert it into a required format.
The project is monetized through a premium version called VSDC Pro. The upgrade is available for $19.99 per year, and it includes premium features like masking, motion tracking, and audio waveform. However, if you aren't looking for these professional-level tools, the free version of VSDC will be more than sufficient.

DOWNLOAD VSDC VIDEO EDITOR
Kapwing (Web-based)
Kapwing is an intuitive video editor, perfect for those with zero editing experience. The tool works in the browser which means you can use it on a computer, on a tablet, and even on your phone, as long as you have a stable Internet connection. This also means you don't need to have a powerful computer because this software runs in the cloud.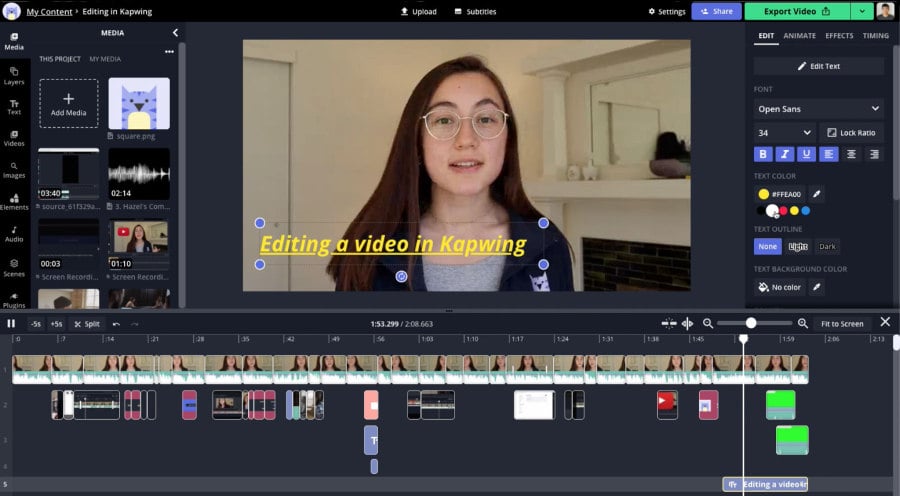 Once you log into your online workspace with Kapwing, you can upload files from your desktop or import them directly from Google Drive or Google Photos. There are several tracks for video and audio files, which means you can overlay files and easily create a picture-in-picture effect, split-screen, or video collages. The editing menu is pretty straightforward too: you can trim, split and rotate files, play with the playback speed and the zoom effect. There are several standard transition effects and a built-in Chroma Key tool for removing the green background.
What makes Kapwing stand out from the competition is its built-in multimedia gallery. Not only does it provide you with video templates designed for social media platforms, such as Linkedin and Instagram, but it also comes with an integrated gallery of stock images, videos, soundtrack, and even sound effects. Whether you're going to use these assets in your video as is or source inspiration, it's hard to deny the convenience of having them at hand.
Like VSDC, Kapwing's monetization model is based on the premium-version subscription, however, in this case, the restrictions of the freemium solution are more noticeable. With the free version, you can export only 3 videos per month without a watermark. Each video must be under 250 MB and shorter than 30 minutes. If you decide to upgrade, that'll be $24 per month or $192 per year.
Visit Kapwing official webpage
iMovie (Mac and iPhone)
For Mac owners, iMovie is usually the default video editor because it's free and it comes pre-installed with macOS. iMovie is an easy-to-use NLE that will work well for both beginners and professional users. If you own a Mac, and you haven't explored iMovie yet, look no further.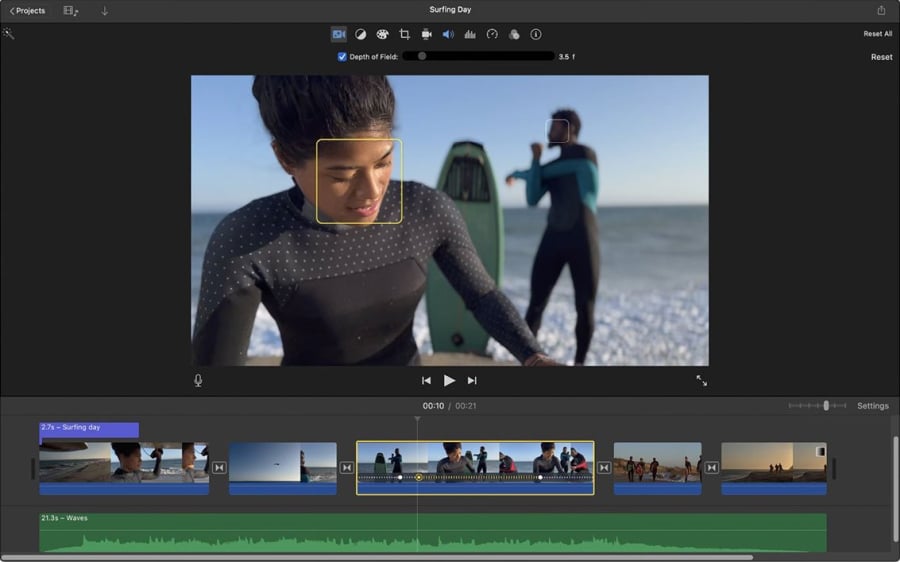 The program has a modern, intuitive layout and a timeline featuring multiple tracks for video and audio files. The basic editing toolset includes cutting, trimming, shaky footage stabilization, color correction, and even background noise removal. Like Kapwing, iMovie brings a wide selection of presets, including backgrounds and animated text templates for title intro, lower thirds, and scrolling credits. Templates are easily accessible from the main menu, and you can preview them in action before applying, which is very convenient.
The integration with iTunes allows for importing soundtracks from your music library right within the program's interface. On top of that, there's a built-in library of royalty-free soundtrack music tracks and audio effects.
Unlike most video editors on this list, iMovie has no premium versions or Pro features you'd have to pay for. It's completely free video editing software with no watermarks, trial periods, format limitations or upgrades.
View iMovie in the Apple App Store
Kdenlive (Windows, Mac, and Linux)
Kdenlive is a free, open-source video editor that works on Windows, Mac, and Linux OS. It's not as beginner-friendly as Kapwing or iMovie, but it brings an extensive set of features and a high level of control of video effects and color correction settings.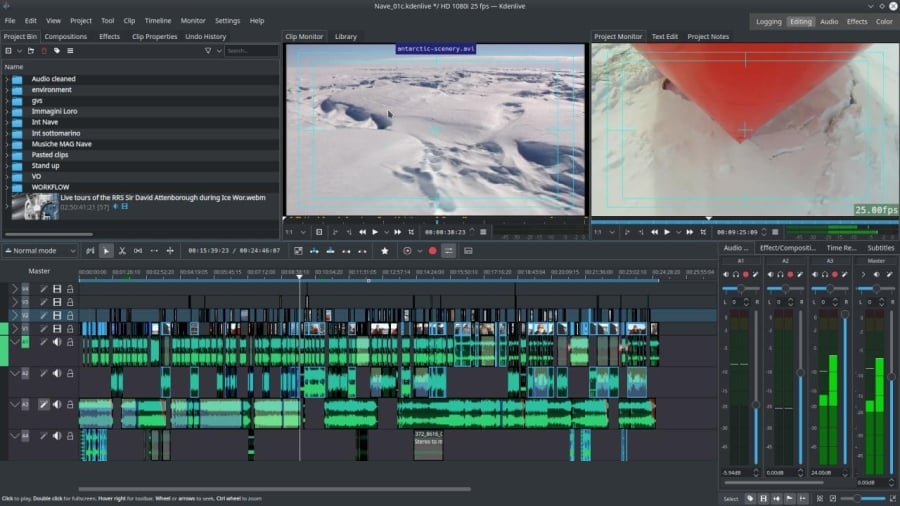 Apart from basic video editing, Kdenlive allows you to create animated titles, use multi-camera editing functionality, work with alpha channel, and deep-dive into audio settings. For color correction, you get the standard RGB adjustment tools, white balance controls, keyframable brightness controls, gamma settings, and more.
Like VSDC, Kdenlive is very lightweight. Not only does it have low system requirements, but it also goes easy on your PC due to the powerful proxy technology. Essentially, this means that the program creates smaller-size copies of your files for faster rendering while you're working on your project. When it's time to export the video, the tool applies all the changes and effects to the source files, so you end up with the file of original quality. Proxies make it much easier to edit 4K and effect-heavy projects.
Kdenlive is a completely free piece of video editing software with no watermarks or hidden fees. Keep in mind that because it's an open-source program, you can't always expect proper technical support from the team members. However, there's an active user community on Reddit and lots of video tutorials on YouTube that might answer most of your questions.
Visit Kdenlive website
Lightworks (Windows, Mac, and Linux)
Lightworks is one of the pioneer tools in the video editing industry. With over 25 years in the market, it's been recognized as one of the go-to solutions for professional filmmakers and used in the production of such legendary movies as Pulp Fiction and King's Speech.
Unlike most desktop video editors, Lightworks asks you to create an account before downloading the software. Once registered, you'll be prompted to select your computer's OS and watch an introductory video while the program is being downloaded and installed. Although it may seem like an extra step preventing you from getting started – in practice, it helps you be better prepared to work with the tool.
Professional movie makers praise Lightworks for keyboard controls and convenient cutting tools designed specifically for working with large volumes of footage. However, the suite also brings an impressive selection of built-in video effects and color correction controls.
Lightworks brings three subscription plans, designed for creators of different experience levels. In the free version, this video editing software has no watermarks or significant toolset limitations – however, as a free user, you're limited to 720p resolution and only two predefined export options: YouTube and Vimeo. Feature-wise, the free toolset is sufficient for newbie creators, according to the company. When you're ready to step up your video editing game, you can choose between Lightworks Create ($9.99 per month) and Lightworks Pro ($23.99 per month).
Visit Lightworks website
Avid Media Composer First (Windows, Mac)
Avid Media Composer First is a free version of the full-featured Avid Media Composer software, but as a beginner user, you might not notice significant limitations. Overall, it's a powerful tool for aspiring video makers that can help you create projects of any complexity.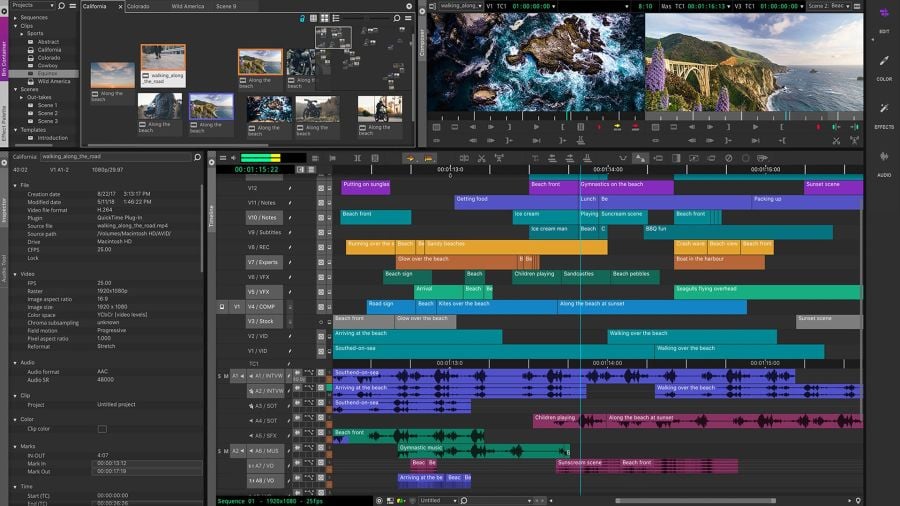 The editor comes with 4 video tracks and 8 audio tracks, multicam editing, smart trimming tools, video stabilization, a large selection of audio and video effects, and a color correction toolset. The program also supports AVX and AAX plugins from the Avid Marketplace. At the export stage, you can save your video in 1080p resolution and upload it directly to YouTube or Vimeo.
For stable software performance, the developers recommend having at least 16 GB of memory (32 GB if you're working with UHD or high FPS videos) and a powerful graphics card.
Visit Avid Media Composer page
Openshot (Windows, Mac, and Linux)
Openshot is another open-source, free video editing software without watermarks. Of all tools, this one is probably one of the most newbie-friendly editors, and it works on any operating system (OS) including Windows, macOS, Linux, and Chrome OS.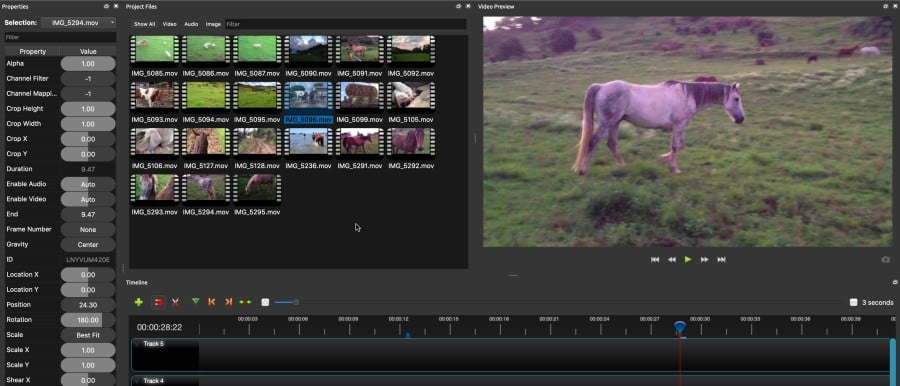 Like most non-linear video editors, Openshot allows you to use multiple tracks and mix multiple files in the same scene. You can easily achieve a picture-in-picture or split-screen effect. There's a good selection of video transitions, a built-in gallery of emoji icons, and a separate menu tab housing video and audio effects. The latter group includes some really cool effects like Robotization, Whisperization, and Distortion.
For video titles, Openshot offers over a dozen pre-designed templates including generic text titles, lower thirds, Creative Commons license messages, and Film rating warnings. For animated titles, Openshot suggests connecting Blender – a free open-source animation program.
Openshot has no paid version of their software. The company's monetization model seems to include website ads and donations. As with many unmonetized products, you may expect a lack of stable performance and technical support. However, if you like the interface and only need the editor for basic tasks occasionally, Openshot might very well be the right solution for you.
Visit Openshot website
Clipchamp (Web-based)
Clipchamp is an online video editing app that has a free version and allows you to export videos without watermarks. The developers of the platform are targeting creators, influencers, and online teachers – as opposed to professional videographers – making the video creation process quick and effortless with templates.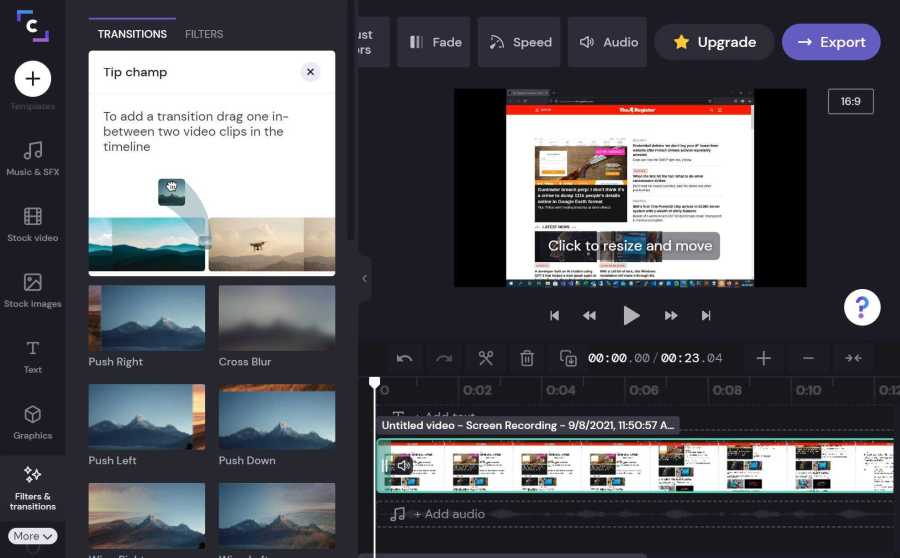 Clipchamp works right in the browser, so all you need to do is register an account and follow the prompts. From there, you'll be able to select a template for your video or start from scratch by uploading your media and adding text elements, images, and sounds as you go. Like VSDC, Clipchamp allows you to record your screen and capture webcam video – all within the same app.
If you're a creator working on a video for social media, perhaps the most convenient part about this editor is its extensive gallery of stock media files, including royalty-free videos, images, and sounds. The app even has built-in stickers and a GIF gallery from GIPHY.
At the export stage, you can save your video in MP4 format and 480p, 720p, 1080p, or GIF. You can also send the video directly to YouTube, TikTok, Pinterest, or one of your cloud storage platforms. So what are the key limitations of the free version? First, if you're a free version user, some of the premium-level stock files and templates will be unavailable to you. Second, the paid tiers (starting at $19/mo) include brand kits designed to help you create consistent content aligned with your brand's style — and as a free user, you have no access to them. That being said, even without all the bells and whistles, Clipchamp looks like every social media manager's dream.
Visit Clipchamp website
Videopad (Windows, Mac)
Videopad is a video editor for Windows OS and Mac OS X that offers a free version for non-commercial use. The program offers a plethora of tools including video and audio recorders, a screenshot capture tool, and a template gallery (more on that in a moment). However, the ribbon-style interface may quickly overwhelm an inexperienced user, so we highly recommend watching an introductory tutorial before getting started – especially since they're conveniently accessible through a dedicated tab in the preview window.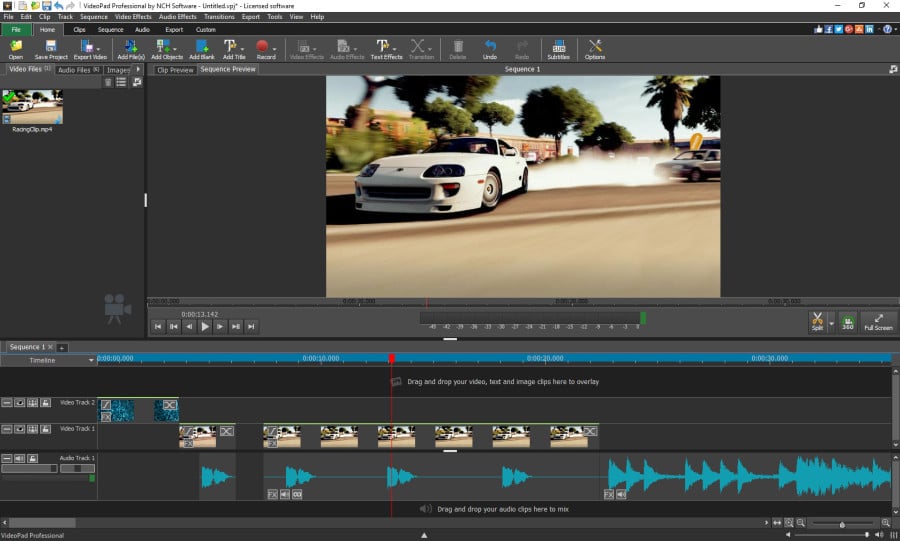 By default, Videopad offers only one video track and one audio track, but it's possible to create additional tracks and overlay files using masking, green screen, or picture-in-picture effects. There's also an impressive collection of transition and animation effects, including Motion blur, Zoom, Ken Burns, and plenty of others. Like VSDC, Videopad provides in-depth control of the effect parameters, which means you can adjust the way the effect looks and tailor it to your needs.
Most creators will benefit from the set of built-in libraries featuring sounds and sound effects, frames, and clipart objects. Another valuable addition to this software is called "Video maker." Designed as a video template gallery, it allows you to quickly create an animated intro, outro, or even a slideshow-style video for a special occasion. All you need to do is add the content and type your own text where it's required.
At the export stage, Videopad reminds you of the premium version of their software, but as a non-commercial user, you can skip the reminder and proceed to the settings. There are no format, duration, or resolution limitations, and you can save the video on your computer, export it to a DVD, or upload it directly to YouTube, Vimeo, Dropbox, Google Drive, OneDrive, or Flickr.
Visit Videopad webpage
Davinci Resolve (Windows, Mac)
Davinci Resolve is an award-winning video editor developed by Blackmagic Design. Although it provides a full spectrum of video editing features, what makes Resolve stand out from the competition is its color correction and color grading toolset. This program is famous for being the software of choice for such movies as Avatar, La La Land, and Pirates of the Caribbean.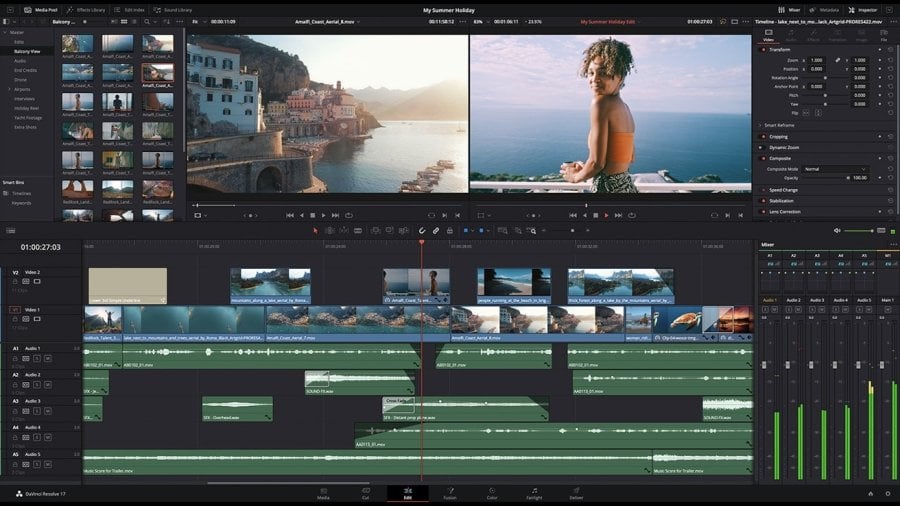 Now, even for experienced video creators, Resolve is a complex platform that will require some time to master. However, if you strive to become a professional movie maker, knowing your way around it will pay off. As a matter of fact, if that's your ambition, you may want to skip the rest of the programs from the list and go straight to Davinci Resolve because it has everything to help you take your filmmaking skills to the right level. The program offers a convenient cutting and splitting toolset, effects menu, intuitive timeline, text editor, and pro-level audio processing.
For color correction and color grading, you can use color scopes, curves, and wheels. When working on repetitive color matching tasks, you can easily apply node structure from previous projects as a template. And if you're trying to achieve a look from a particular image, you can use it as a reference shot right in the program and compare your footage with the original while performing color grading.
Resolve is a rare example of truly professional video editing software that comes for free without watermarks or feature limitations. Bear in mind, however, that apart from the time investment, this software requires a powerful machine to operate. In addition to sufficient storage space, you want to have at least 8 GB of system RAM and at least 4 GB of graphics memory.
Visit Davinci Resolve official website
Honorable mentions
Video editing software, including professional-level software, stopped being a category of tools available to videographers only. It's now available to nearly anyone with a decent computer and an Internet connection. The market is growing, much due to the rise of the creators' economy, so new video editing tools continue to pop up every few months.
This means you can find the right software regardless of your computer's specs or video editing skills. For instance, if you're looking for a lightweight yet full-featured solution, VSDC, Kdenlive, and Openshot will be your best bet from this roundup. If you prefer working in the browser, Kapwing and Clipchamp are both great options for non-professional use. And if you need a tool to start your professional journey as a filmmaker, consider Davinci Resolve, Avid, or Lightworks.
Want more options to test? You can try Shotcut (open source), Hitfilm Express, Olive editor (open source), or VN video editor (MacOS). All four pieces of video editing software are free and have no watermarks. Spend some time with every option, test the features you think you'll be using the most, and see which one has the interface and toolset that satisfies your needs!