6 iMovie Alternatives for Windows You Should Try in 2023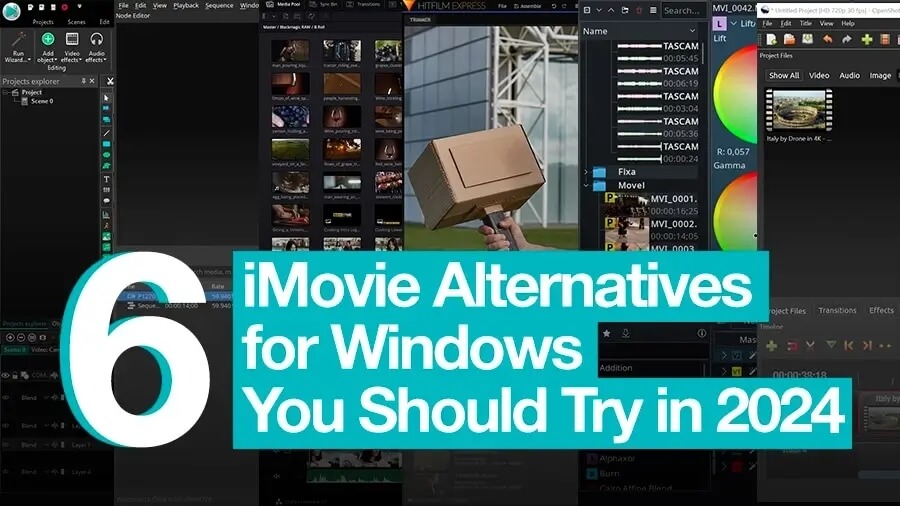 Of all video editing tools for Mac, iMovie is our favorite one, and we've recommended it many times on this blog. iMovie comes pre-installed on most Apple devices; it's free and intuitive. It's also a favorite video editor of many – from amateur users to professional YouTubers. There is just one little inconvenience about iMovie: it's unavailable on Windows.
Before you ask, no, there are no plans to release iMovie for Windows, and there is no way to install iMovie on a Windows PC either. So, if this is what you were looking for, we suggest you look at 6 free video editors that make good iMovie alternatives for Windows, regardless of your PC specs.
As a main criterion during the research, we chose the following:
The software should be 100% free, with no trial periods or watermarks after export.
It should be a non-linear video editor that allows for blending and overlaying files easily.
Keep reading to see which video editing tools made it to our list!
VSDC is a free video editor the GoPro support team recommends to PC users. It is the most lightweight tool out there and it runs even on slow computers with little memory. The reason why it is widely recommended is that unlike many free video editors, VSDC allows you to easily open videos of any codec, quality, and framerate, including 120 fps footage. Once you finish editing, VSDC allows you to use video export profiles pre-configured for various devices and social media platforms. You get to keep the high quality of the video, and you don't have to do any manual adjustments.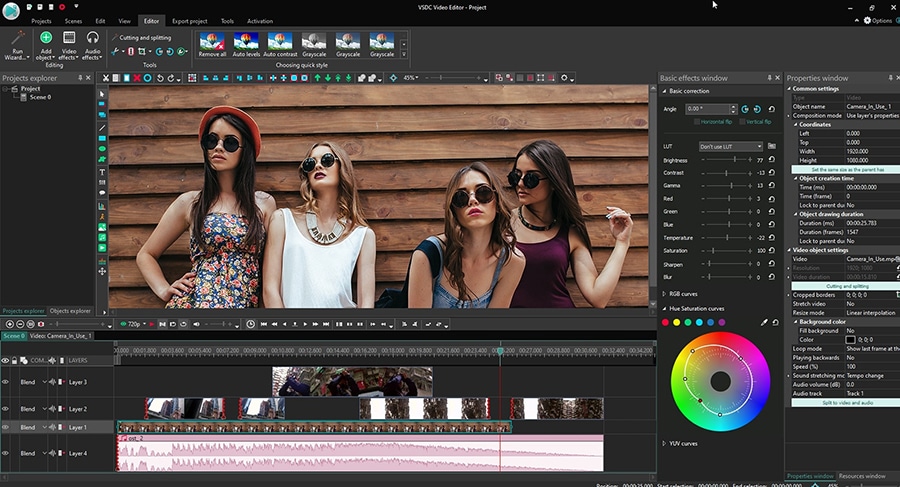 Feature-wise, there is a lot to unpack. You'll be able to do basic video editing operations: cutting, cropping and rotating. You can also enhance audio, create stylish titles, and apply speed effects (slow-motion, and fast-motion that is). However, getting VSDC just for the most basic features would be a waste of its resources. Besides being one of the closest iMovie alternatives for Windows, this video editor boasts lots of modern filters and effects, such as glitch, Chroma Key, long shadow, lens glare, realistic raindrops, and more. The cherry on top is the Adjustment category of effects that offers several color correction tools: quick Instagram-style filters, LUTs, RGB and Hue&Saturation curves.
What makes VSDC stand out is how easy it is to overlay files and control their opacity. This means you can manually place any images, icons, text objects, or other videos on your footage, resize them, and either blend them together or use a picture-in-picture effect to display several images simultaneously. This is especially convenient if you create reaction videos, video tutorials, or news-style clips.

Download the latest version of VSDC
2. Olive
Olive is an open-source video editor that works on macOS, Windows, and Linux. The tool is currently in development and available in the alpha version, but it performs well and looks promising. According to the video editing community on Reddit, Olive is one of the best iMovie alternatives for Windows.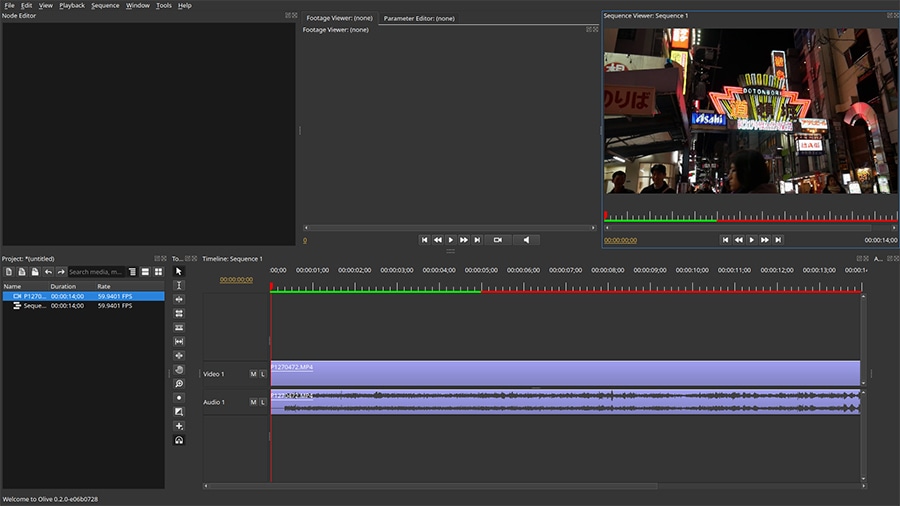 Olive is simpler than most video editors on this list in many ways: it is based on shortcuts, it has a bare minimum of effects and transitions, and overall, its interface is clean and straightforward. You can perform some of the operations right in the preview window where you can downsize, rotate, and relocate files – again, quite a convenient feature for the split-screen and picture-in-picture effects. Plus, there is a built-in voice recorder, audio noise effect, and a simple title creator.
Keep in mind that Olive is a work in progress which means more features will be introduced in the future. However, even for now, it's a decent choice for someone who occasionally needs to quickly merge a few friends and family videos, add a soundtrack and captions.
3. Davinci Resolve
If you're seriously interested in post-production and your ultimate goal is to master the art of color correction, Davinci Resolve is the tool to go for. After all, it is the software used for color grading of La La Land!
Developed by the company named Blackmagic Design, Resolve is both resourceful and resource-intensive. It's probably not a good option for total beginners and you should only consider installing if you have a powerful enough video card and hardware. However, if you do install this beast of an editor, you literally get everything and a kitchen sink for making movies.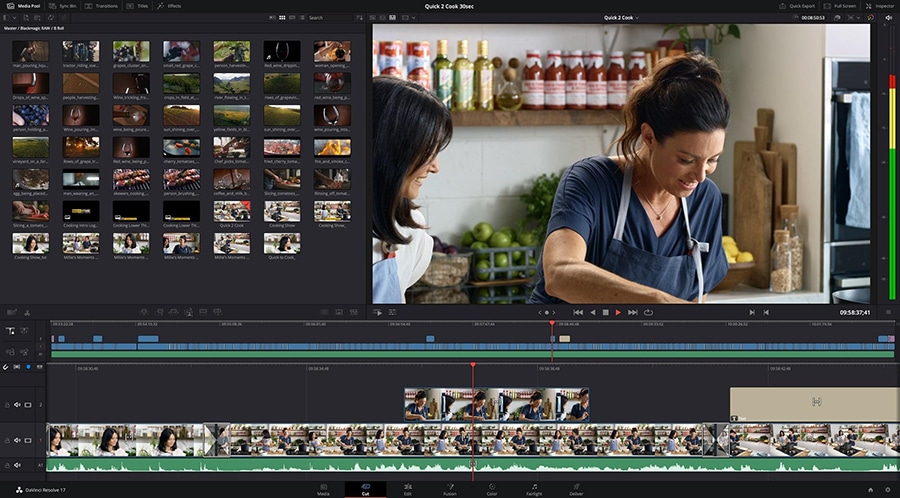 The feature set of Resolve includes essential video editing tools, advanced color correction controls, audio mixing and visual effects. Of course, you can add titles, captions, and subtitles, too. If you're switching from iMovie, the interface may intimidate you because of numerous tabs and screens, but with the abundance of video tutorials online, you'll figure it out.
The downside of Davinci Resolve, apart from the fact that it only works well on high-end machines, is format compatibility. If your footage comes in AVI, for example, you might have to use a 3-rd party conversion tool before importing it to the editor.
4. HitFilm Express
HitFilm Express is a godsend for the fans of special effects. In our list, it comes after Resolve because it's also aimed at movie-maker wannabes. Technically, Express is the free edition of HitFilm video editor aimed to give you the taste of what the Pro edition offers. For those on the budget, however, the free feature set will be sufficient as well. Plus, if you want to use a particular filter or effect unavailable in the free version, you can purchase it as a separate add-on without having to upgrade to Pro.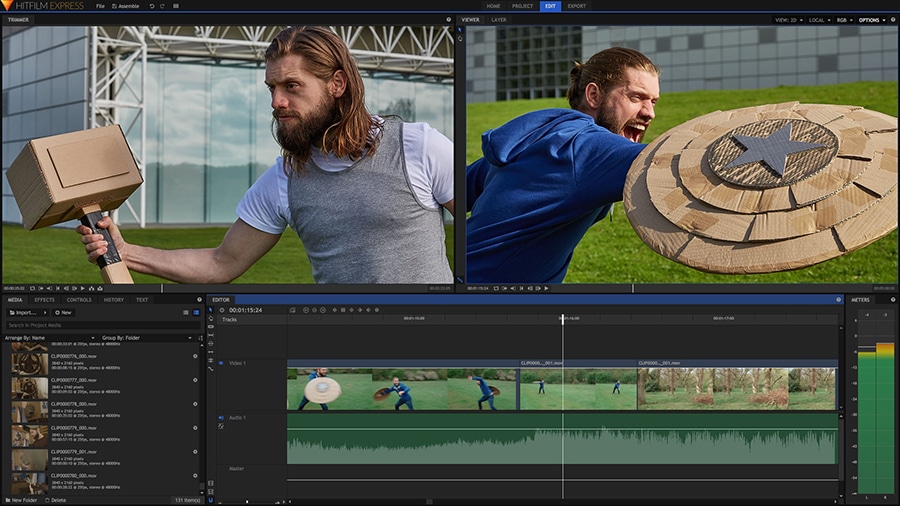 That's not to say HitFilm Express lacks built-in free VFX and animation. Once you put your files together on the timeline and cut out the unwanted pieces of footage, you can add stylish title transitions and spice things up by creating a so-called "Composite shot". Within the composition menu, you get to work with lots of impressive effects such as fire, explosion, glitch, and some unique sci-fi effects like the Iron Man HUD, muzzle flash, or sky replacement. In addition, there is a convenient Chroma key tool that allows you to quickly remove a green, blue, or red background. Prices for the paid add-ons vary from $19.99 to $49.99, and you can get some really unique effects like the eyes of a white walker from the Game of Thrones.
5. Kdenlive
Kdenlive has been a go-to video editor for many Linux users over the past few years. However, it works on Windows too, and you may consider it an iMovie alternative. Just like VSDC, Kdenlive is lightweight and runs on low-end computers. The installation process is somewhat tricky, but the interface is straightforward. Even without having to look for video tutorials, you'll be able to trim your footage, mute or remove audio, change speed, volume, and add standard video effects.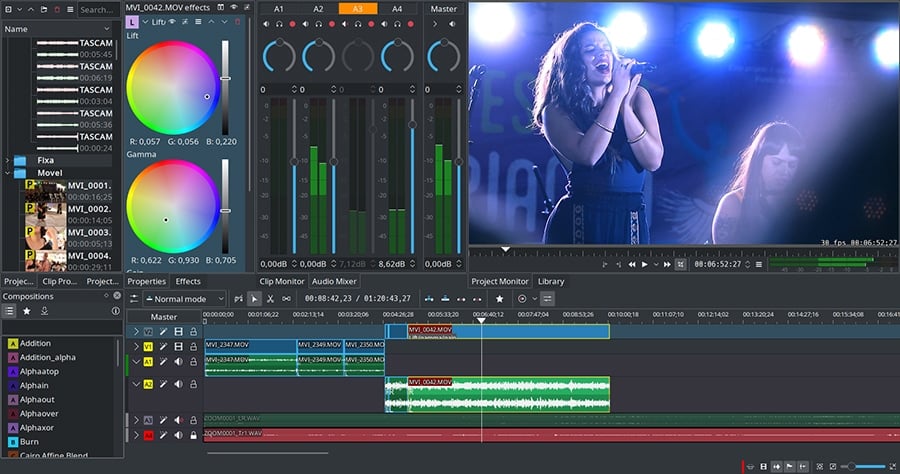 Kdenlive offers only two video tracks (which is sufficient for an average user) and allows you to overwrite files. What we liked about Kdenlive is a handy feature titled "Add color clip" that quickly adds a screen of any color to the timeline. You can and use that screen as a transition between video chapters, or as a background for intro and outro. Kdenlive lacks built-in title templates but if you visit Kdenlive user forums and KDE store – you'll find plenty of animated title templates, FX, and export profile presets.
6. Openshot
Openshot a simple video editor that won't impress you with a fancy interface, but it should be sufficient for most basic operations. It allows you to quickly cut and merge video files using multiple tracks, add music, create template-based titles, and even play around with animation (although, you'll have to install additional software to work with 3D animation). Filters, effects, and transitions are easily applied via drag'n'drop.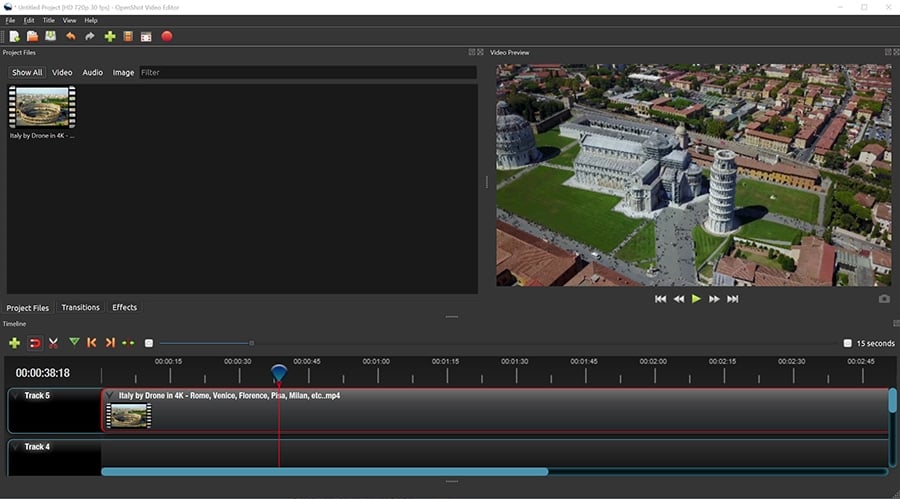 What we like the most about this tool is how intuitive it is for beginners, yet powerful for those willing to do a little tinkering. Take title and transition templates. You can apply ready-made options in a couple of clicks even if you have zero experience, and the result will be decent. But you can also play with the properties and fully customize the result to your taste. Overall, Openshot is a good choice if you're a beginner. It comes with a minimal learning curve and even includes pop-up windows to walk you through the software the first time you launch it.
What is the best iMovie alternative for Windows?
The answer to this question really depends on the one who is asking. There is no "best" solution when it comes to video editing software because what's best is defined by your needs, your skills, and of course, the horsepower of your PC. If you're after the most lightweight solution out there, choose VSDC. If you're an aspiring filmmaker who wants to produce Hollywood-level videos, get yourself Davinci Resolve and look no further. If you want an open-source solution, go for Kdenlive or Olive.
Before you make the decision, feel free to consult with this table comparing iMovie alternatives for Windows.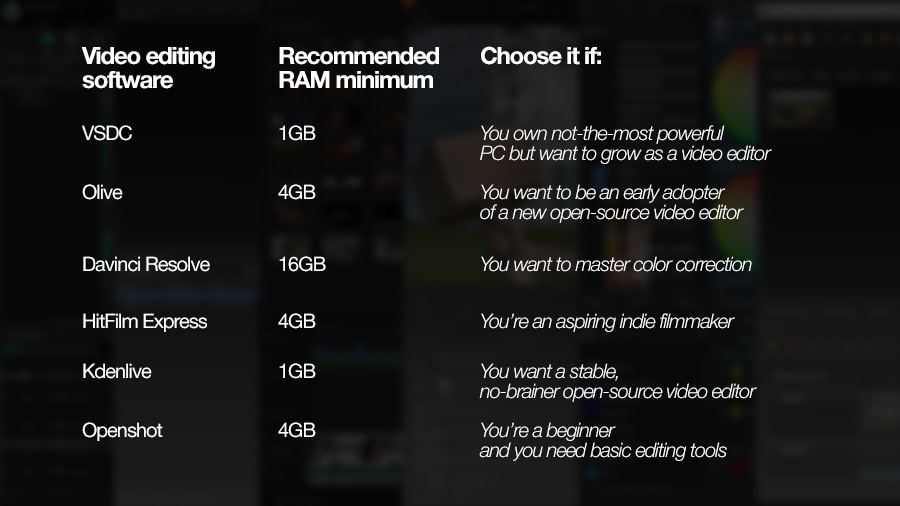 Happy editing! Let your creativity flow.