Top 5 Video Editors for YouTube Creators
Ask any successful content creator, and they'll tell you there's no single best video editor for YouTube.
For some, the built-in YouTube Studio editor might be sufficient. It allows you to cut out unwanted pieces of footage, add music and text. If that's all you need – great! Your search is over. However, if you want to use more sophisticated effects, transitions, and overlays, you'll need a more powerful piece of software.
In this article, we'll review 5 beginner-friendly video editors for YouTube that happen to be completely free.
Let's dive right in.
VSDC is a free video editor for Windows PC. It's lightweight, intuitive, and feature-rich. VSDC requires 2GB RAM, and its installation file is less than 80 Mb, so it's a great option for those struggling to find software with low system requirements.
Although the program interface might seem tricky at first, there's plenty of tutorials both in text and video format, so you'll quickly get the hang of it.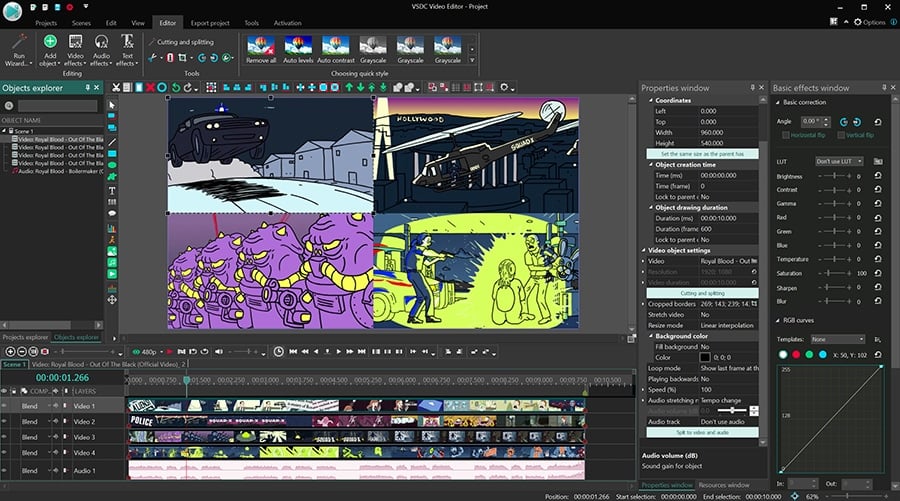 One of the biggest advantages of VSDC is the ability to easily open videos in any format, regardless of the recording device. Furthermore, this editor handles 120fps and allows you to export footage using the newest H.265/HEVC codec (if you haven't heard of it, H.265 is designed to preserve high video quality after maximum file compression). For these reasons, VSDC is officially recommended by the GoPro team and a few popular drone YouTubers, including Quadcopter 101.
Now, speaking of the feature set, VSDC brings editing tools some paid programs wouldn't be ashamed of. Apart from the basic montage toolset, color correction, and animated text, there's an array of effects you can apply to your footage and customize. For example, you'll be able to make the picture-in-picture, split-screen, gradual zoom, video-in-text, news ticker, and plenty of other effects commonly used for YouTube videos.
Once you've finished your project, you can upload it directly to your YouTube channel without having to save the video to your PC first. If you want to save the video for other social media platforms, such as Facebook, Twitter, Instagram, or Vimeo, there are pre-configured export profiles that will apply the required parameters to your video.
Finally, VSDC boasts a powerful screen recorder you can access right from the program interface, which is a big advantage. The recorder lets you use several capturing devices simultaneously, grab external video via HDMI, and record 2D and 3D games in high quality.
Download VSDC Free Video Editor from the official website
iMovie – free video editor for Mac
iMovie makes an excellent free video editor for YouTube creators using Mac computers or iPads, especially at the beginning of the blogging journey. As a matter of fact, even after becoming relatively popular, many YouTubers continue using iMovie for editing, according to the Influencer Equipment database. Because why not? It's free, it delivers great results, and it's pre-installed on most Apple devices by default.
If you think you must only use a fancy expensive piece of video editing software to stand out on YouTube, you're wrong. What really matters is your content quality, creativity, and consistency.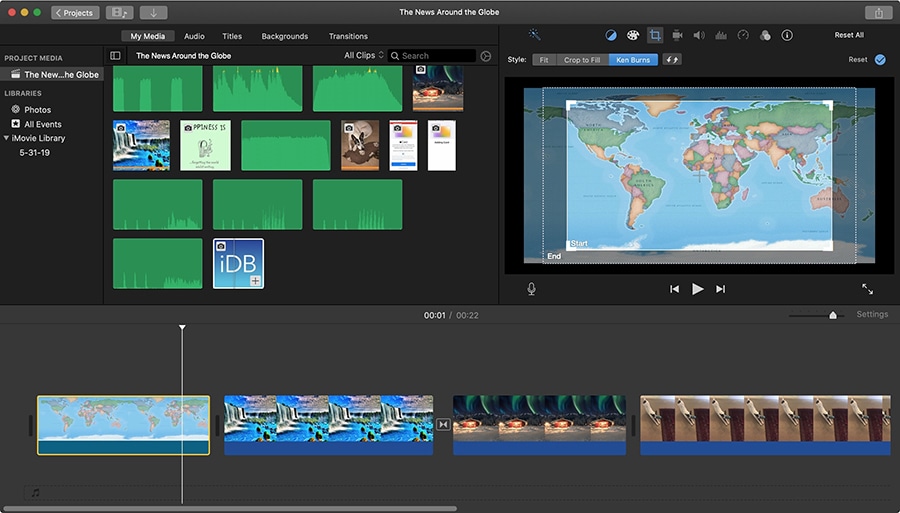 iMovie has a minimalistic intuitive interface, and most operations are performed via a simple drag-n-drop motion. Known for being meticulous about design, Apple made sure to create an extended library featuring backdrop themes and title templates you can use in a video. Templates come in especially handy if you're working on a series of videos or slideshows and you want to apply the same style to every episode.
Just like VSDC, iMovie allows you to remove a green or blue background from your footage. You can also add a soundtrack to your video, fine-tune title animations, and use more than 200 different video effects including popular ones, like picture-in-picture, slow motion, fast-forward, fade transitions, zoom, freeze frames, and others.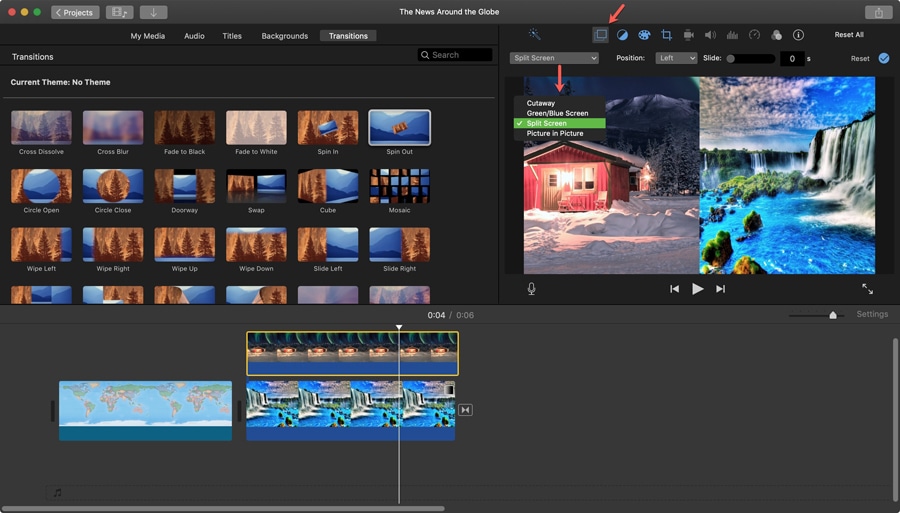 The best part about this video editor? Perhaps, the Apple product ecosystem. As a video creator, you can benefit from it in many ways. For example, you can use pre-uploaded royalty-free audio tracks, import songs from your iTunes, fetch any media file from your iCloud, or even start editing on your tablet and continue on your Mac or vice versa.
Download iMovie from the Apple App Store
Kdenlive – free video editor for YouTubers on Linux
Kdenlive is a free open-source video editor. For many Linux users, it's a go-to option because compared to many other open-source video editors, it's very lightweight, rather stable, and it works well with 4K footage (of course, given that you have a decent CPU).
For beginners and intermediate-level users, Kdenlive has everything to put a video together and make it look more aesthetic. The program allows you to use multiple video and audio tracks, overlay files, add titles, transitions, and custom effects.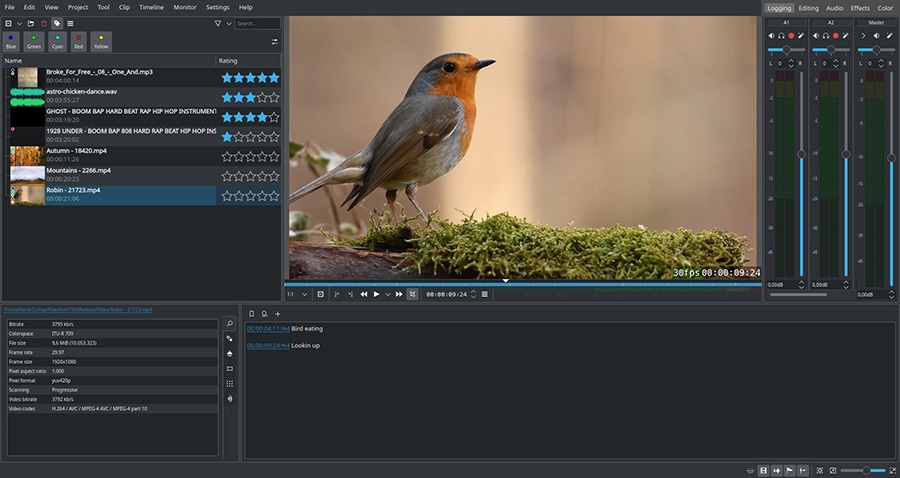 Two things make Kdenlive stand out, compared to many other video editors: proxies and ripple editing. Proxies or "proxy files" are file copies reduced in size and quality that allow you to speed up previewing and editing. This means that the software "replaces" the original files with the copies to save resources during the preview, and uses the original files during export, so there's no impact on the resulting project quality.
The Ripple delete feature allows you to cut out footage from multiple layers simultaneously and merge the remaining pieces within a single Ctrl+X click.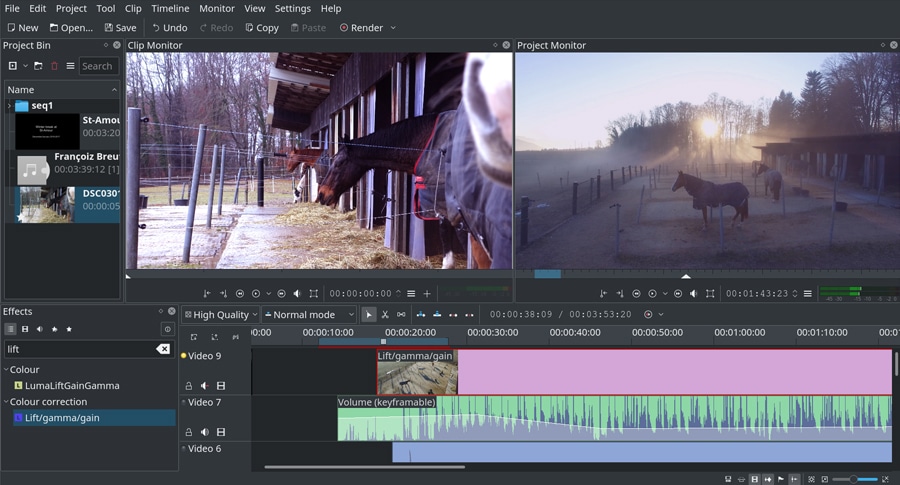 Although Kdenlive is cross-platform software, its Windows solution has received a significant amount of criticism, and therefore, our recommendation is addressed to Linux users only.
Davinci Resolve – professional color grading for PC, Mac, and Linux
Davinci Resolve is a free cross-platform video editor for those who want to achieve Hollywood-level video post-production. Resolve has a premium version (that comes with a hefty price tag!), but it targets professional filmmakers, so for the sake of this review, it's irrelevant.
Recommended by indie filmmakers and professional videographers alike, Resolve can be a great video editor for YouTube creators who have a more serious approach to color grading. For example, if your long-term goal is to do video editing for a living, Davinci Resolve is definitely worth your attention. It will help you achieve breathtaking results, but to benefit from it, you need to understand the color theory and be passionate about it enough to invest time into this software.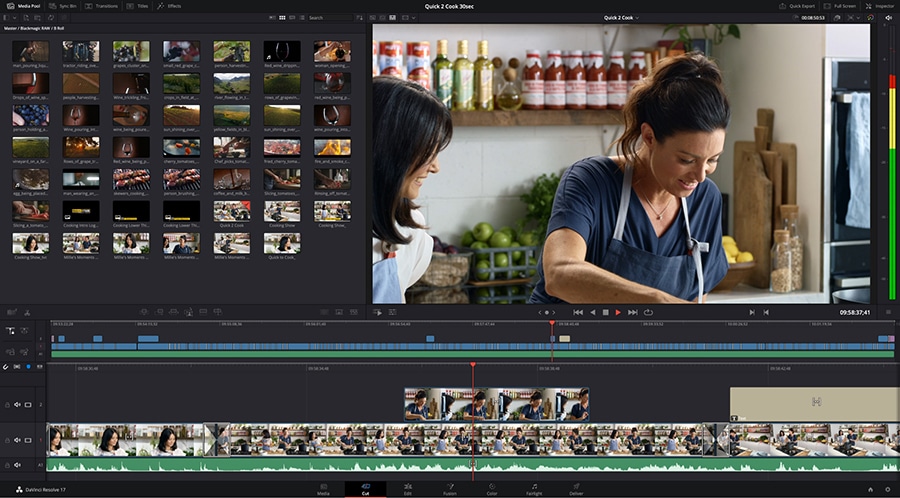 Even those with experience may expect a steep learning curve because the program interface is rather overwhelming. Luckily, there are dozens of tutorials and even online courses available for those willing to master Davinci Resolve.
The basic editing toolset of Davinci includes a multi-track timeline, convenient cutting and trimming tools, audio editing features, lots of transition effects, speed settings, and titles. Truth be told, if you work with large volumes of footage and you need to trim a lot, Resolve is incomparably convenient. It brings a real-time timeline zooming feature that guarantees a more precise cut, and a long list of hotkeys you can use when applying repetitive actions. At the export level, the software allows you to upload your project directly to YouTube (or Vimeo) in 1080p resolution.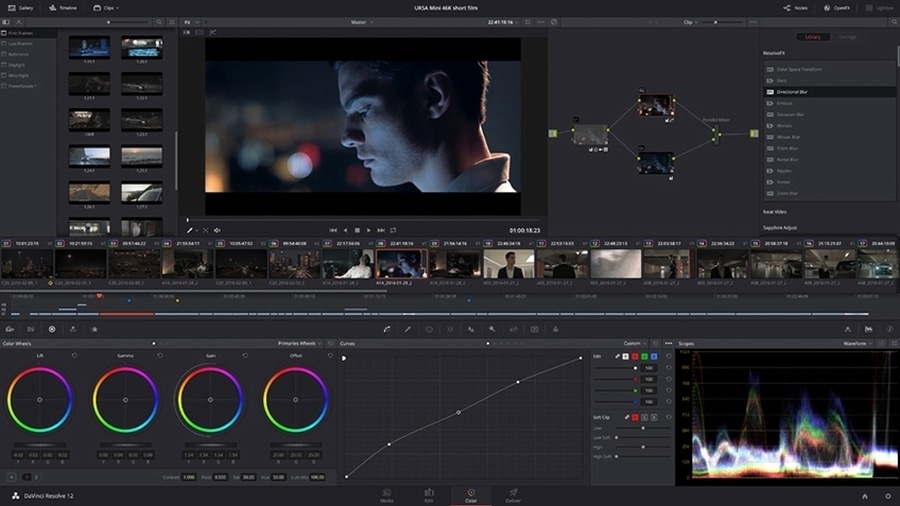 One thing to be aware of before you jump to download the installation file is the system requirements which can be a dealbreaker for low-end computer owners. Your machine must have at least 8GB of system RAM, at least 4GB of graphics RAM, and enough storage space. The installation file alone weighs 780MB.
Download Davinci Resolve from the official website
Lightworks
Like Davinci Resolve, Lightworks is a professional league player that has been in the market since 1989. This tool is a pioneer in the world of non-linear video editing, and according to the developer's website, this software has brought multiple Oscar-winning Hollywood movies to life.
Lightworks runs on Windows, Mac, and Linux and brings 3 subscription plans: Free, Create ($9,99 per month), and Pro ($23 per month). For an average user, the free plan has everything to create a good-looking video: its key limitation is the maximum 720p export resolution.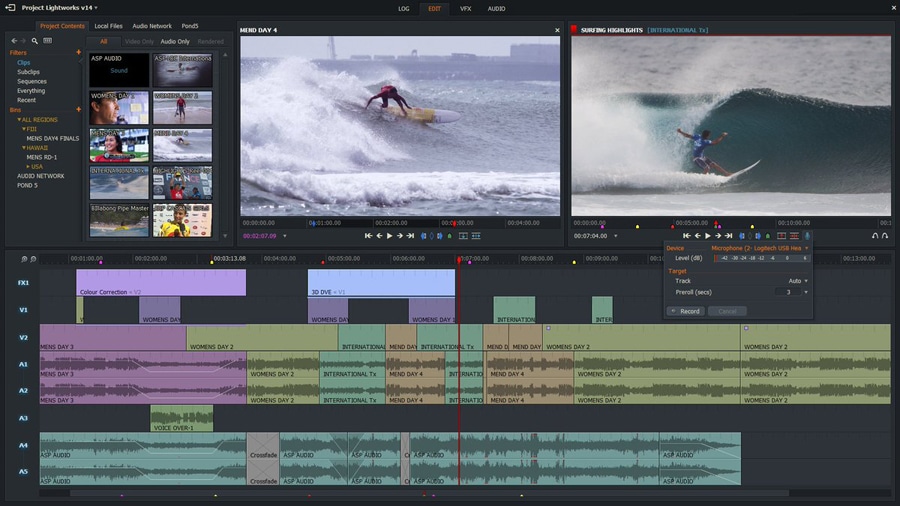 The program brings a clean interface including a multi-track timeline (although you need to add new video tracks manually each time) and three dedicated tabs for video editing, audio editing, and visual effects. Additionally, the main screen includes a file log and a source preview window that allows you to preview files before adding them to the scene. What's really convenient about it is the ability to add the desired piece of the footage directly to the timeline, already cut out from the source file.
The VFX tab includes all the popular visual effects and a vast selection of color grading tools. You also get a convenient audio editing toolset with keyframes, a set of templates for titles and transitions, cloud storage access, and the local backup feature.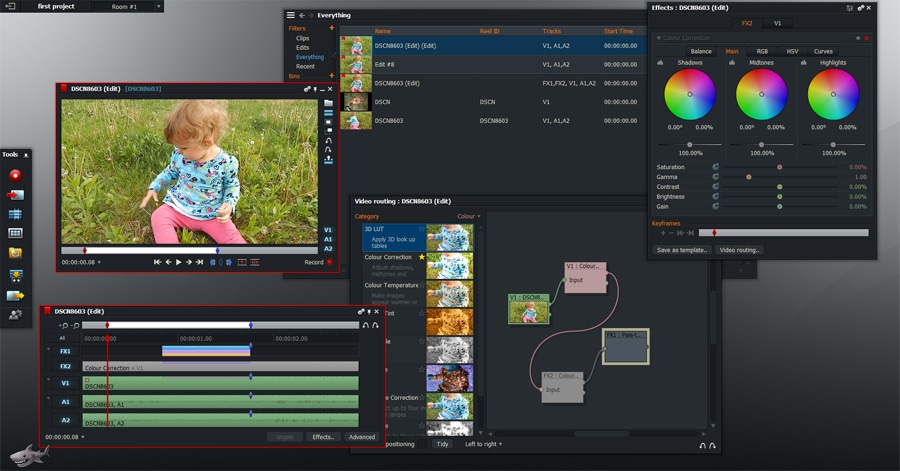 Now, if you're switching from tools like Movie Maker or iMovie, getting started with Lightworks might be slightly challenging. Luckily, you can find a plethora of helpful video tutorials on YouTube as well as beginner's guides on the official website. Lightworks is compatible with all the common video formats and employs proxy files to go easy on your computer. The biggest drawback of the free version appears to be a 720p export limitation. However, given that many watch YouTube videos on their smartphones, it doesn't have to be a deal-breaker.
Get Lightworks from the official website
Why you should choose free video editors for YouTube over paid solutions
You probably want to know what video editing software most YouTubers use; however, the answer might not be helpful if you're on a budget. The most frequently mentioned software is Adobe Premiere (starts at $19.99/mo, that is if you purchase an annual subscription). The second most common answer is Final Cut Pro (Mac only, one-time $299 payment) and Sony Vegas (Windows only, starts at $400).
But guess what? A lot of those bloggers you're following on YouTube started their careers as a hobby using free video editors. In fact, many still use freeware for their channels, and that's noteworthy. Why? Because there's no correlation between the price tag of the software you're using and the success of your channel.
There's no need to break your piggy bank to purchase a video editor for your brand-new YouTube channel. No matter how much your software costs, no amount of post-production can turn low-quality footage into a masterpiece. Focus on production instead. If you're willing to invest, consider upgrading your hardware! A decent source of light and a microphone are already half the battle, as you probably won't have to sweat the color balance and the audio settings afterward.
What makes a good video editor for YouTube beginners anyway?
It all comes down to your skills and needs. For instance, if you're planning to publish game walkthroughs, you might need a built-in screen recorder (VSDC and Lightworks have it). If reaction videos are your thing, look for an intuitive picture-in-picture tool. If you tend to shoot long pieces before uploading them to the editor, make sure the splitting tool is intuitive.
Bottom line? You might want to try at least a couple of video editors before making the final decision. The tools we've included in the list are reliable and genuinely free – meaning there will be no watermarks or other unpleasant surprises after export. For someone who's getting started, this should be enough to get that YouTube channel rolling with content. You can always switch between tools as you grow!