5 Movie Maker Alternatives to Try in 2021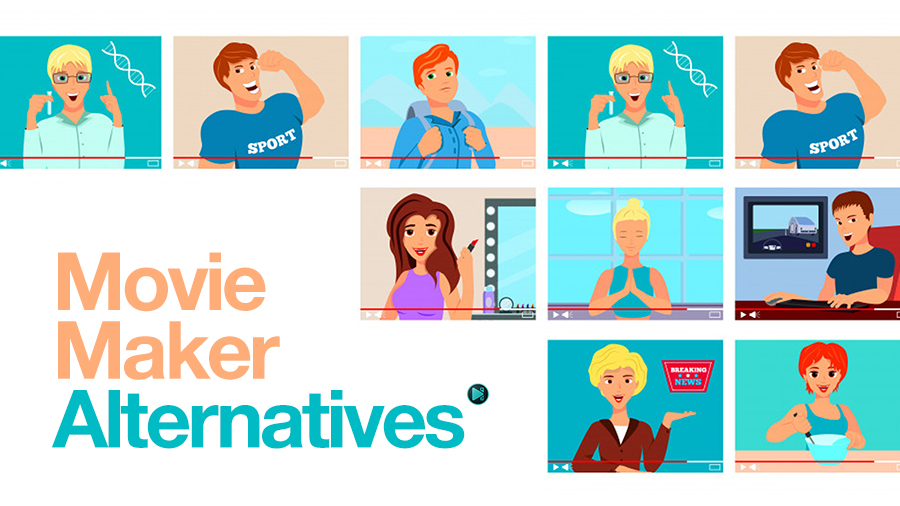 Movie Maker was a great video editing program for its time. Simple, straightforward, and most importantly – free. No wonder the community got terribly disappointed when Microsoft stopped supporting it in 2017.  And after it became clear that Remix – Movie Maker's long-awaited successor – is unable to perform nearly half of what the original program could do, many Windows users had to start searching for Movie Maker alternatives.
Because, seriously, it's 2021, and everyone has a lot of footage to edit!
So, if you're here searching for a decent program, you got it. We're about to review 5 Movie Maker alternatives that are intuitive, feature-rich, run on Windows, and will not take you too long to master.
Ready to see the contenders for the title of your next favorite video editing program? Let's dive right in.
VSDC Free Video Editor
VSDC is a great alternative to Windows Movie Maker for those who are ready to step up and learn new tricks. Unlike Movie Maker, VSDC brings a non-linear approach to video editing, which means you can display multiple videos and images in one scene by overlaying or placing them side by side.
Download VSDC from the official website
For instance, if you want to create the famous split-screen effect, simply import two videos to the program, then grab the handler to resize each video and drag them to the sides.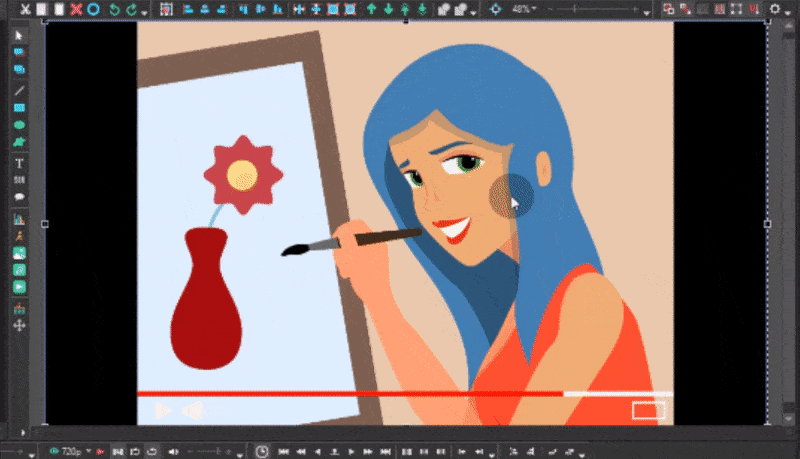 The split-screen effect made easy in VSDC Free Video Editor
Notice how the VSDC timeline includes multiple layers, and each file is placed on a new track. If you locate files under each other, they will appear in the scene simultaneously because they belong to the same time frame. If you want videos to play one after another in a linear sequence though, you can do that, too. Just place files on the same track as you would do it in Movie Maker.
The most essential video editing tools are available in the quick access menu at the top. They will allow you to easily cut, split, rotate, and crop your video or even make it opaque. Once you get a solid grasp of the non-linear principle though, you'll be pleasantly surprised by how much more VSDC is capable of. Apart from the standard set of color filters, transitions, and video effects, you'll be able to enhance the soundtrack, apply professional-level color correction, play with the video background remover, and try impressive effects such as glitch, video-inside-text, and zoom. By the end of editing, you'll be able to create a really nice-looking video and cover the imperfections of the original footage.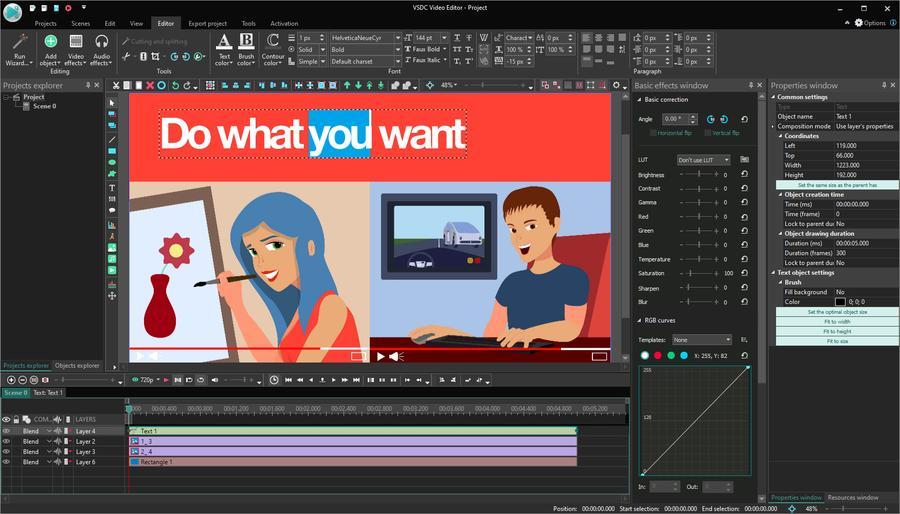 VSDC brings a full-fledged text editor as a part of its video editing suite
VSDC offers much more flexibility when working with text, too. You can create a title from scratch, fully customize its appearance, upload custom fonts, add an outline and opacity, or even apply various effects to it.
The best part about VSDC is that it is absolutely free and only requires the minimum of your PC resources. And unlike Movie Maker, VSDC recognizes virtually all formats and allows you to export video in high quality. So, if you're looking for a powerful tool to turn your vacation footage into a stylish clip – look no further.
Openshot
Openshot is an open source video editor available for Windows, Mac, and Linux. Like most open source projects, Openshot is widely supported by the community and gets regular updates. Its interface is way simpler than the interface of VSDC, for instance, but it also brings less to the table in comparison to the rest of video editors in this roundup.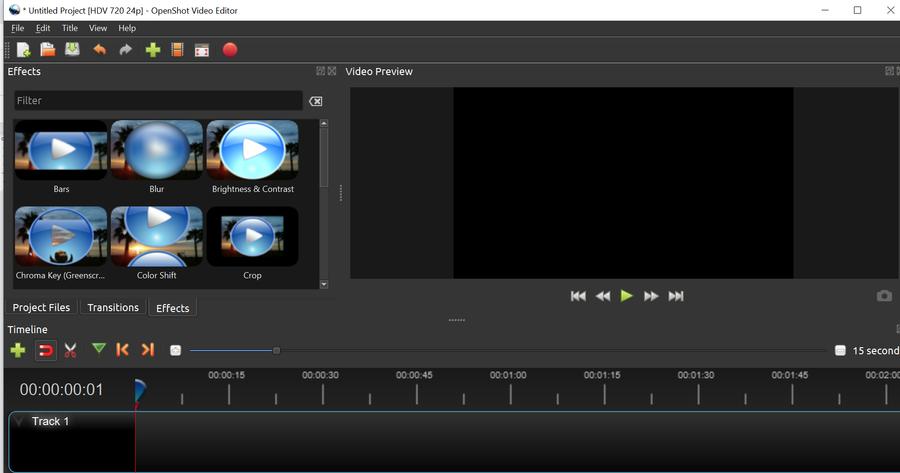 Openshot has a clean, intuitive interface even your grandparents will cope with
However, if you're looking for the closest alternative to Movie Maker that doesn't come with a steep learning curve, Openshot is your guy. As you may have noticed, the default layout and the workflow of Openshot are quite similar to what Movie Maker used to have, with the exception of multiple tracks on the timeline. The most basic features – like speed adjustment, rotation, resizing, and fading – are available upon right mouse click on the file.
Just like in Movie Maker, the window to the left from the video preview displays imported project files you can drag and dock on the timeline. Next come two tabs: an extensive transition gallery and a set of filters – both applied via drag'n'drop, too. And finally, there is a wide selection of stylized titles in a separate tab of the top menu. Some of the templates may seem a bit outdated but if you care to install a couple of 3rd-party open-source solutions, Openshot instantly expands its functionality. For example, Blender will allow you to create animated titles, and Inkspace will provide an advanced text editor.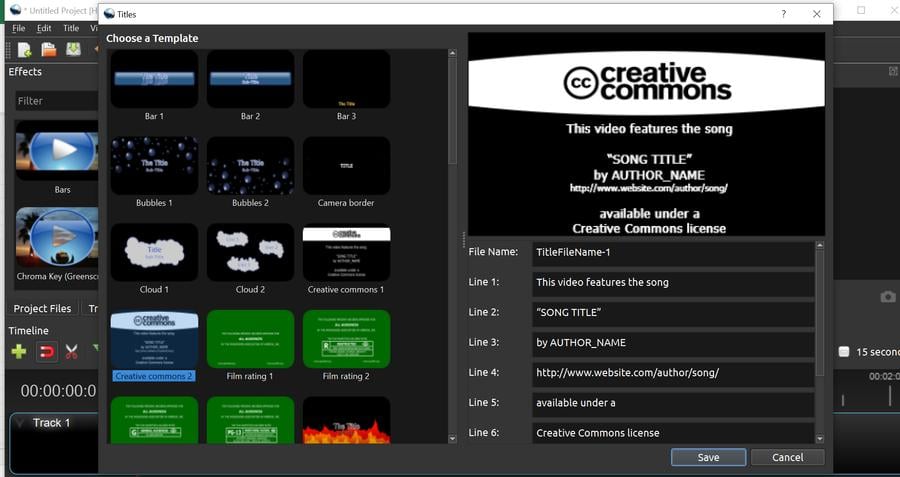 A large gallery of text title templates comes handy if you're in a rush
You also get more flexibility with the Advanced view mode. Although looking a bit clunky, it enables you to adjust any selected object in the scene, including filters and transitions. For instance, if you want to apply the letterbox effect, called "Bars", in the Advanced view, you'll be able to adjust the size of the bars for each side and change their color.
All in all, Openshot is a good Movie Maker alternative for those planning to mainly resort to basic editing and only occasionally play with advanced filters.
Olive video editor
Olive is a new kid on the block, and its creators surely have ambitions. The video editor that was officially released not so long ago has the intention to become a free alternative to professional-level software. Although the tool is still in the Alpha version – meaning that some features may be missing, and the performance may be unstable – Olive video editor looks promising enough to make it to the list of Movie Maker alternatives.
As you launch the editor, you're pleasantly surprised by the minimalistic interface and dark-gray color theme. There are two main windows: Media Viewer and Sequence viewer. The former allows for viewing and trimming imported files before adding them to the timeline. The latter displays the sequence you're working on with all the edits already applied. You can resize videos and drag them around right there, too. Just like in VSDC, you can place multiple files in the same time frame in the scene and create the picture-in-picture or split screen effects.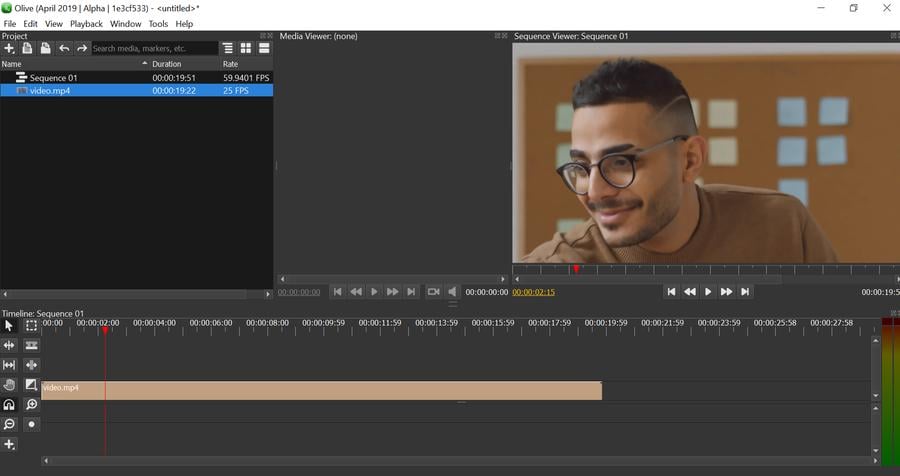 Olive is the newest open source video editing software that also works on Windows
Every tool available in Olive has a shortcut, and that optimizes the process of video editing a lot. For instance, by clicking the C key on your keyboard, you activate the Razor. Then, just move the cursor and make as many precise cuts as needed. You can also zoom in and zoom out the timeline if you need to.
Now, the effects, transitions, and titles – all are quite limited, but for the Alpha version, Olive provides enough to create a neat clip. For example, as a transition, you can use the cross-dissolve effect, linear, exponential, or logarithmic fade. Right mouse click on the file allows for applying manual speed adjustment and reverse video effect. Files are easily moved, docked, and stretched on the timeline, and when you're done, you can export the output video with the Ctrl + M combination.
Not the strongest contender for the title of the best Windows Movie Maker alternative, Olive is still worth your attention. It will easily cope with cutting, splitting, and merging several files, applying transitions, adding titles and soundtrack. And given that this open-source project is very young and constantly being updated, consider trying it out.
Kdenlive
Kdenlive is another open source project that works on multiple platforms and unlike Olive, it has been on the market for a long time. Kdenlive brings an impressive set of effects and transitions, although they are hidden behind a less conventional layout and applied a bit differently than in the examples above. Let's take a closer look.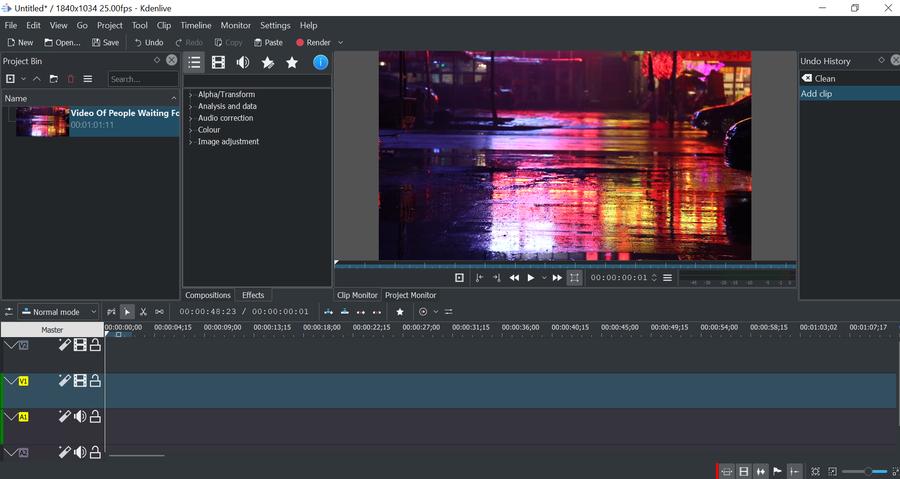 A bit unconventional, Kdenlive has a clean customizable interface
When you start a new project, you select the desired resolution and fps parameters first. Next, you can drag your file to the Project bin, and from there – to the timeline. Just like every other NLE, Kdenlive has multiple tracks. But if you want to display more than one screen in the scene, you should first "tell" the program, you're creating a composition by making a right-click on the file and selecting "Insert effect - Transform". Now, you can resize videos and drag them around the scene.
The View tab allows you to conveniently choose which settings you want to be able to access quickly, and by unselecting the unnecessary ones you make more room for the preview window. One of the most helpful features available in Kdenlive is the ability to have the Undo History list showing you every transformation applied to the video and allowing for quickly going back as many steps as needed.
When it comes to the basic operations, there is a razor tool for quick splits, and the speed adjustment is available upon right mouse click. The effects need to be dragged from the menu to the footage and resized to the desired duration. There are many color correction effects and image adjustments including blurring filters, old film styles, and RGB settings. You can also benefit from multiple transitions, text title editor, Chroma Key, audio waveform, and more.
Download Kdenlive from the official website
Perhaps, for a Movie Maker alternative, Kdenlive is a bit unintuitive, but it's stable, lightweight, and packed with professional-level features. If you're planning to test it, make sure to find a few video tutorials to eliminate the guesswork and get the hang of the program faster.
HitFilm Express
The last Movie Maker alternative is called HitFilm Express. We've already mentioned it among the best video editors for Windows 10 for its impressive selection of effects.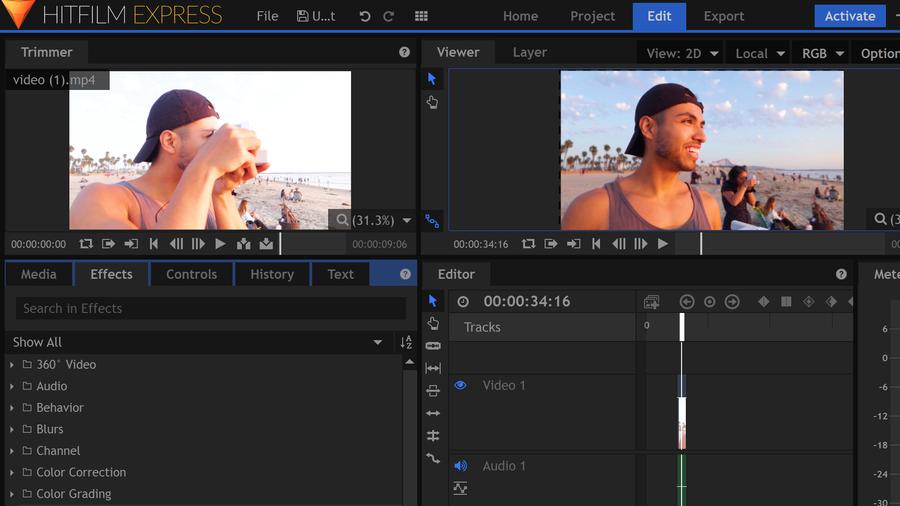 The HitFilm Express team aims to help amateurs achieve Hollywood-level effects
Although it may look like a tool for real filmmakers, HitFilm Express is beginner-friendly and can be used for simpler tasks like compiling a vacation video if you're willing to invest a bit of time to get familiar with the main tabs and controls.
With the exception of a few details, the workflow here is similar to what you've seen in Olive, Kdenlive, and VSDC. First, HitFilm automatically breaks down imported video files into video and audio tracks and displays them on the timeline as a storyboard and a waveform. You can unlink them and remove the soundtrack in one click if necessary. Next, most basic actions can be performed right here on the timeline, too. The cutting tools are available on the left and upon right mouse click. Make sure to check out the Rate Stretch Tool – it helps you adjust the playback speed by stretching or shortening the file on the timeline manually. Rotation, resizing, and image aligning are available in the Controls tab and easily regulated by the arrows on the preview window.
Notice the white horizontal line striking through both video and audio tracks? By moving it up or down you can change image opacity and volume level.
Right next to the Controls tab, there is a library of effects – the feature-set HitFilm is known for. Go ahead and drag any of them right to the timeline and adjust the properties. The software brings dozens of eye-catching effects including color wheels, cinematic looks, special styles inspired by Van Gogh, and much more. Keep in mind that some of the effects require add-ons.
Overall, HitFilm is a good choice if you're looking for a more powerful Movie Maker alternative – just make sure to have at least 4-8Gb RAM to run this beast on your PC.
What makes a good Windows Movie Maker alternative?
And these were 5 free Windows-based video editors perfect for personal use and capable enough to replace Movie Maker on your PC. There is no way to pick the best Movie Maker alternative simply because every user's expectations will vary.
For example, slow and outdated computer owners will be pleased with VSDC and Kdenlive because these are the most lightweight programs on the list. For those looking for a Movie Maker-like interface, certainly, Openshot will be the easiest to adapt to. And if you're really into video editing and want to grow as a creator, both VSDC and Hitfilm are amazing options that open endless possibilities for as long as you have ideas to visualize.