Exploring the Best GoPro Video Editors: Official Community Recommendations
June 11, 2022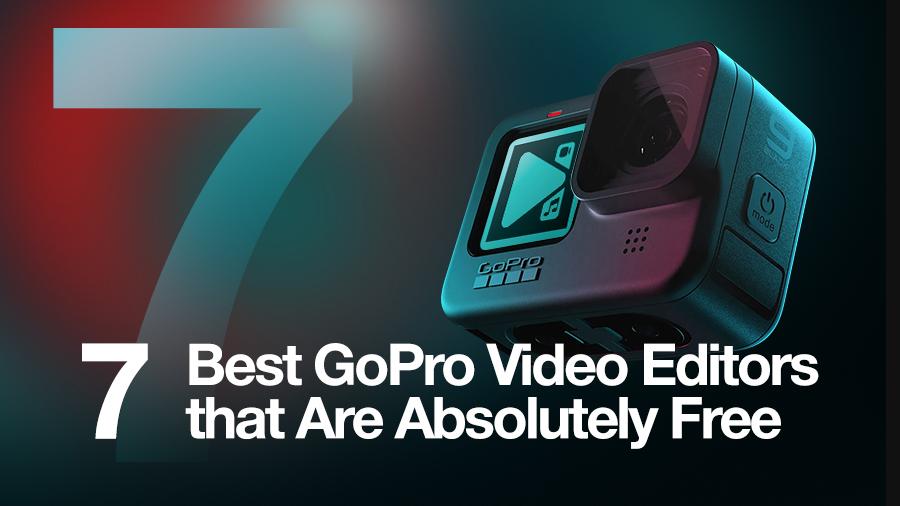 Most will agree that GoPro is the camera that makes your footage look as if it's been shot by a professional. But let's face it, even the best shots sometimes need editing. Previously, the company used to provide their own GoPro video editor, named Studio; however, in 2017, Studio reached its end-of-life for support.
This opened an opportunity for many video editing programs to be considered as alternatives, but only two of them made it to the recommendations on the official GoPro website:
Both programs open GoPro footage without hiccups, allow for splitting it into fragments, adding music and text. Plus, they include plenty of advanced tools, such as color correction, zoom, and split-screen effect.
In this article, we'll take a closer look at the best GoPro video editors. We'll start with those officially recommended on the GoPro website, and continue with 5 more alternatives also recommended by GoPro users.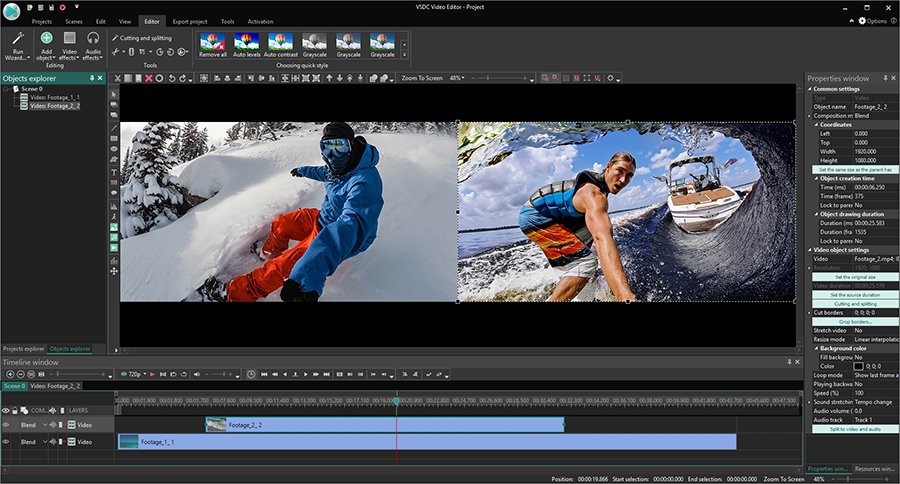 VSDC works on any PC including low-end computers. Whether you're on a 32- or 64-bit using 7,8, or 10 Windows OS, you'll be able to install and run it. Of course, if you have a really outdated computer, or if it's running out of memory, you should be mindful about shooting, say, long videos in 4K. There's no software out there capable of processing huge amounts of data with limited PC resources, and that's that.
To start working in VSDC, open the program and choose the 'Import content' button, then select a file on your computer. From there, most operations are rather intuitive and can be performed through the context menu available upon right mouse-click. For example, to mute audio, right-click on the video layer, go to the Audio effects → Amplitude → Silence. To cut, crop, or rotate the video, use the quick access menu at the top. To perform color correction, use quick filters, LUTs, and the RGB color wheel.
Most effects are located in the 'Video effects' menu, however, there's plenty you can achieve by manually overlaying files and blending them into a new composition. Among the effects you may like the most are the picture-in-picture effect, the split-screen effect, text masking, and slow motion.
When it's time to export your video, the program prompts you to select where it will be published and then suggests the most suitable properties based on your goals. For the major social media networks, such as YouTube, Facebook, Twitter, Instagram, and Vimeo, there are dedicated profiles pre-configured based on the platform requirements.
As you get the hang of the editor, you may want to check VSDC Pro — a more advanced version that includes motion tracking, video stabilization, masking, audio waveform, and hardware acceleration. VSDC Pro is available for $19.99 per year.
iMovie is probably the best free video editing software available for Mac. It has a clean, intuitive interface which makes starting a project a no-brainer. Whether you're shooting in 4K or not, iMovie opens GoPro footage easily without requiring you to convert it into a different format.
To open a GoPro file in iMovie, click on the large 'Create new' plus button and choose 'Movie'. Then select the 'Import Media' button and upload a video from your computer. Unlike VSDC, iMovie doesn't add videos to the timeline automatically, so you'll need to do it manually in a preferred order. Note, that you can choose to place files in a linear (direct) sequence, as well as a non-linear (indirect) sequence.
Despite its minimalistic interface, iMovie is a full-featured non-linear video editor used by beginners and professionals alike. It enables you to cut and crop videos, add transitions and music to your clip, apply multiple effects, and perform color correction. If you open the dropdown video effect menu at the top, you'll find more advanced effects including picture-in-picture, split-screen, and the green/blue screen effect.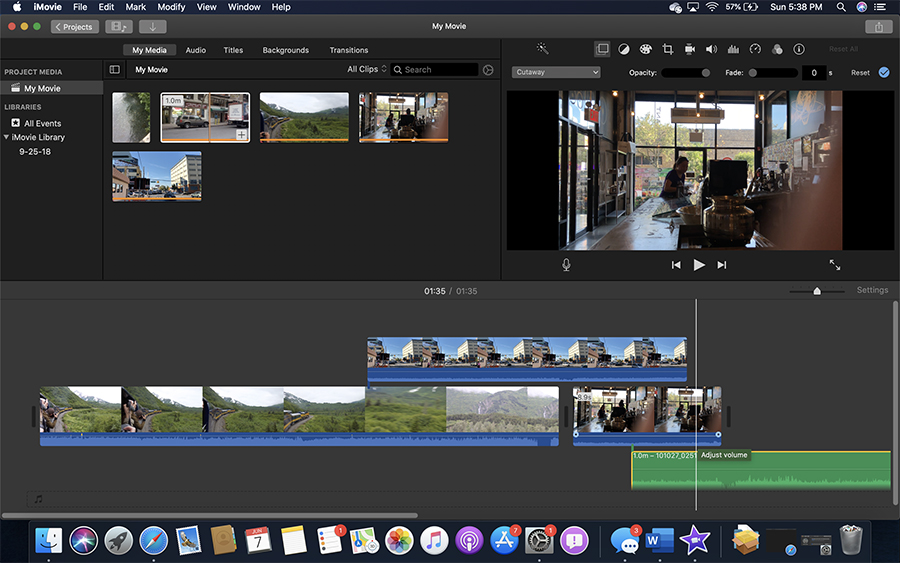 The color correction settings in iMovie are based on manual adjustment of the exposure, brightness, contrast, saturation, and RGB levels. You can also make your footage look more natural by toggling the white balance.
To export a video, click on the 'Share' button and proceed to 'File'. At this point, you can choose the format, quality, compression, and resolution of your video. What's great about iMovie is that this software puts no limits on the formats or resolution, and like VSDC, it allows you to export files using the H.265/HEVC codec which is the best option for lossless file compression.
5 More GoPro video editors to consider
If you want to see other options available out there, here are 5 more free tools you can use for editing GoPro videos.
We've just covered the recommended GoPro vídeo editors for Windows and Mac. However, if your computer runs on Linux, consider trying Kdenlive — an open-source non-linear video editor with no lack of features. Kdenlive has a beginner-friendly interface with multiple tracks for video and audio files.
This video editor relies heavily on time-saving keyboard shortcuts and a large library of pre-designed transitions. As a bonus, the program includes a comprehensive audio editing and processing tool, so you don't have to use 3rd-party software for that purpose.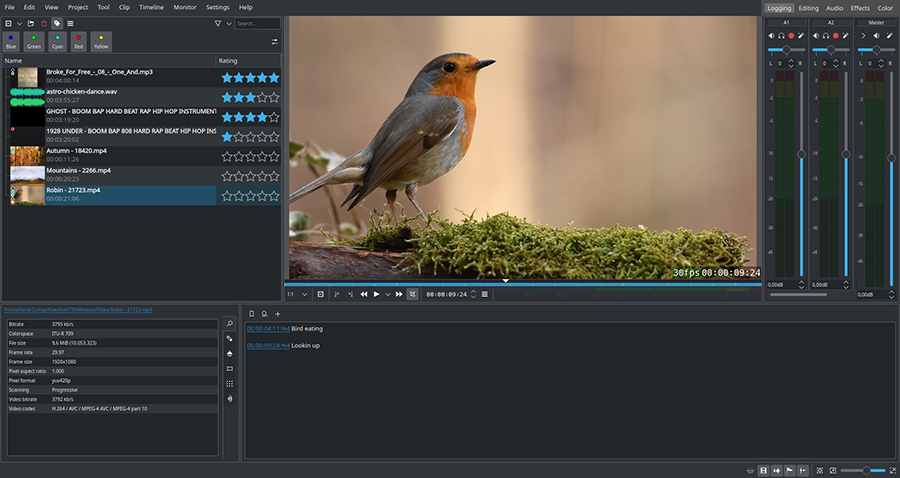 What makes Kdenlive stand out in comparison with the rest of the tools on the list is the automatic backups that happen every couple of minutes. Not only does it save you from losing a project in case the software crashes, but it also allows you to roll back to the previous version easily in case you change your mind.
Like VSDC and iMovie, Kdenlive doesn't require you to be a professional video editor and goes easy on your computer resources. You can run the program with as little as 1 GB of RAM and a decent video card. Of course, the more power your machine has, the faster the rendering process will be.
Although GoPro announced that they had stopped supporting Studio, what it really means is that starting version 2.4, Studio is no longer officially bundled with Quik — the default software for working with GoPro media files. As a video editor, Quik provides very few features. For example, you can trim your files, add music and text, but that's about it. In other words, you can probably make do with Quik if you just want to cut videos, but when it comes to effects and color correction tools, this program has nothing to offer.
Luckily, for those who are already accustomed to using Studio and feel hesitant about switching to another software, the older versions are still available on the web. Some of the most reliable software directories, such as CNET Download, Major Geeks, and TechSpot still feature Studio version 2.5 which can be downloaded and installed. And it's great, because learning a new video editing program requires time and effort, regardless of how intuitive it is. So if you'd been using Studio for years and the news about its end-of-life broke your heart — we hope we've just lifted your spirits. Moreover, according to the GoPro official F.A.Q., technical support for Studio is still being provided (for the time being).
Shotcut is a cross-platform video editor that offers a plethora of video processing tools and happens to be open source — therefore, completely free. In addition to the editing feature set, Shotcut offers audio and video capturing tools which is convenient if you're planning to shoot reaction videos. Its interface is slightly unorthodox, so you might need to watch a couple of video tutorials before getting started. However, given the rich toolset Shotcut provides, it's well worth the time investment.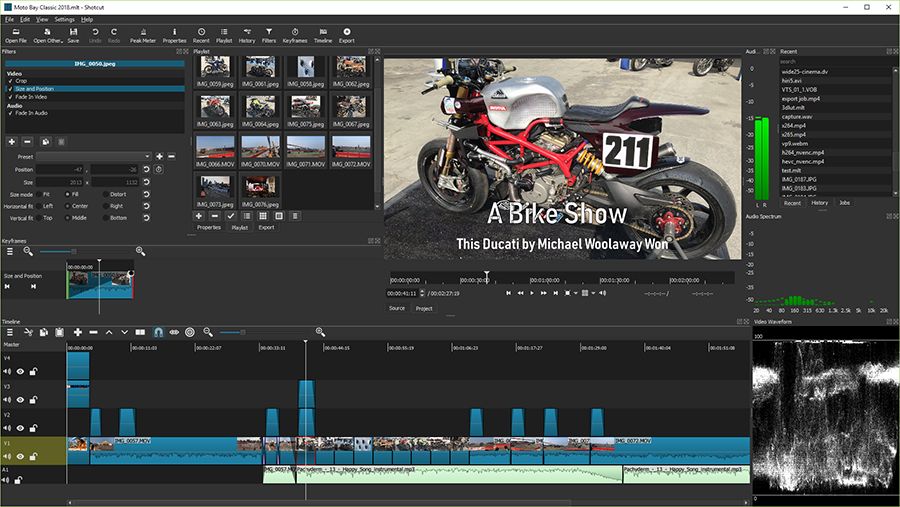 The most essential controls in Shotcut are accessible via a context menu or quick tools. For instance, you'll be able to perform montage, add text and music, and apply the slow-motion/fast-forward effects effortlessly. Other tools, such as filters, effects, and color correction are hidden a bit under the surface, and that's where tutorials come in handy. It's worth mentioning that, unlike many programs, Shotcut has quite an active official user forum where members of the community help each other overcome the learning curve challenges at any level.
Shotcut supports high-resolution videos and has overall great format compatibility. You can easily open 8K footage and save videos without any loss of quality.
Hitfilm Express falls into the category of freemium pro-consumer video editors. This means two things. First, it's a free version of a paid video editor with some features being locked behind the paywall. Second, it's designed for those who already have video editing experience and want to do more than just cut videos and add music.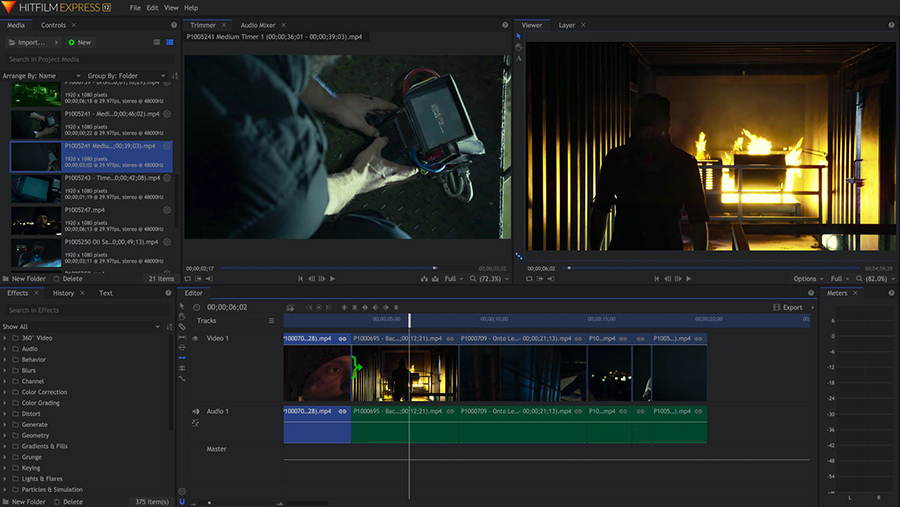 HitFilm boasts an advanced color correction toolset, multi-color Chroma Key, and a large effect library, which you can expand with paid add-ons without switching to the paid version of the software. Among its key advantages is a convenient timeline: you can easily unlink audio from the video just by dragging the two. On top of that, there's a real-time preview window that allows you to see the changes as you apply them.
To make the most out of HitFilm Express, you need to have at least 4-8GB of RAM and 2GB of video memory if you're planning to edit 4K footage.
DaVinci Resolve is quite popular among amateur filmmakers because of its powerful color correction toolset. And if you're wondering just how good it can be, keep in mind that Resolve was used to edit La La Land, Avatar, Pirates of the Caribbean, and many other movies you can learn from as a filmmaker. The company developing this beast of a video editor profits from professional studio software and hardware, and this strategy allows them to keep the non-professional version of their editor free.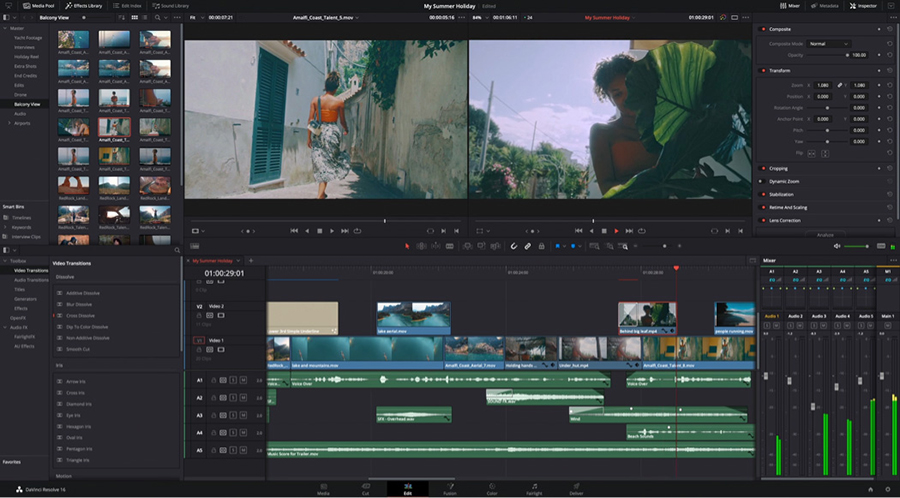 As a new user, you may feel a little overwhelmed by the multi-level interface as well as the horsepower required by DaVinci Resolve (at least 16GB of RAM, plus 4GB of VRAM). However, if you're serious about video editing, and your computer is powerful enough, you may look no further because Resolve brings an all-in-one tool for professional-level post-production. The feature set includes sophisticated montage and color correction tools, over 100 built-in cinematic effects, audio editing, motion graphics and more.
What makes a good GoPro video editor?
Now that we've reviewed 7 programs you can use to edit GoPro footage, let's make a quick recap on what makes a good GoPro video editor. To find the answer, we looked at the most frequently asked questions on the GoPro community forums.
Here are the key features you should be looking for:
The ability to open and edit GoPro videos without file conversion;
Compatibility with 120 fps footage;
H.265/HEVC codec export;
Audio editing feature set;
Intuitive color correction.
Plus, it's important to make sure your computer meets the system requirements of the software. Otherwise, you risk losing your work if the editor freezes and crushes when your processor gets overwhelmed.
Once you choose a GoPro video editor, don't forget to find your source of inspiration
As a rule, GoPro videos are already great. Due to the lens quality, the hardware, and the adventurous people they are shot by, most times, there's no need for advanced editing. No matter which software you choose in the end, we also highly recommend you to join the official GoPro community forum and follow some of the talented GoPro YouTubers, such as MicBergsma, or Expert Vagabond. There are many more out there for you to find a source of inspiration.
Happy shooting!