What is the best video editor for your GoPro footage? Check out these options.
December 07, 2017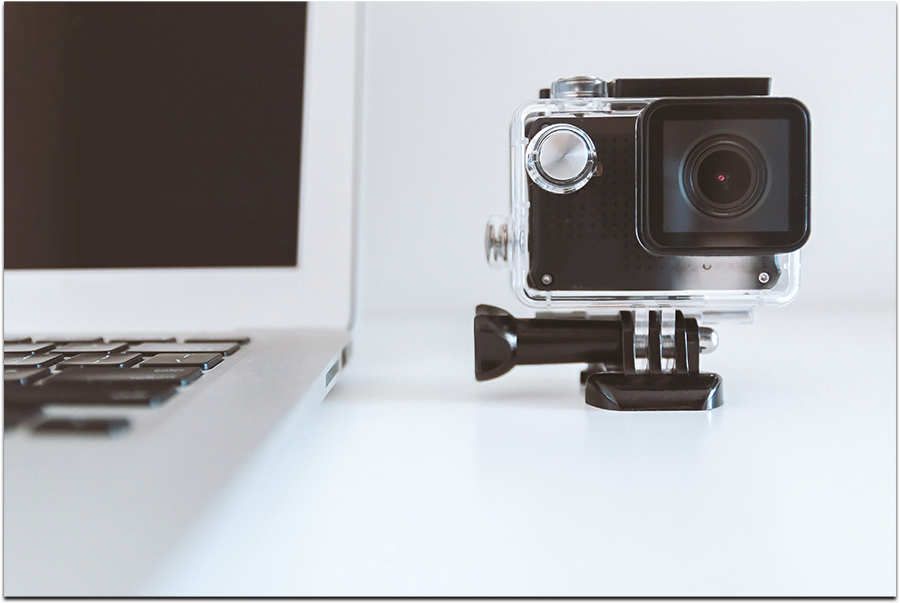 Exploring the Best GoPro Video Editor: Official Community Recommendations
GoPro products are amazing, and barely anyone can argue with that. Since early 2000s they've been disrupting the market of professional cameras with their stylish palm-sized devices capable of shooting in extremely high quality. The latest model released - Hero 5 - allows you to record videos in 4K, 2,7K, 1440p, 1080p, 960p, 720p, and WVGA, and it's a serious call-out for such market leaders as Canon and Nikon.
Yet, it's not the GoPro fantastic lenses and hardware alone that make a great video, it's the person behind the camera. Moreover, if all the raw footage was to be published on the Internet without going through post-production, perhaps some clips would be slightly less impressive, don't you think? Given that, finding a good GoPro video editor is one of the first tasks a new GoPro owner should think of.
Of note, GoPro used to provide its users with a free video editing software named Studio until the end of summer 2017, when Studio reached its end-of-life for support. Frankly, that opened up an opportunity for many video editing programs to be considered as alternatives, but only two of them made it to the official GoPro F.A.Q. and now are recommended to GoPro owners by the company technical support team:
Both are free non-linear video editors capable of basic tricks - like opening GoPro footage, cutting/splitting video fragments, adding music or text - as well as some professional-level operations - like adjusting contrast and color, zooming, and adding complex effects.
In this article we'll take a closer look at each piece of software and review a couple of alternative GoPro video editors you can check out too - if you're for some reason unconvinced with the official recommendations.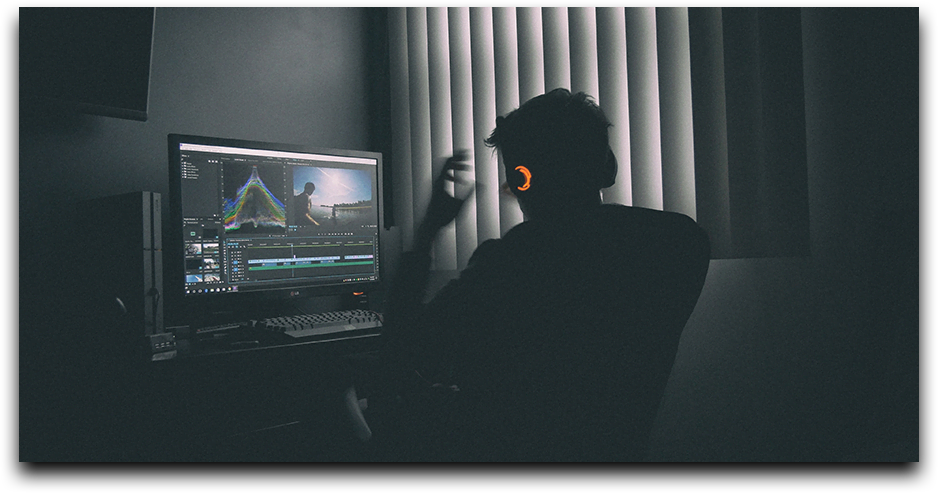 What makes a good video editor for someone who has just started using GoPro?
We took a quick look at the most frequently asked questions on GoPro community forums, and came out with the following list:
First, it's the ability to open GoPro footage without the annoying file conversion process;
Second, a tool to quickly cut and merge files using smooth transitions;
Third, audio muting and editing features;
Forth, settings to fix over- and underexposed videos shot against the sun or with a lack of it; black-and-white filters and a denoise feature;
Finally, the program must be working on an average computer regardless of its RAM and OS version.
Free GoPro Video Editor for Windows Users - VSDC (Download it here)
VSDC works on any PC including low-end computers. Whether you're on a 32- or 64-bit using 7,8, or 10 Windows OS, you'll be able to install and run it.
Opening a file
The discontinued Studio editor could only read files extracted from a GoPro camera, while footage shot on any other device simply wouldn't be opened. VSDC has no problem with opening and editing videos of any format, including 4K - so, you shouldn't worry about this one.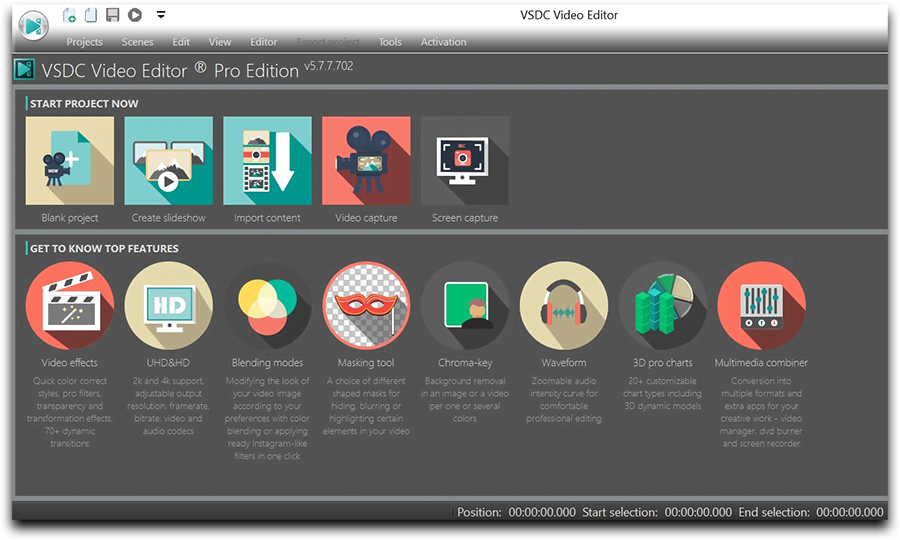 To start working in VSDC, open a program and choose the "Import content" button - then select a file on your computer. If you want to add another file while in the process of editing - be it a video or an image - you can do it at any moment. Click on the "Editor" tab in the upper menu, proceed to "Add object" button and choose the type of file you want to import.
Some prefer importing files to the video editor directly from their GoPro memory cards. That being said, we recommend saving the original footage from your action camera to the PC before you start editing, if your disc space allows that.
Basic video editing features
Once you've added a video to VSDC, you can mute its sound - especially if it's just background noises - add an audio or record your own voice comments. Just like in any GoPro video editor, you can rotate or crop the footage frame to focus on a particular object, and of course, you can cut and split fragments of your movie.
One of the top GoPro bloggers on YouTube, VidProMom, has published a detailed guide on splitting, trimming, doing slow motion and fast-forward in VSDC. Since a picture is worth a thousand words, we strongly recommend you checking this tutorial.
While you're working on a project - especially if it's a "heavy" long high quality video - we recommend you to activate the Autosave feature. Thus even if you have power outage, a cord chewed by a curious pet, or any other minor disaster, your video editing efforts won't be wasted.
Brightness correction
Action camera owners, more than any other videographers, are exposed to weather surprises. Videos come out overexposed or underexposed all the time, because of... you know, the sun. Some shooters rely on autocorrection features, but the outcome might not always meet the expectations. Here is a piece of advice for those willing to achieve the best results: dare to play with Brightness/Contrast/Gamma (or BCG effect) settings. Most non-linear GoPro video editors should allow you to access this panel and make adjustments according to your needs.
If your GoPro video is overexposed, or too bright because of the sun: don't rush increasing the level of contrast or decreasing the level of brightness - even thought it may seem the most logical step. Try lowering the level of gamma significantly instead, and watch how your footage becomes more visually appealing.
If your GoPro video is underexposed, or too dark: you're in a bit more difficult situation than with a bright video, but you can fix it to a certain degree by increasing all the BCG levels. Bring brightness to the highest point, then level up contrast and gamma a bit to adjust accordingly.
Adding text to your videos
You can add comments, titles and subtitles in any GoPro video editor with just few clicks. What we encourage you to try though, is playing with the settings to achieve impressive effects. Here are two tricks to apply in VSDC:

Text contour. Outline titles and intros in VSDC to make them look authentic in the picture. You're able to choose the contour color and thickness.
Video in text. This is a great effect for video opening or a transition to a new chapter. Even though it may look complicated, it literally requires just several mouse clicks and can be performed by a video editing newbie. Simply add text to the timeline, double click on its layer and add a video object. Make sure that the video covers the entire text, then click on "Blend" menu (left side of the timeline) and choose "source in". Here is the result you get: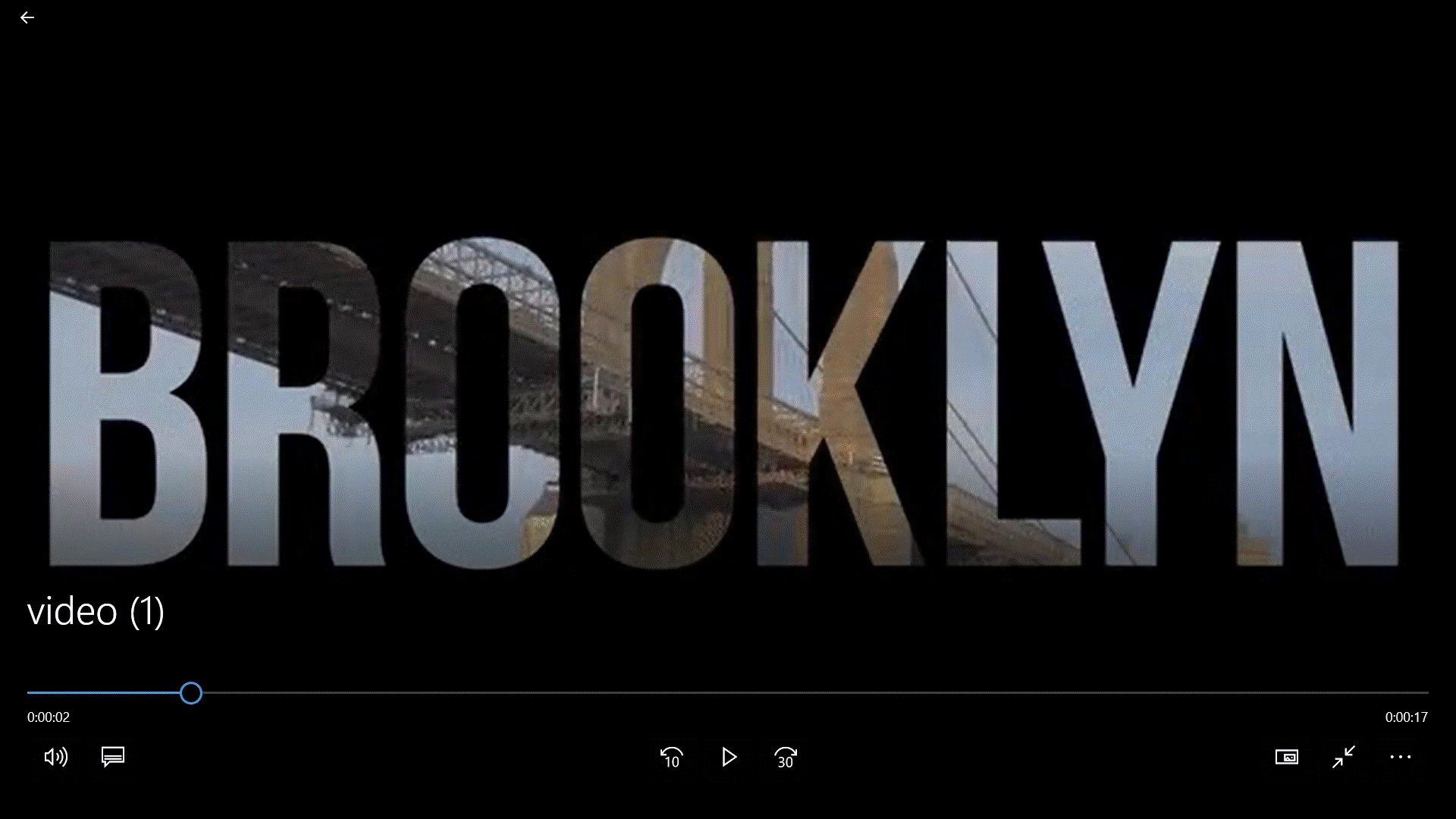 Export recommendations for a GoPro video editor
In modern video editing software, it all comes down to whether you're going to publish your video online, or keep it to yourself on a DVD. So when you get to the export step, those pre-configured output profiles - are the first thing you should look for. VSDC provides profiles for Twitter, YouTube, Facebook and Instagram. That means, the size, the resolution and the quality of your movie will be automatically adjusted for the particular social network requirements. It also provides presets for multiple devices/screen sizes/resolutions, which come in handy if you are editing a video to be watched on smartphones.
One thing we want to recommend though - no matter where the video will go - is keeping the highest quality possible. Social networks, poor Internet connection or low screen resolution are famous for smearing visuals so much, it may spoil the impression of the viewer.
Whenever you have a chance to choose an export codec, go with H.265/HEVC. It will compress your video to the minimum size while keeping the highest quality.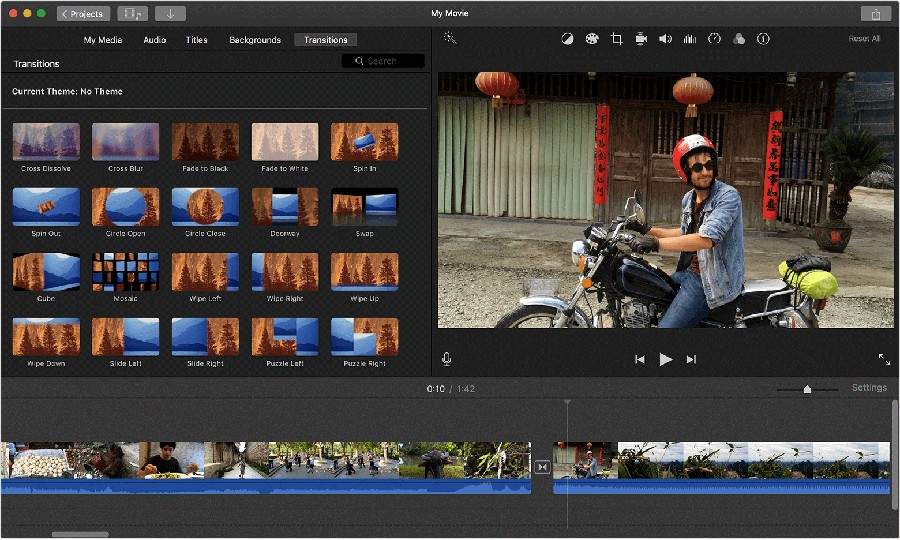 Recommended GoPro Video Editor for Mac users - iMovie (Download it here)
iMovie is probably the best free video editing software available for Mac users, especially now that Apple has made it available at zero cost to everyone - not just those buying a new Mac. Don't be skeptical about the program being default for its OS, because unlike Movie Maker, iMovie is a non-linear and overall much more powerful video editor. And by the way, it has a stabilization feature available to fix your footage if it's shaky.
Opening a file
iMovie has a clean intuitive interface, so starting a project is really a no-brainer. Whether you're shooting in 4K or not, it will read the footage and allow you to edit it. Although, it's important to mention that processing 4K will require additional resources from you computer and may not work as fast as with lower resolution videos.
To open a GoPro file in iMovie, click on the "Create new" big plus button and choose "Movie". Then select "Import Media" button and select the video from your hard drive. Unlike VSDC, iMovie doesn't add videos to the timeline automatically, so you'll need to do it manually in a preferred order. Note, that you can choose to place files in a linear (direct) sequence, as well as non-linear (indirect) - say, if you want to create a picture-in-picture effect.
Basic video editing features
As any other GoPro video editor, iMovie allows you to work with images and videos, cut and crop them, add transitions, add music to you clip and apply multiple effects. If you go to the dropdown menu in the upper part of the preview screen, you'll find a Picture-in-Picture effect, a Green/blue screen effect, and a basic Split screen effect. In the upper menu there are also built-in libraries for titles and movie backgrounds - quite handy!
Color correction
Color correction settings in iMovie are slightly different from what you saw in VSDC, but you can achieve great results if you invest your time in it. It's a common issue noticed by many action camera owners, that lenses can't always transmit the real picture perfectly, so footage sometimes comes out less colorful than you expect them to be after seeing the view with your own eyes. iMovie will help you fix that.
Click on the "i" button on top of the timeline menu and you'll see a new window named "Inspector" pop up. Choose "Video" tab to open the color correction settings available. You can work with exposure, brightness, contrast, saturation, and RGB of course. There is also a white point adjustment circle at the bottom.
Since - again - a picture is worth a thousand words in this case, below is a short video guide by Matthew Pearce about how to perform color grading in iMovie to make the image sharp, colorful and full of volume.
Recommendations for exporting a video
To export a video, click on the "Share" button and proceed to "File". At this point you can choose format, quality, compression and resolution - including the native 4K if that's the resolution you were shooting in. As you probably have guessed, the higher compression level is, the smaller your file size. To make sure you minimize it without losing video quality, choose H.265/HEVC codec supported by the latest versions of iMovie.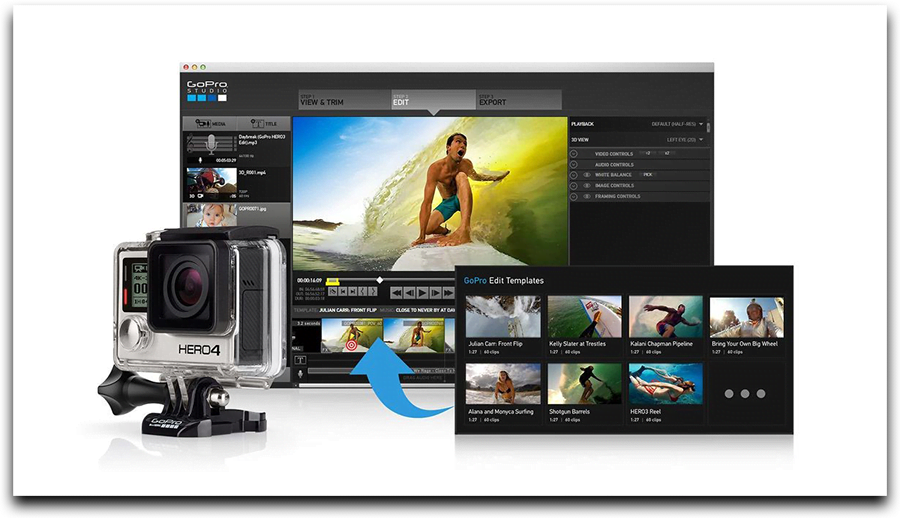 Image source: http://mashable.com/2015/07/06/gopro-ceo-vr-drones-cloud/#N7T25PD4eiqK
Other GoPro Video Editors to consider
If for some reason, you think VSDC or iMovie are not for you, there is a number of other options for you to try. And even though we won't go deep into reviewing each program, but we'd like to suggest a couple of them and at least save you some research time.
Older versions of Studio
Yes, you got it right. Although GoPro has announced Studio end-of-life for support, what it really means is that Studio is no longer bundled with Quik - the default software GoPro owners use for extracting media files from their action cameras, storing, organizing and sharing them. Quik has few very basic processing features - like trimming and adding music or text to your clip - but it can hardly be called a full-featured GoPro video editor. Starting the latest Quick 2.4 version release, Studio is not available to GoPro users as an add-on.
Yet, it doesn't mean there are no older versions of the program available on the web. A quick look at the most reliable software directories - such as CNET Download, Major Geeks, or TechSpot - confirms that Studio version 2.5 can be downloaded and installed. And it's actually great, because learning a new video editing program requires time and effort investments. So if you'd been using Studio for years and the news about its end-of-life broke your heart - we hope we've just lifted your spirits. Moreover, according to GoPro official F.A.Q., technical support for Studio is still being provided (for the time being).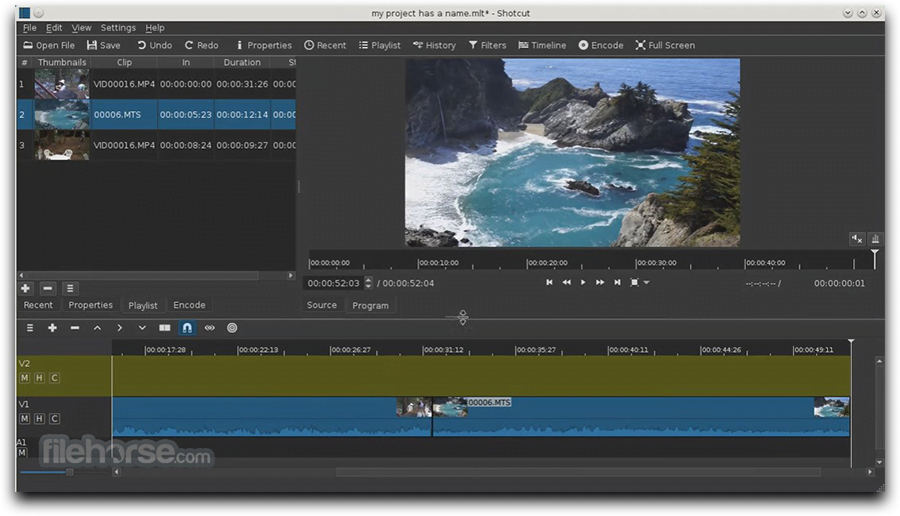 Image source: http://static.filehorse.com/screenshots/video-software/shotcut-screenshot-03.jpg
ShotCut - GoPro Video Editor for those preferring open source software
ShotCut is a cross-platform solution, which means you can use it on any OS - Windows, Mac, or Linux. It supports 4K resolution and overall has great format compatibility. ShotCut interface is quite minimalistic, and the tool-set includes the most essential post-production functionality: video effects, filters, transitions. You'll be able to perform basic color correction, play with speed and apply slow motion and fast-forward effects.
Adding text or music is also possible in ShotCut, yet, it doesn't support subtitles in the current version. On the other hand, there are audio and video capture features, if you want to record a reaction video or a voiceover. It's worth mentioning, unlike many programs, ShotCut has quite an active user forum where members of the community help each other overcome learning curve challenges of any level.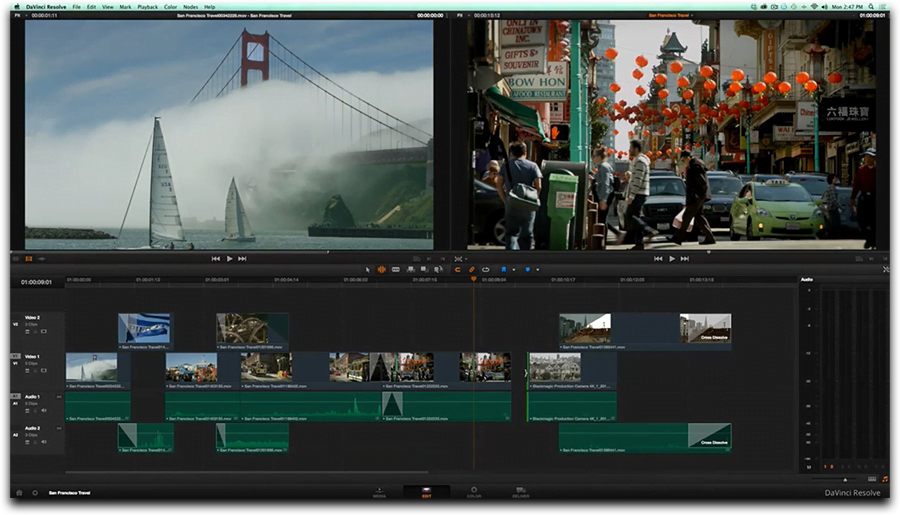 Image source: https://www.cinema5d.com/wp-content/uploads/2015/03/Resolve11_3.jpg
DaVinci Resolve - GoPro Video editor for those looking for professional level results
Davinci Resolve is very well-known among amateur filmmakers because of its powerful color correction feature. It may be lacking minimalism of ShotCut and not be as lightweight as VSDC, but if it's a real movie you're working on, and your computer is powerful enough (graphic card with minimum 2GB RAM) - look no further.
Davinci Resolve is absolutely free with no watermarks, and it works on both - Windows and Mac OS as well. It might bring a steep learning curve with all the multilevel settings you get access to, but since you get a chance to get Hollywood-looking results, it is probably worth investing time into.
Conclusion
GoPro videos are already great - yes, thanks to the lenses, the hardware, and adventurous people they are shot by. Most times there is no advanced editing required, really. Perhaps, just a bit of trimming here and there, or adding your favorite music for the soundtrack. Whichever software you choose in the end, we also highly recommend you to join the official GoPro community forum and follow creative GoPro YouTubers, such as MicBergsma, Expert Vagabond and VidProMom. There are many more out there for you to find a source of inspiration.
Happy shooting!