10 Best Music Visualizers [2023 Edition]
Music visualizers have been around for a while, but right now, they're catching a new wave of popularity. People use them for podcasts, music videos, and social media posts.
Of course, major market players like Adobe Effects do include an audio spectrum effect, but if you're only posting visuals once in a while, you may not want to break your piggy bank for the subscription fee. So if you're looking for a free or affordable tool for creating beautiful audio visualizations, below are 10 programs to help you do just that.
5 Absolutely free music visualizers (no watermark)
Without further ado, let's start with free music visualizers you can use on your PC or right in the browser.
VSDC is a free video editing suite for Windows, but it happens to have a powerful built-in music visualizer. Unlike most tools, VSDC works offline, so you don't have to rely on your Internet speed and worry about the file size. You can use it to create linear or circular audio spectrums, abstract music visualizations, and anything in-between.
Because it's a non-linear video editor, its feature set is significantly more versatile than what most dedicated music visualizers offer. For instance, you can visualize an audio that is a part of an uploaded video file. You can also upload an image or a video as a background, and place an audio waveform over it. On top of that, VSDC includes lots of cinematic effects that will come in handy if you're working on a lyrics video. Such effects include raindrops, various video overlays, side-by-side videos, and more.

Download the latest version of VSDC
VSDC supports all popular audio formats and allows you to upload your projects directly to YouTube. If you're creating videos for social media, there are special export profiles for Facebook, Twitter, Vimeo, and Instagram that help you save your files using the best parameters for the selected platform.
Read a detailed guide to using VSDC audio visualizer here >>
MusicVid is a popular template-based music visualizer. As you enter their website, you'll find a gallery of pre-designed templates: circle spectrum, bar visualizer, audio waves, and more. Select any template and click around if you want to test the app without having to start a new visual from scratch.
Depending on the template you've selected, you can customize your animation. For instance, if you've applied the circle spectrum template, you can adjust the background, spectrum type, color theme, number and size of particles, and other parameters.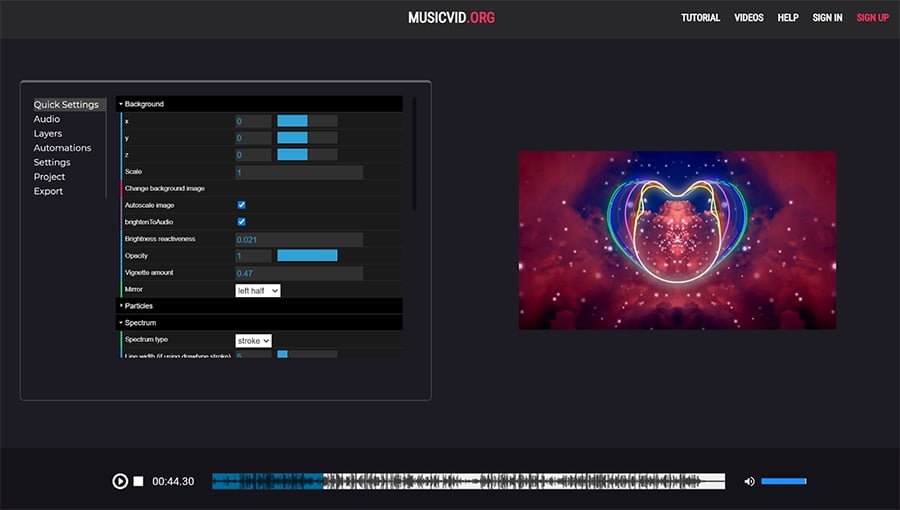 The spectrum visualizer seems to be the most versatile template in the MusicVid library because other templates provide fewer settings to play with. However, you can also start an empty project and create your own visualizers. Keep in mind that some templates include an attribution notice and require you to credit the author when you publish your project.
Exporting is very straightforward, although it may take some time while all the elements added to the scene are being rendered. One really convenient feature you'll notice during the export is the ability to save a fragment of the audio instead of the entire file. It's a great way to create a short sample, a teaser, or a soundbeat for social media.
Watch the MusicVid tutorial and try it for yourself.
Vizzy is another online music visualizer from the creators of MusicVid. Although this app is still in the Alpha version, Vizzy is rather impressive and definitely worth trying. You can work with animated text objects, spectrums, images, and effects. The most outstanding feature in the Vizzy toolset is called Analyzers. Analyzers allow you to manually control how objects added to the scene react to the music beat.
Unlike MusicVid, Vizzy brings many more cinematic effects you can apply to the visualizer. Some of the most stylish ones include Glitch, VHS, and Fisheye.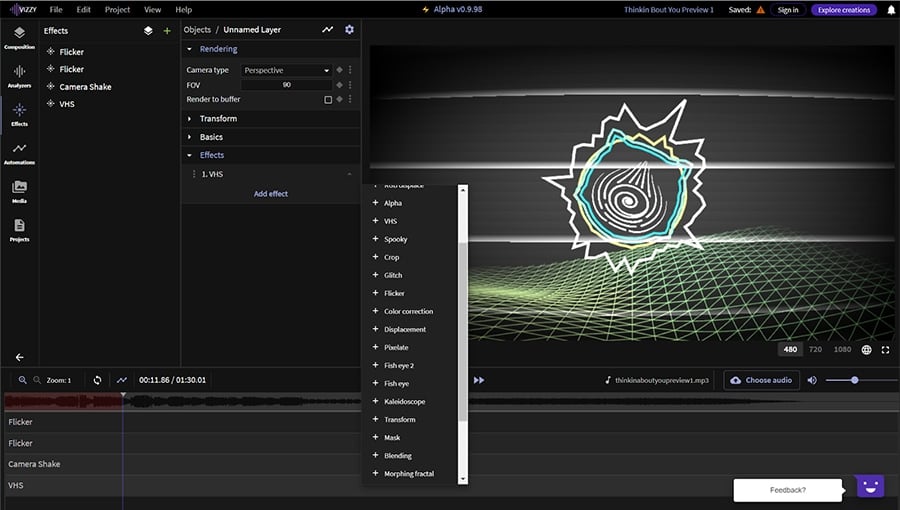 Of all tools in this list, Vizzy seems to have the most intuitive interface, although to upload your own files, you'll have to log into the program using your email. For testing purposes, however, you can open the Creations library and use animations created by others. This is a very user-friendly approach, especially if you're in the process of comparing tools and don't want to register on every website. Besides, seeing other creators' projects can be inspiring!
Headliner is an online audio visualizer designed for podcasters. Its newbie-friendly wizard-based interface will walk you through the process of creating a beautiful visual within few minutes. To get started, you can either upload your own track or paste a link to your existing podcast. Next, the app will ask you to select the range for visualization and the output video size. However, the most exciting part starts at the Customization step. This is where you can select the waveform style, add a background image and text. If your muse is taking a vacation, you can just jump to the template gallery and select any pre-designed visual.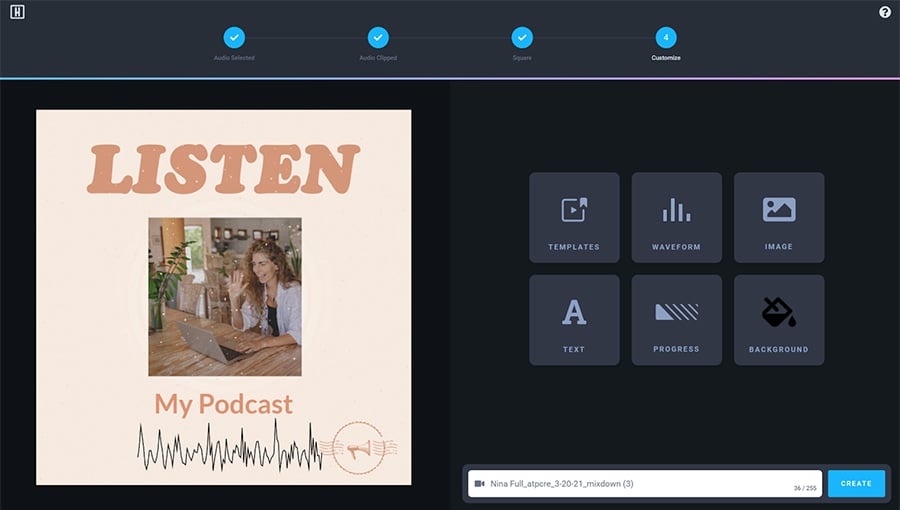 Once you're ready, you can share your video directly on Twitter, YouTube, Instagram, Facebook, save it to Drive and Dropbox, or download it to your computer in the MP4 format. The paid tiers include extra features like captions, unlimited audio transcriptions, and custom fonts. The free plan allows you to download up to 5 unwatermarked videos per month and produce under 10 minutes of transcription.
Like Vizzy, the Headliner gallery features audio visualizations created by other users. Unlike Vizzy though, the Headliner featured user base includes celebrities and media outlets such as Julie Andrews, The Economist, Smartless magazine, and more. Be sure to check it out if you're onto finding a new podcast to subscribe to.
View the gallery of videos created in Headliner and try it for yourself.
WoFox is a content creation and management platform that boasts dozens of helpful tools including graphic design builder, video maker, and a music visualizer. The app is currently in the Beta version, but it works well albeit the loading speed seems a bit low. The interface of WoFox resembles a slideshow maker: it seems familiar and straightforward. Once you choose a template, you can adjust the text, the color theme, the visualizer type, and the graphics.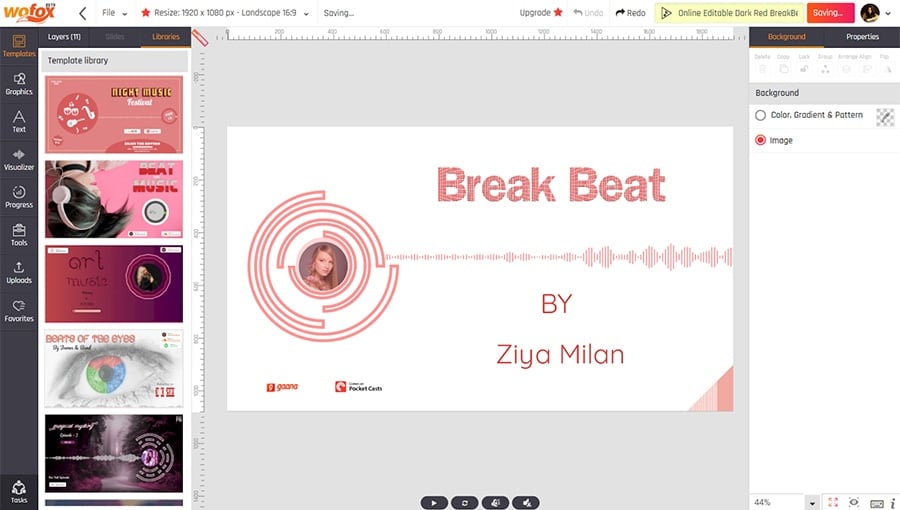 Most templates are designed to help musicians promote their songs on social media platforms that don't support audio formats per se. What makes the templates especially convenient is the ability to quickly change the video type and aspect ratio for the platform where you're planning to publish it.
The free plan of WoFox generously provides you with an unlimited choice of templates and graphic assets. You can export videos up to 30 seconds and 360 px each without watermarks. Keep in mind that the free version includes built-in ad banners (which are small and unobtrusive) and provides no commercial use rights. To change that, you'll need to upgrade to one of the paid tiers starting at $10/mo.
Check the WoFox template library and try it for yourself.
5 Paid (although affordable) music visualizers
To be fair, most free tools include virtually everything you'd want to find in the paid ones. However, since some of you may not be willing to put up with the embedded ads, the lack of customer support or customization, we've included 5 more music visualizers that come with a price tag, yet remain somewhat affordable.
Renderforest is a popular content creation platform for non-techies who need marketing visuals and have zero design skills. A large part of that content creation toolkit is a video maker that allows you to create explainer videos, animations, presentations, and music visualizations.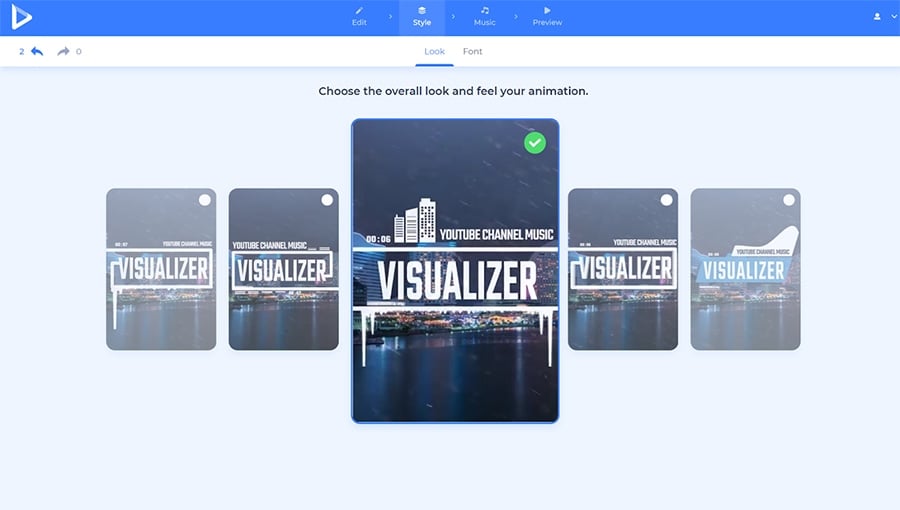 The Renderforest interface is a complete no-brainer. For each template in the gallery, there is a set of style variations to help you adjust the look and feel of your animation. Once you're ready, you can decide whether you want to export your video for free or willing to pay for better quality.
The free version allows you to export 360p videos for up to 3 minutes with a watermark. The upgrade system is very flexible though: you can pay just for a single export, a subscription, an HD quality, or a custom watermark. In other words, Renderforest utilizes the pay-for-what-you-use system and it seems fair, especially if your project is a one-off and you're hesitant about getting a subscription. The lowest price for exporting a single video without a watermark is $9.
Videobolt is an online video maker with a music visualizer on board. It seems to be tailored more toward music creators, rather than podcasters because most templates in the gallery are designed with music animation in mind.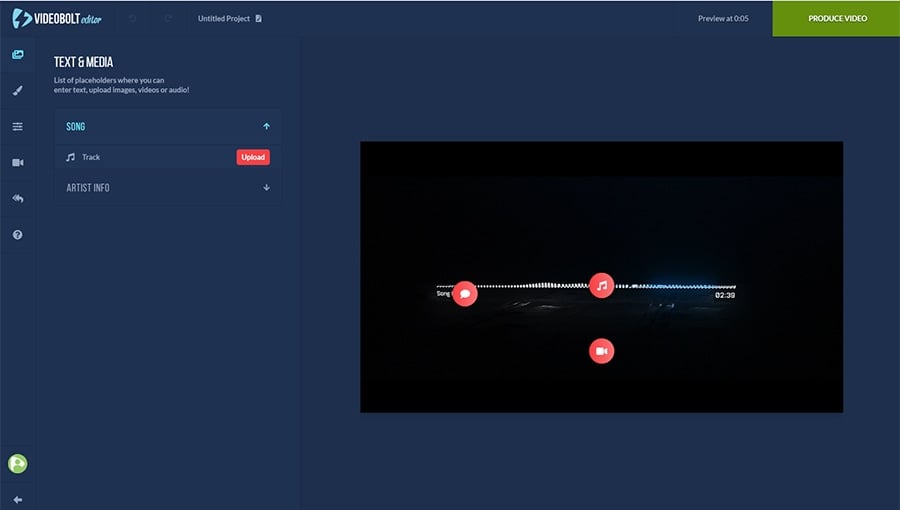 Videobolt allows you to upload audio from your computer or directly from SoundCloud. When you first open the app, a quick walkthrough window pops up, however, it is seemingly unnecessary. Using the main screen, you can quickly upload your track, the artist info, and the background. For further customization, you can use the options in the left-hand side menu.
Once you select the color theme, the beat frequency, and the effects, you'll be prompted to produce a 15-second low-quality preview with a (rather huge) watermark to see the result before exporting the entire video. From there, you can either go back to editing or choose a subscription plan to export the video in high quality. Pricing plans start at €7.99/mo which includes up to 6-minute videos, a commercial license, fully licensed music library, lots of stock footage, and cloud storage for your media files. There's no free plan or trial period.
Songrender is like Canva for podcasters. It helps you create simple music visualizers and podcast clips for social media. To get started with this tool, you'll have to register an account. It does seem a bit of a hurdle, especially given that most tools allow you to run a test drive without signing up. However, from there, the process is smooth and simple.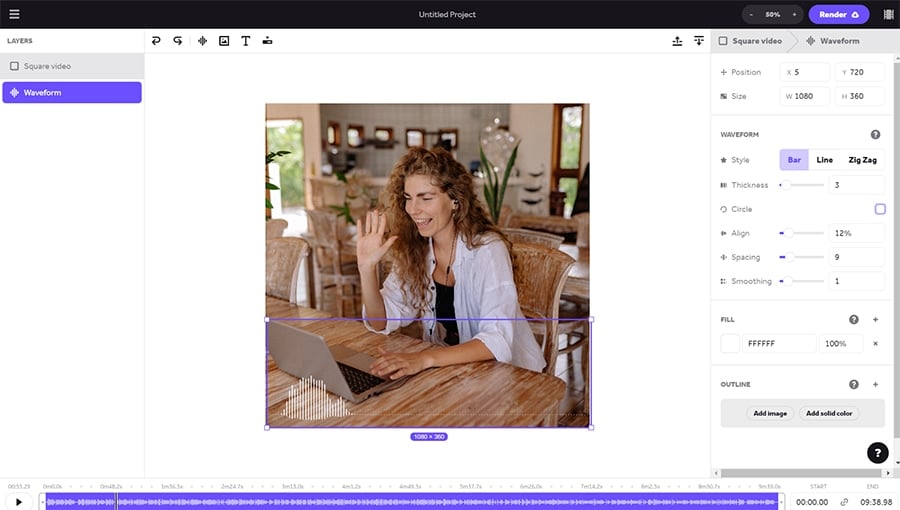 In the array of black-themed interfaces, Songrender feels like a breather. It loads fast and walks you through every step during the onboarding process which includes 2 screens: you upload your track and the background on the first one, and customize the style of the waveform on the second one. Before rendering your file entirely, you can export a shorter sample just by dragging the handles on the timeline. From there, you can either proceed with a watermark or buy a "credit" for $5 to export 1 video without a watermark. If you're going to produce music visualizers on a regular basis, there are credit packages and monthly subscriptions available.
Using the free trial plan, you can export as many 720p watermarked videos as you want as long as they're under 5 minutes. Unlike Videobolt, Songrender allows you to actually save watermarked videos to your computer and publish them online.
Specterr is an online music visualizer and a lyrics video maker. This means that in addition to the audio beat visualization, it enables you to add synchronized song lyrics to the scene.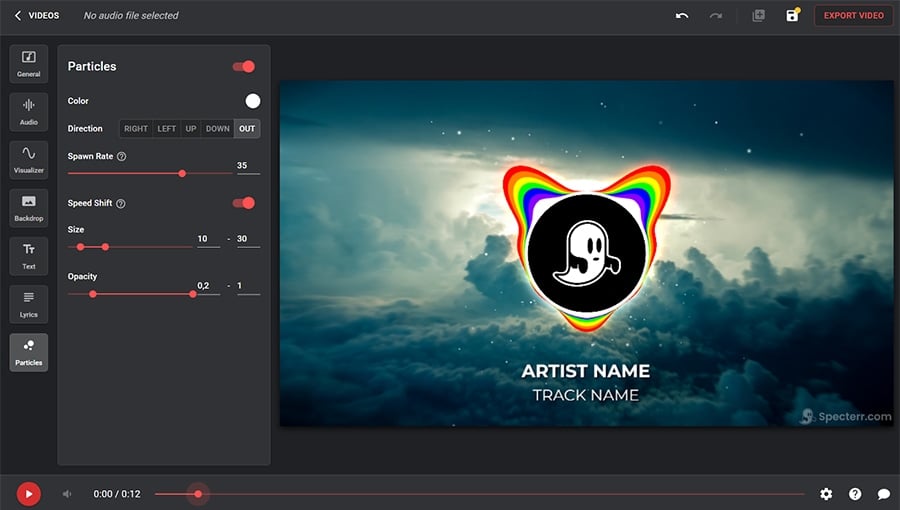 It's hard to call the Specterr templates somewhat unique, yet it can boast about quite a few customization controls that allow you to turn your music beat into a truly unique video. For instance, one cute detail missing from most music visualizers on the list is the ability to create depth by adding particles to the video.
When finished, you can either save your project in the cloud or export it to your desktop. At this point, you'll be prompted to sign up and create an account. The price tag for using Specter is higher than what similar tools ask for. The free plan includes 2 watermarked videos per day with a duration of up to 5 minutes. If you want to download a single video without a watermark, you can do it for €11.99 (720p) or €15.99 (1080p). Otherwise, you'll have to select a subscription plan. For a fee, Specterr offers two options: 4 high-quality videos for €20 per month, or an unlimited number of videos for €60 per month.
OFFEO is a video maker designed for marketers. This app is an official Facebook partner, and it offers tools for creating intros, GIFs, memes, video ads, and other assets. You can very well use it as a music visualizer, too! There's a dedicated gallery featuring stylish quick-start templates.
If you're a creator promoting your brand (or your band) on social media, OFFEO seems like a really handy all-in-one platform that comes choke-full of design tools. However, to try it out, you'll have to register an account and provide your payment info. There is no free plan or commitment-free trial period, which seems to be an outdated practice for SaaS. Although the company does offer a 30-day refund guarantee, it makes it harder to compare apps and make a decision. For those on the fence, there is a private Facebook community where OFFEO users share their projects and insights.
Choose a music visualizer that works for you
As you can see, there's a wide choice of music visualizers on the market. With this roundup, we've just scratched the surface trying to find free or affordable tools for those on the budget. At their core, most apps are nearly the same: they do the job and allow you to create beautiful music videos without being a video editing pro. At the end of the day, your choice will depend on three questions:
whether you prefer a cloud-based solution or a desktop app;
whether you want to have full customization freedom or you can make do with a pre-designed template;
and whether you're ready to pay for unwatermarked videos or not.
Finally, it's also important that you like the way the app looks and feels. So go ahead and try a couple of them from our list to find the one that works for you.