5 Best Pieces of Free Video Editing Software for Drone Footage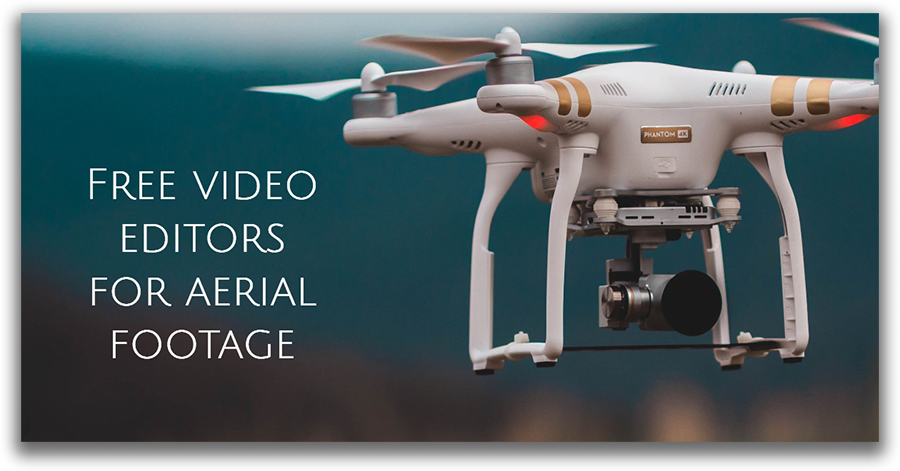 So, you have bought a drone, spent some time to get the hang of the flying process, and now you're looking for a decent drone video editing software to turn your footage into a movie? You're in the right place then. It is only natural to be willing to share what you've recorded with the world, as we all know how mesmerizing most aerial videos are.
But before you hit that Publish button, there are cuts to be made, music to be added, and titles to be written. In this post, we've reviewed 5 tools that will not only help you perform basic editing tasks but provide advanced tools for video effects and color correction. All the programs below are truly free – no watermarks, no ads, no 3rd-party apps attached – so you shouldn't expect unpleasant surprises after the installation.
Ready to start?
Based on your level of experience, your OS, and your goals, here are some of the best options.
If you own a Windows PC, VSDC should be your number one option. It is the most lightweight video editor featuring a surprisingly wide toolset easily compared to professional-level software. You'll be able to quickly cut what you've recorded and choose the best takes, merge them into a clip, crop, zoom, and set up the playback speed. VSDC offers dozens of color filters, titles and animation, transitions and flexible audio settings.
Download VSDC Free Video Editor
The interface is intuitive enough for you to figure it out but if you've never had a chance to work with advanced video editing software, there are tons of tutorials available online to point you in the right direction. Below is a screenshot of the "video-in-video" effect – one of the most popular and the easiest ones to apply in VSDC: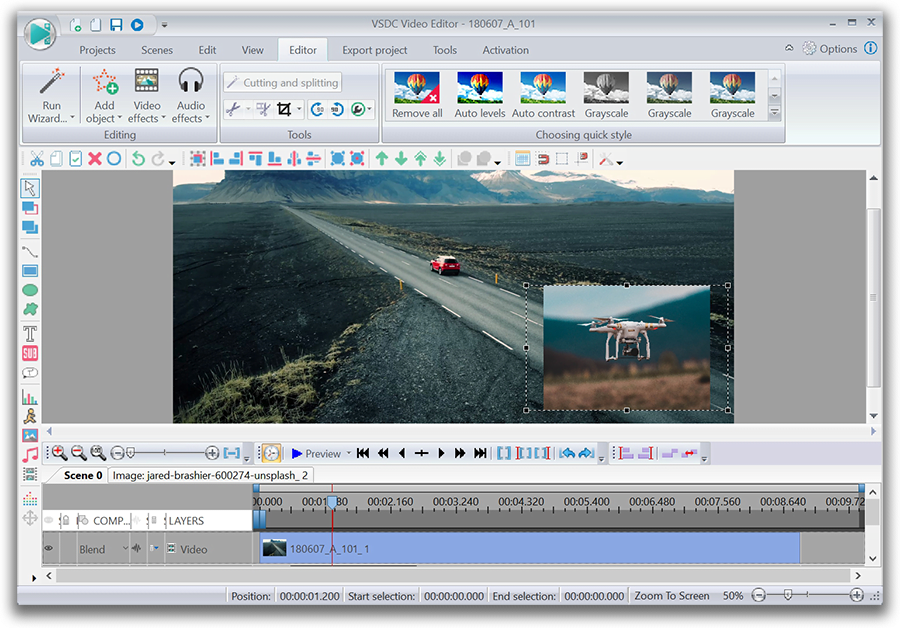 What's noteworthy, VSDC also includes audio and video recorders. So, if you plan to create voice comments to your drone clips or record facecam – you can do it using one and the same app. Plus, it's officially recommended by the GoPro team members and multiple drone owners including Quadcopter 101 (bookmark his YouTube channel to watch various drones being tested and reviewed in real-time!).
Finally, full format compatibility makes VSDC a great choice and here is why. Let's say you're flying a Phantom and therefore looking for a DJI video editor. What DJI drone owners already know is that their videos are saved in either .MOV or .MP4 depending on the settings. And while there is barely any difference quality-wise, some Windows-based video editors struggle to recognize .MOV files. Not VSDC. This tool easily handles even the "tricky" formats, allows you to process 4K and even to export the .H265 codec. Why is it so important? Because the .H265 or HEVC codec helps you keep the highest quality of the video while minimizing the file size, so you could share your clips over email and upload them to YouTube faster without quality loss.
iMovie – recommended drone video editing software for Mac
iMovie has been heard of by most Apple fans, and if you're one of them – consider giving it a test-drive before even looking at 3rd-party apps. Previously, iMovie was only available to new Mac owners but now it's free to everyone. Besides, this editor works on mobile devices too.
Download iMovie from Apple Store
iMovie has a minimalistic interface and offers all the essential features for a beginner or an intermediate-level user. There are two video tracks and two audio tracks – which means you can combine multiple clips using split screen effect (on the screenshot below), video-in-video effect, or just by blending two videos into one.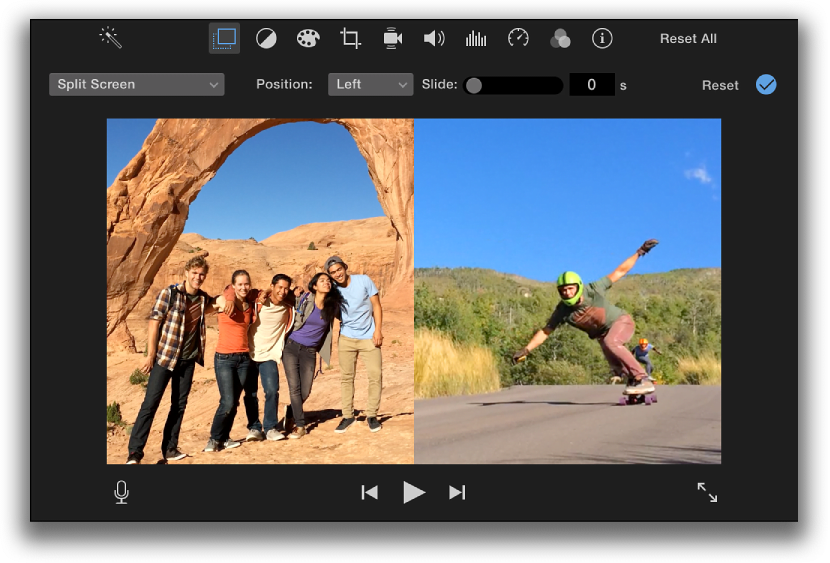 You'll find a set of themes, title templates, transitions, and effects. Working in iMovie reminds of using a virtual canvas a lot because most actions are performed via drag-n-drop movement. Thus, you get full control of the picture – you can cut, crop, rotate, and zoom a chosen area. Plus, you can apply speed settings to get that slow-motion effect when needed or set up the length of transitions between scenes.
Just like VSDC, iMovie works well with most video formats and lets you keep the quality if you're shooting in HD or 4K. For complete beginners looking for a detailed tutorial, Jamie at Teacher's Tech published a fantastic guide on how to start editing videos in iMovie. Watch it here.
Davinci Resolve – professional-level software for Windows, Mac, and Linux
Davinci Resolve is a cross-platform solution, which means it works on any OS: Mac, Windows, or Linux. On this list, Resolve is the most resource-consuming and the most advanced video editing software. So, if you're serious about learning the art of post-production and you have a powerful enough computer (recommended RAM is 16 GB), look no further. It's been recommended by professional videographers and DJI community on Reddit.
Download the Free Version of Davinci Resolve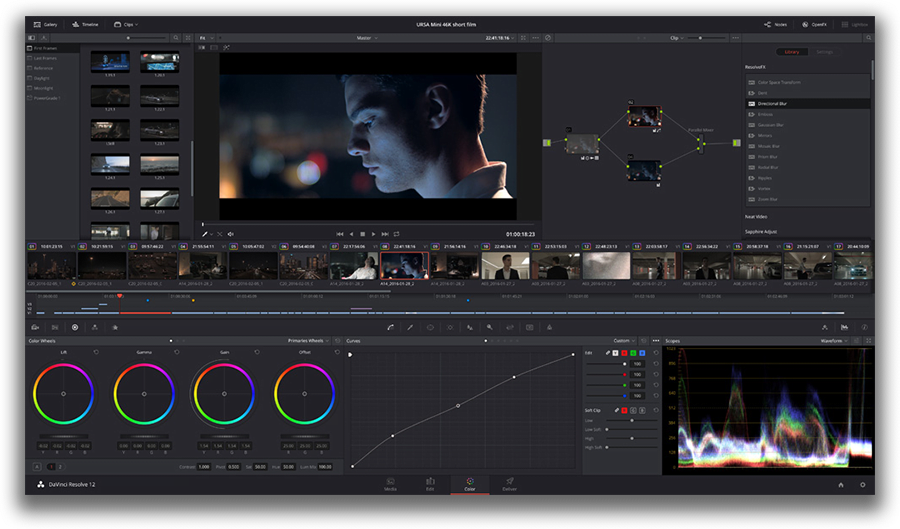 The free version of Davinci Resolve boasts exclusive color correction tools and stands out with its set of filters. There are several video tracks, so it suits for non-linear video editing, plus the trimming tool is quite intuitive. Resolve virtually supports most popular video formats including Quicktime. You can process videos of up to 8K resolution, but the export settings are limited by 3,840 x 2,160. If you're uploading directly to YouTube or Vimeo, the video will be exported in 1080p.
HitFilm Express – another promising video editor for your consideration
HitFilm Express is a free version of the paid software by FX Home available for 64-bit optimized Mac and Windows OS. Downloading HitFilm Express is a bit of a quest because you're asked to share its page on social media and create an account using an email address to receive a link to download the editor. The system requirements are lower than what Davinci Resolve has but you still won't be able to use the program on a low-end computer. Recommended RAM is 8 GB (minimum 4 GB), plus 1 GB minimum of video memory is required.
Get HitFilm from the official website
HitFilm Express has an unconventional interface that may slow you down at the beginning but there is an excellent collection of tutorials published on the developer's website and it's a good place to start. Feature-wise, this app is focused on effects – hence the Hollywood-inspired website theme – but you can use it for more trivial tasks like cutting out the unwanted pieces of video, creating layers, adding filters and text.
If you pick HitFilm to be the drone video editing software of your choice, keep in mind that even without purchasing the $299 Pro license, you can power-up the free version with premium add-on packs available right in the program interface. They include some of the most demanded effects and tools such as picture-in-picture effect, 360° editing, a pack of retro effects, and LUT color filters. HitFilm is compatible with MP4 format, QuickTime, AVI, WMV and GoPro CineForm, and few others. Videos are exported at 1080 maximum.
Lightworks – powerful free editor for those uploading to YouTube or Vimeo
The last software on our list is Lightworks, and that's not for the lack of features but for the lack of export options. The free version of this video editor only allows you to save files in MP4, 720p maximum. This might not be an issue for those uploading videos to YouTube or Vimeo but is quite an upsetting factor if you're shooting in 4K and really care about the quality. Nevertheless, Lightworks deserves to be mentioned because of its unique approach to the trimming process and the timeline. In fact, this might be the best tool for those who have a lot of footage to be trimmed and organized into a shorter clip.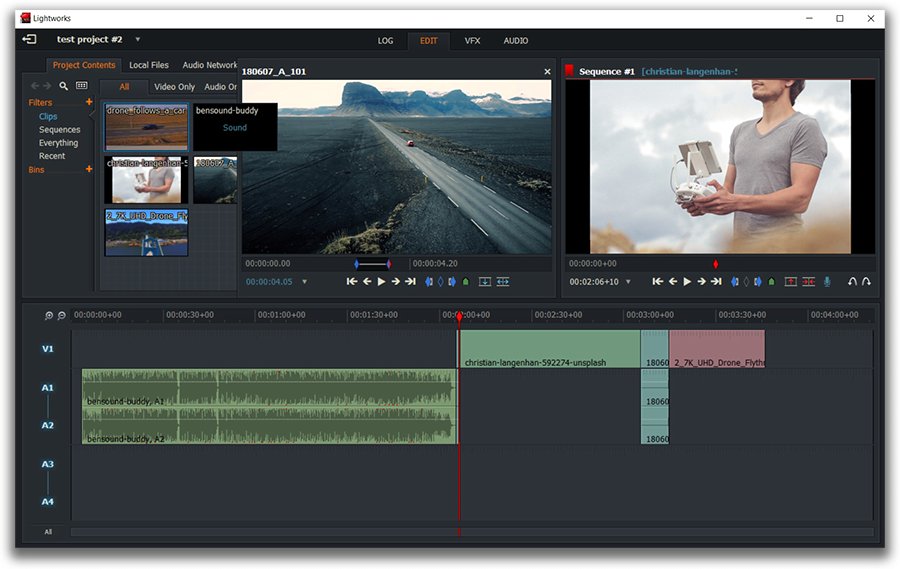 Typically, you add a video file to the timeline and cut it into fragments, then remove the ones you don't want. In Lightworks, you can use markers to choose the part of a video to be added to the timeline in the first place. It keeps the working area clean and helps you focus. Besides, you can rename the fragments and zoom in/zoom out the timeline for higher precision.
Apart from cutting and merging files together, Lightworks allows you to perform color correction using RGB, HSV, and Curves, apply speed presets, add credit-style titles and adjust the sound of your video.
This video editor works on Windows, Mac, and Linux. You can download a 32-bit or a 64-bit version from the official website. Make sure you have at least 3 GB of RAM.
Here is what you should be looking for when you're choosing a drone video editing software
First, you need to make sure your computer complies with the software system requirements. For example, if you have a 64-bit version of Windows 7 with limited memory, VSDC is your best bet because it runs well even on low-end PCs. On the other hand, if you have a powerful machine and looking to master advanced video editing techniques, Davinci Resolve is a terrific choice.
Second, before you even install the new tool, find out what format and resolution you'll be working with. That's quasi-important because as we've mentioned already, some video editors – especially those working on Mac – struggle to open .MP4, while others won't process .MOV or a 4K video. In other words, if your software isn't compatible with the format/codec/resolution of your drone videos, you'll have to look for roundabout approaches and convert videos prior to editing. Conversion takes some time, some effort, and sometimes even affects the quality of the video. We recommend avoiding unnecessary conversions whenever possible.
Third, always check for online tutorials. No matter what level you are at, mastering a new tool always involves a steep learning curve and you probably don't want to dwell on the trial and error path for too long. So before diving deep into the world of drone video editing software, check out YouTube and other resources. For instance, VSDC team has an entire channel with over 300 videos showing you how to perform editing from scratch. There are also plenty of video guides published by Lightworks fans, and if you end up installing Davinci Resolve, you may even want to check out online courses on Lynda and Udemy to get the most of its capabilities.
Go ahead and start editing your first drone video today
You may start small – just cut and merge a couple of fragments – that's fine. Nobody is born with professional video editing skills. Just like you've learned to operate your drone, you'll master the art of montage to the required extent. And when you're ready for the next level, check out this article about 7 video editing tricks to make your drone footage look cinematic.