VSDC Video Editor Review: Everything you need to know before installing it
On this page you'll find a brief VSDC review based on the most popular queries: feature-set, formats, pricing model, and system requirements. If you're here to read what bloggers, journalists, and users say about our video editor – keep scrolling down.
"A brilliant free video suite for Windows"
Techradar
VSDC review: feature-set
VSDC is a non-linear video editor for Windows. "Non-linear" (as opposed to "linear" video editing like in Movie Maker) means you can combine video files and images in any sequence and create incredible compositions. If you've never heard of non-linear video editing before and still feel confused, think of it as "photoshopping" a video. You'll be able to create layers, place several objects onto a scene, overlap them, blend fragments and even make them half-transparent if your goal requires that.
Here are some popular features available due to the technology of non-linear video editing:
Picture in picture
Side by side and split screen videos
Video in text effect
Green screen removal (Chroma Key)
Double exposure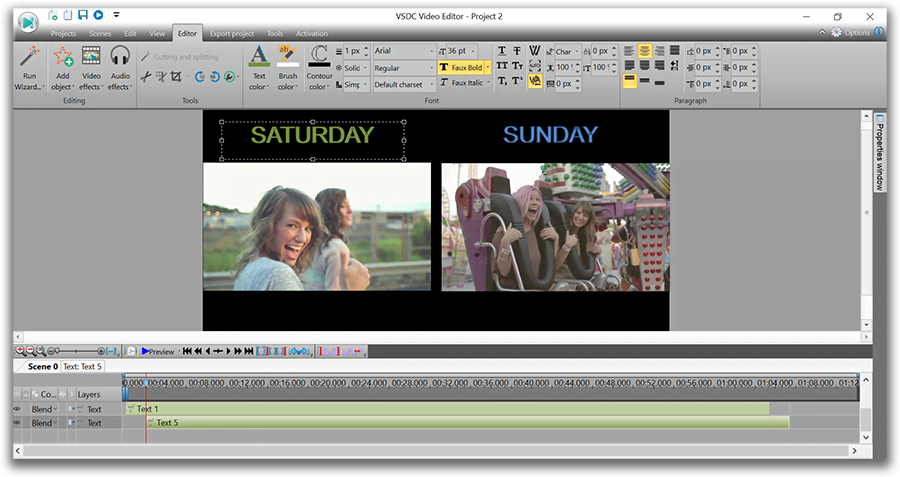 If this sounds more complicated than you expected, know that VSDC can be used for basic editing operations as well. Cutting, cropping, merging, and rotating videos; adding titles, subtitles, transitions, filters and video effects – all these one-click features and many more are available in this software, and even someone with zero experience will be able to take advantage of them.
There are over 200 video instructions on our YouTube channel. Here you'll find a playlist with basic video editing tips'n'tricks for beginners. Don't forget to subscribe!
Like this VSDC Video Editor review? Download the program here
What about formats?
Working with formats flawlessly is VSDC superpower.
"Unlike Lightworks, the free version of VSDC will export to a range of different formats including AVI and MPG. If you're unsure about formats, you can even tailor the output so that it works well on particular devices for playback"
Creative Bloq
In a nutshell, it will open any video file, no matter what device you used to record the footage. It is technically possible due to a built-in video converter instantly recognizing all the codecs and opening them in the editing mode. You can edit 4K videos recorded on your favorite action camera too!
At the export level you can adjust every parameter of your video, including format, codec, resolution, frame rate, width and height, and quality. You can also upload projects directly to YouTube right from VSDC interface or save them in automatically pre-configured profiles for Instagram, Twitter, and Facebook – if the plan is to publish your masterpiece on social media.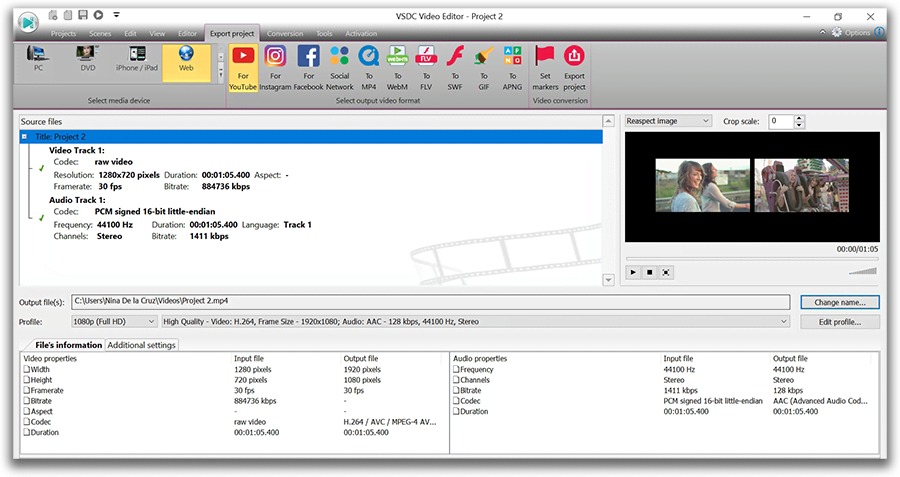 Unconvinced? Check the full list of video and audio formats supported by VSDC here.
VSDC video editor review pricing model: is it really free?
The short answer is yes.
One of the most frequent questions we receive is whether our video editor is truly free. It's not too surprising given how many companies state their software is absolutely free and then "surprise" you with a watermark, a limited feature-set, a narrow choice of export formats, or even a time-restricted trial period. Our goal is to be transparent and honest with our users. So, if you are wondering (or worrying) how we make money to sustain the development, the technical support, and the marketing teams, here is a very detailed breakdown for you.
"VSDC Free Video Editor is a simple and easy to use video editor featuring a lot of functions even a pro editor wouldn't be ashamed of"
ZDNet
Fact #1. VSDC is a really, truly, completely free piece of video editing software. There is no better way to put it. Worry not: you can benefit from all the features and export your video in any format without a watermark. If your project comes out larger than average, you'll see a pop-up window suggesting upgrading to Pro and exporting the video faster, however, if you don't want to, you can simply click on "Continue" button at the right bottom corner of the pop-up window. That's it, no surprises.
Fact #2. As you have probably figured out, we are able to support our team by offering VSDC Pro subscriptions. They are available at $19.99 and valid for a year.
How is a Pro subscription different from a free one? It activates hardware acceleration, adds up a multicolor Chroma Key tool, a masking feature, an audio waveform, a video stabilization tool, a voice over function, and few other features professional videographers may make use of. Truth be told, most of our fans are non-professional users and for them, hardware acceleration is the main incentive to upgrade to Pro. It allows for increasing export speed significantly. The impatient ones appreciate this opportunity a lot.
You can learn more about VSDC PRO here or you can drop us a line at Bu e-Posta adresi istenmeyen posta engelleyicileri tarafından korunuyor. Görüntülemek için JavaScript etkinleştirilmelidir.
Fact #3. We also accept donations! If you like VSDC and want to support your favorite video editor, you can do so by sending us a bit of love here. If you're looking for alternative ways to help the project, it will mean the world to us if you review VSDC on any of the following websites: G2Crowd, Capterra, TrustPilot, or CNET. VSDC video editor reviews help us spread the word and who knows – maybe yours will end someone's tedious search for a free video editor!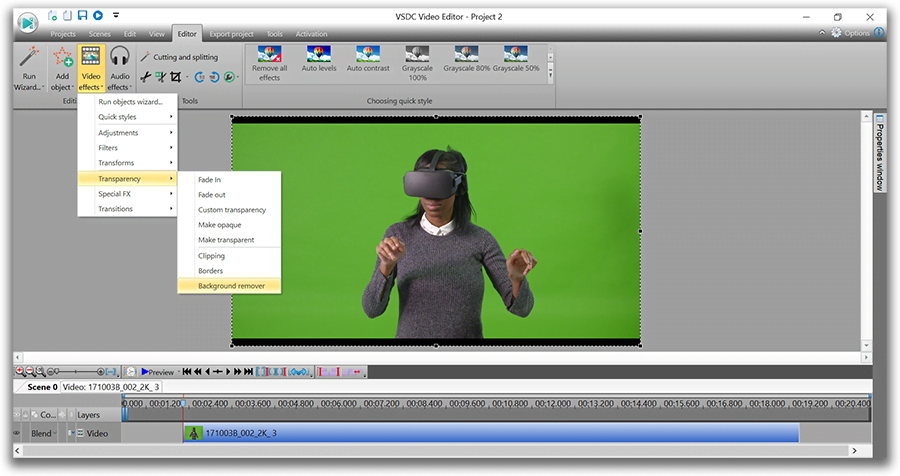 "VSDC is really easy to use. It runs really well, you don't need to have the latest and the greatest system. For someone who is a beginner up to intermediate, this will be perfect"
Justin Brown – Primal Video
VSDC system requirements
We're proud to make semi-professional level video editing affordable and available to everyone. That's why our software has very low system requirements. In fact, you won't find another non-linear video editor requiring as little as RAM 256Mb for the program and just 50 MB of free disk space. At least, we haven't!
It means that even if your favorite PC is a bit outdated, has limited amount of memory left, or runs on an old version of Windows (XP SP3 / Vista / Win7 / Win8), you can still enjoy working in VSDC. For your convenience, there are two options available - a 32-bit version of the program and a 64-bit optimized version. The latter is an optimal choice for those typically struggling with software crashes.
You can see the full list of system requirements here.
VSDC reviews by users
Our user family is the best audience we could wish for. And each time we hear from them, it fills our hearts with pure joy. There's nothing better, really, than knowing our solution has helped someone achieve a business goal, finish a school project, share vacation memories, create a breathtaking drone video, grow a YouTube channel, or just have a lot of fun.
Here are some beautiful messages we received in the past few months. You can find more on our Facebook page.
"VSDC is well-designed and not hard to learn. I used it to create professional-standard training videos for business web-applications. The support team is friendly, responsive and accommodating".
Pieka Grobbelaar
Finally, iMovie allows you to remove green and blue screens from your footage easily by the same old drag-n-drop movement where you just overlay the green/blue screen video on the video or image that is supposed to replace the background. Overall, there are more than 200 different effects available in this editor including the popular picture-in-picture, slow motion, fast-forward, fade transitions, zoom, freeze frames, and many others.
"I'm still as impressed with VSDC today as when I first tried it years ago. Every one of the videos on my channel (over 900) had been edited through use of VSDC".
Quadcopter 101, YouTuber and drone enthusiast
"I have been using it for a couple of months and I am very impressed. Still lots to learn, it's amazing what it can do".
Russell Macpherson
"I love it! I've had big trouble finding free video editor for windows until I've found this. After using it for ½ year for youtubing and gaming videos I bought it for ca. 20$. That unlocked few futures like faster rendering and adaptive alfa background remover. They are constantly developing so once in a while there are new options. Last update was 64bit hardware enhancement for faster rendering and editing, previews update gave us 4K videos. Thanks VSDC".
Zdenek Walker
"Awesome software! I just got my kids some action cameras and the file type used is MOV. I ran into issues with other editors and converters. Go Pro Studios would not recognize the files and this editor is easier to use anyways in my opinion. This software works so good that I even went and got a cheap action camera for myself so I can start recording my kayak fishing trips. Once I start putting out YouTube videos on my fishing channel I will be sure to put out the good word on your product! The editor seems fairly simple to figure out and the converter opinions are outstanding! It's been fun learning the basics of video editing which I never thought I'd be able to do. Thank you very much for the free version! I am already telling all my friends and family about your awesome free software! As soon as I have the hang of the basics I will be purchasing the pro version for more opinions and effects"!
Derek Perez
"I am a total beginner at editing, but I understand programs quite fast. To make a simple video was no big deal, also the tools like audio capture and screen capture are nice to have and you do not need extra programs for it. As it goes for the free solution it is just great.
I also think the company philosophy for providing a free edition is great in this point".
Benjamin Georg Berg
"I love VSDC. I've tried a lot of free video programs, but this is my favourite and I've been using it for a long time. Great job, guys"!
Andra Ariadna
VSDC reviews in media
Over the past few years VSDC has been reviewed and evaluated by many industry experts as well. Our video editor has even become an official recommendation of GoPro team for Windows users! Below you'll find mentions that we think may help you get a better picture of how VSDC stands out among similar solutions.
"VSDC is one of the best free video editor options for Windows users. Free video editing software is hard to find, but VSDC fits the bill for most users who are looking to edit GoPro videos, YouTube videos, family movies, you name it"!
VidProMom, YouTuber and GoPro Enthusiast
"VSDC supports a multitude of file-input and -output formats, and even the new H.265 codec that Adobe Premiere Elements has eschewed thus far".
Tom's Guide
"VSDC Free Video Editor has many features one level up in comparison with many free and affordable non-linear video editors. I think it's well worth trying".
FSToppers
"VSDC Free Video Editor is a feature-packed non-linear video editing suite that can compete with even expensive editing software".
TechRadar
"VSDC has a lot of features you won't find in other free video editors, like picture-in-picture, video stabilization, and the ability to upload multiple YouTube videos at once. If you can deal with its quirks, it's one of the most powerful options available".
PCWorld
"VSDC Free Video Editor looks and feels just like a professional video editor. If you want to experience that style of in-depth video editing, this program is an epic way to do it for free".
CNET
"VSDC has been named one of the best software to edit video from drones".
The Guardian
"The good part is that the intuitive software offers training and tutorials. So, even if you have rudimentary skills, you can learn to use the VSDC quickly and make polished videos".
The Windows Club
"In experienced hands, the VSDC Free Video Editor сan produce some seriously professional-looking video. And unlike WeVideo, VSDC is truly free. You can use the program's full feature set without having to deal with pesky watermarks".
HubSpot
"Not only does VSDC Free Video Editor offer powerful video editing capabilities, it is also surprisingly easy to use. Forget video conversion back and forth between different formats - the program fluently reads all of them".
TuCows
"This appropriately titled editor is another solid choice for people who want a semi-professional option without having to pay a professional price tag".
MakeUseOf
"VSDC Free Video Editor is a surprisingly powerful, if unconventional video editor".
PC Advisor