The Best Online Video Editors in 2023: Benefits and Drawbacks
In today's digital landscape, the popularity of video content is gaining momentum, with users increasingly turning to video creation both for personal advantage and professionally. When searching for a convenient video editor, many users are leaning towards free online video editors. These editors not only allow seamless real-time media file editing but also, unlike their desktop counterparts, do not burden your PC's internal resources and are available on almost any device.
Are There Any Pitfalls to Online Video Editors?
Our team has tested top-3 online video editors, checked the conditions for data transmission and storage, and is eager to share our insights with you.
Clipchamp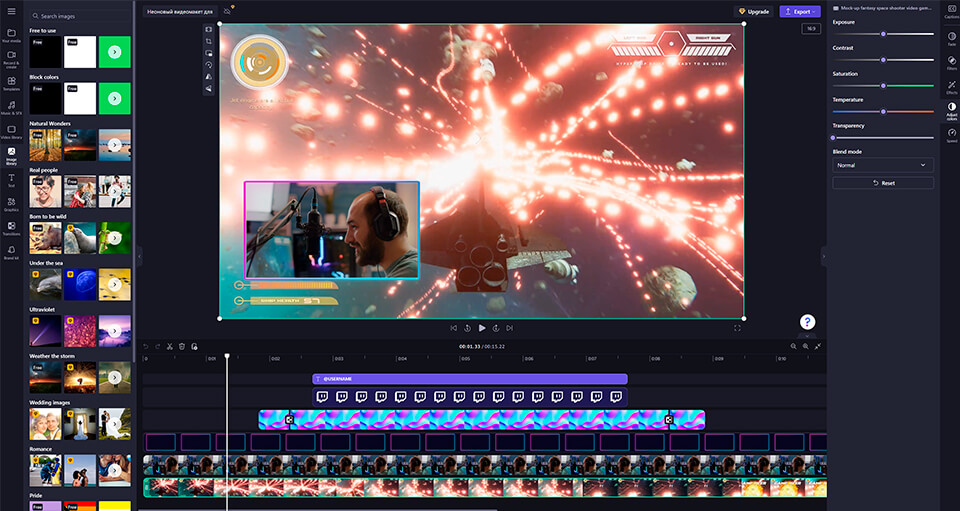 Clipchamp is a web-platform that allows users to create and edit videos without any prior editing experience. Thanks to a wide range of ready-made templates tailored for social media, Clipchamp excels in creating gaming content and advertising. This online editor is suitable for both professionals and beginners seeking a simple and convenient video editing tool.
Clipchamp's basic editing tools are conveniently located next to the scene: cropping video frames, adjusting their size to fit the scene's parameters, splitting images into segments, or rotating can all be done with a single click. You can select the scene size from the list, but the scene parameters are set basing on the uploaded video by default.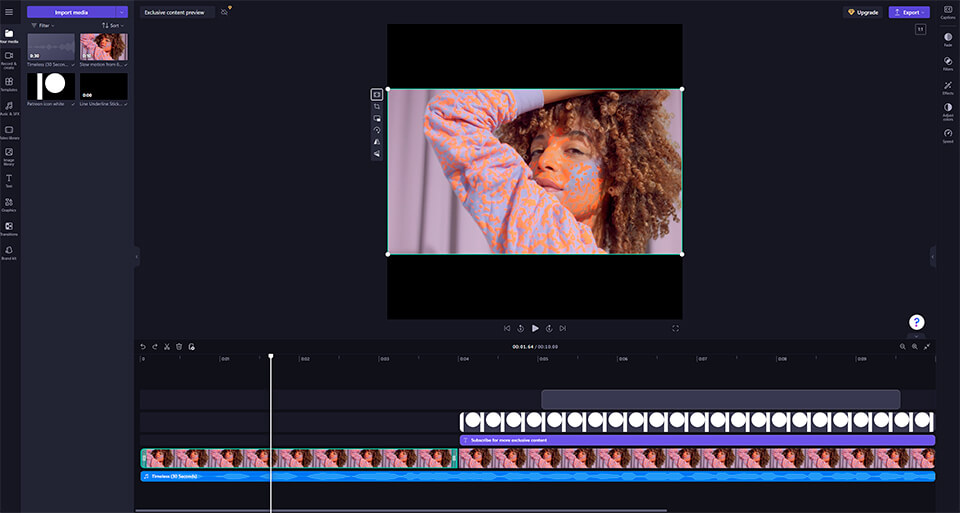 Furthermore, Clipchamp boasts an impressive set of tools for basic color correction, including exposure, contrast, saturation, and temperature adjustments. The program provides transparency and blending modes options, offering a wide selection of animated templates, fonts, stock videos, and audio files. By creating transitions between frames and adding custom logos you can make a professional video at the touch of a button.
All templates are ready for use: whether you need a dynamic intro, smooth transition, or a simple fade, click on the desired template and add it to the timeline for further editing. However, as it is often the case, the most attractive options are marked with a premium icon and require payment.
With Clipchamp, you can use an intensity scale of effects, change colors, transparency, and the timing of appearance in the frame. This approach to video editing shares many similarities with Canva's method of operation. However, if you are faced with more complex editing tasks, such as object tracking, background editing, video stabilization, or professional precision color correction, it's better to turn to a desktop video editor.
VSDC provides access to professional tools and advanced visual effects, such as motion tracking, Multicam Editing Mode, HSL Chroma Key, Mask Tools, Overlay Effects, and other professional features that come together with hardware acceleration to ensure speedy rendering of the most complex projects.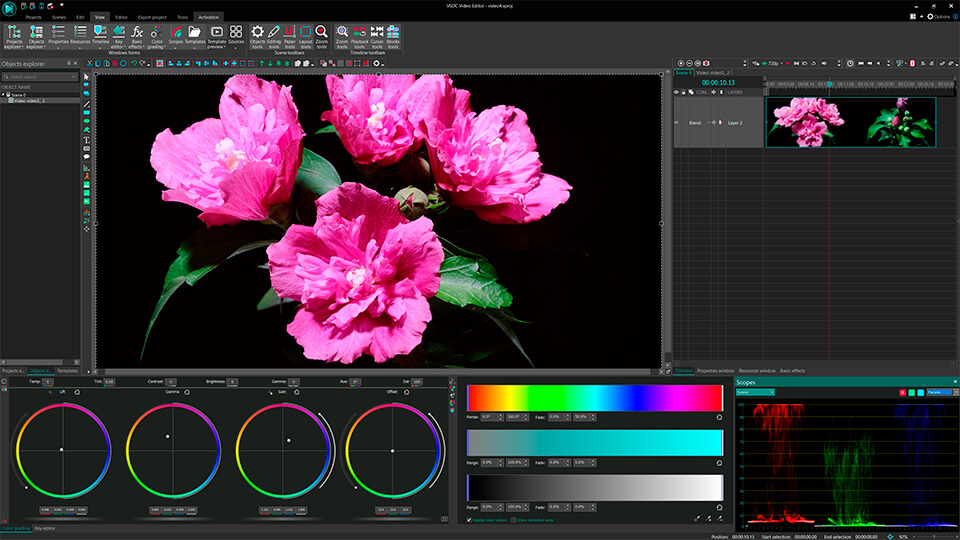 So, it's time to upload your first video. Clipchamp supports all popular formats, including MP4, MOV, WEBM, AVI, DIVX, FLV, 3GP, WMV, VOB, DCM and MKV. Not bad for an online editor, right? However, its export capabilities are much more modest since final videos are available only in MP4 format. Additionally, the editor imposes restrictions on exporting files: the cost of processing 4K video ranges from $6 to $27 per month.
Before rendering, the editor informs you that HD-videos take longer to export. Our test 10-second video took about a minute to process into a free 1080p resolution. However, rendering a 20-minute video proved to be a challenging task for Clipchamp: after initiating the export, we had waited for about an hour before the program reported connection problems. The drawback of online video editors is that they depend on internet traffic, and any connection issues can result in a gray screen and a halt to the export process.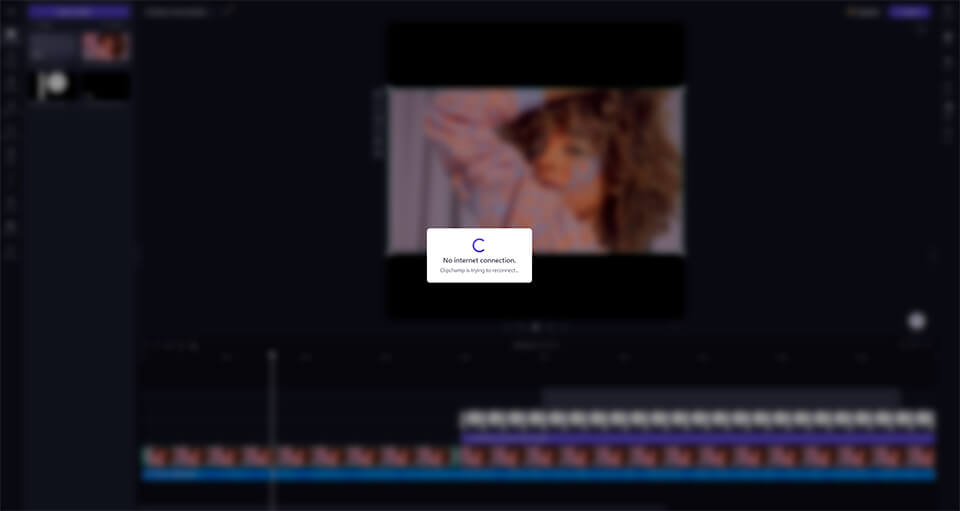 Now, let's talk about security. Clipchamp claims to function like a desktop application and therefore guarantees the complete safety of users' personal data. However, there is one thing: creating backups in Clipchamp is not possible without transferring your media files. So, what should you do?
If your project is lightweight and doesn't involve complex editing techniques, you can take a chance and skip making a backup until exporting. But if you're working on complex projects, it's important not to neglect regular saving. Here, users face a choice whether to save the project and transfer the media files to the video editor's cloud storage or risk data loss in case of technical issues without saving.
If information security is of paramount importance to you, we recommend opting for desktop video editors that do not rely on cloud services, thereby eliminating the risk of data leaks.
Use Clipchamp
Kapwing

Kapwing is another popular online platform for video editing. The interface logic is pleasingly straightforward: basic video editing tools are located to the right of the scene, while additional features such as text, graphics, templates, transitions between frames, plugins, and more are on the left.
However, despite several advantages, our hopes for Kapwing were dashed when we attempted to import a WMV video, and the online video editor immediately displayed a loading error.

Next, we tried to import something less common than the popular MP4 format, and it turned out that Kapwing uses a built-in converter for importing non-standard formats. Initially, the program attempts to unpack the original format and displays a compatibility error, but on the second attempt, Kapwing takes matters into its own hands, initiates automatic conversion, and reads almost everything. Of course, unpacking and online conversion take time, especially when dealing with heavy videos.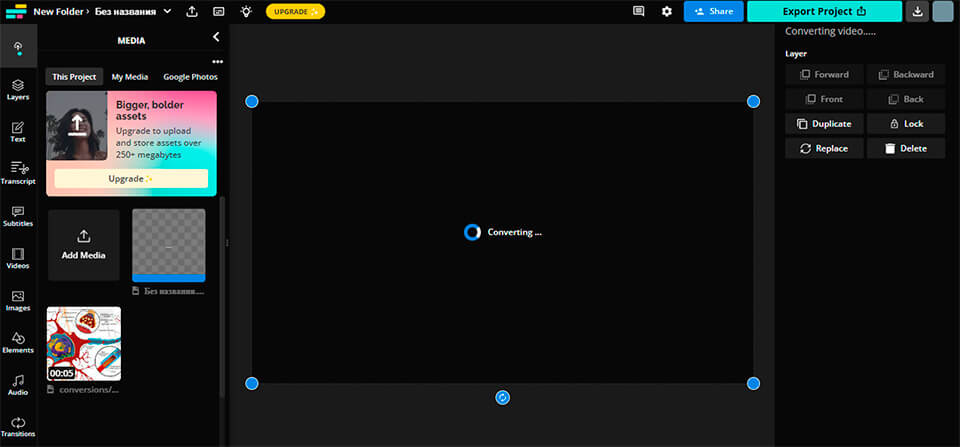 Kapwing's advantage lies in its ease of editing: basic editing functions like trimming, cropping, zooming, rotation, and speed adjustment are right in front of your eyes and are applied intuitively. The editor can speed up or slow down videos, but its speed adjustment options are limited, ranging from slowing down to 0.25 to a maximum of 4x acceleration of the original video.
If you need to significantly slow down a video (keeping in mind the frame rate!) or speed it up to the maximum, a desktop video editor will handle this task much more efficiently. Some video editors allow users to increase the speed of the original video up to 20 times or slow it down to 0.1% for optimal slow-motion effects. The VSDC video editor, for example, enables the creation of time-lapses, which require acceleration of 7 times or more, and allows for any speed adjustments to create slow-motion effects.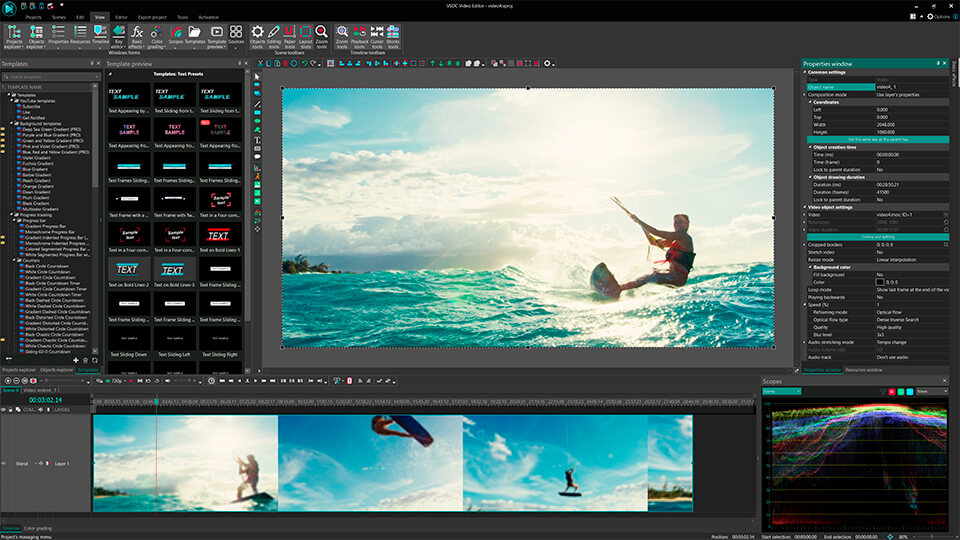 The free version of Kapwing includes a wide range of basic editing functions, but a variety of premium features, such as exporting in high resolution and access to additional editing tools, require a paid subscription. Interestingly, during the export stage, the program employs a clever visual trick: the user selects the format, resolution, and compression available in the free version of the program, but the export button remains hidden. Instead of the promised free rendering, the user is encouraged to purchase a paid subscription. However, if you choose the conditions for free export, you simply need to scroll down the page, and you will find the hidden "Export" button.
Use Kapwing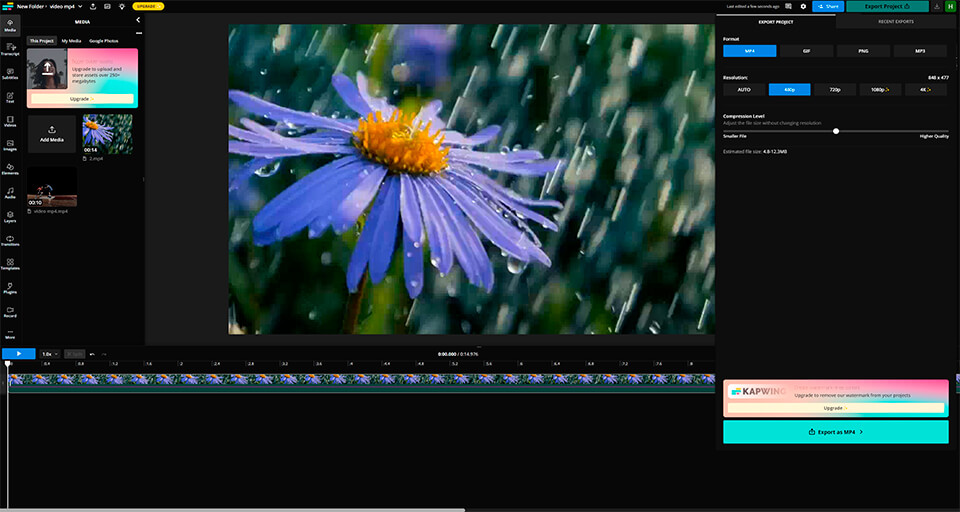 Even with free export, your video will still contain a watermark in the lower right corner. The only way to get rid of it is to upgrade to a paid plan. Watermarks are a common marketing tool in free versions of products. It's obvious that such a mark won't enhance a professional video unless it's part of a marketing strategy. On the other hand, some free video editors for PC export videos without watermarks in the highest quality.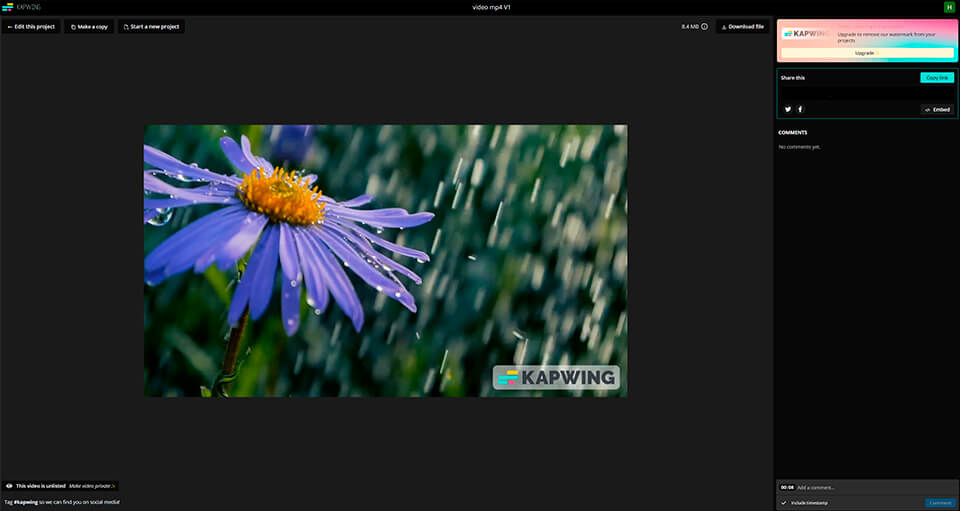 Kapwing adheres to a fair data security policy. The company openly acknowledges that it may use third-party resources to ensure the program's seamless operation. The Security section on the official website of the video editor states, "No method of transmission over the Internet or method of electronic storage is 100% secure, and we cannot guarantee absolute security."
This is why many users prefer desktop video editors. Although online video editing programs are gaining ground with their increased basic editing and color correction features, as well as ready-made visual templates, the issue of data security and confidentiality remains crucial for many users.
Veed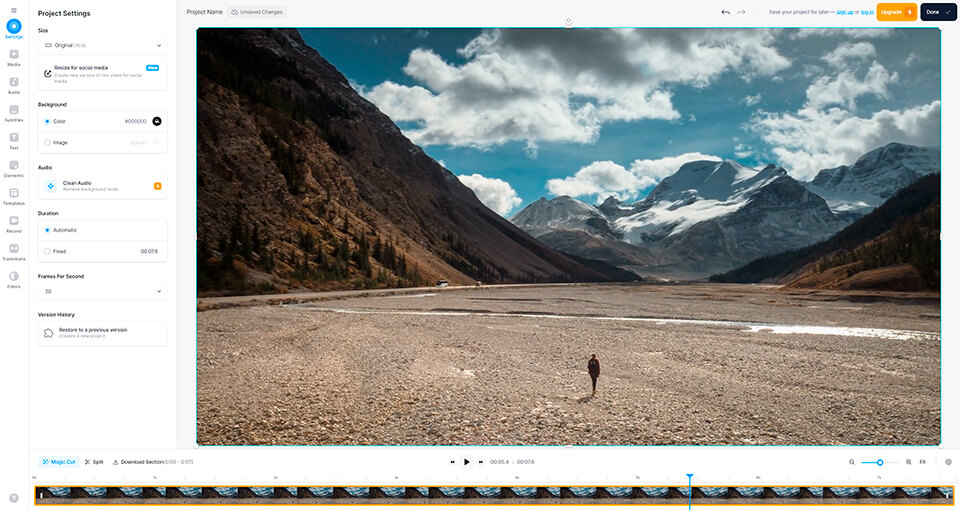 Veed is a popular online video editor with professional editing features. Veed offers a simple, user-friendly interface, so getting started with the program is usually not difficult.
Compared to Kapwing, Veed offers a wider selection of free features. The color correction toolset includes basic tools: brightness, contrast, tone and saturation. In addition to basic color correction, Veed provides a set of ready-to-use filters. The combination of basic and professional tools gives users more freedom in editing the image, from subtle color correction to bolder visual effects.
Veed allows for free video exports in resolutions up to 780p, but to export videos in HD quality, users must subscribe on a monthly basis, with prices ranging from $18 to $70. Otherwise, each video will contain a watermark.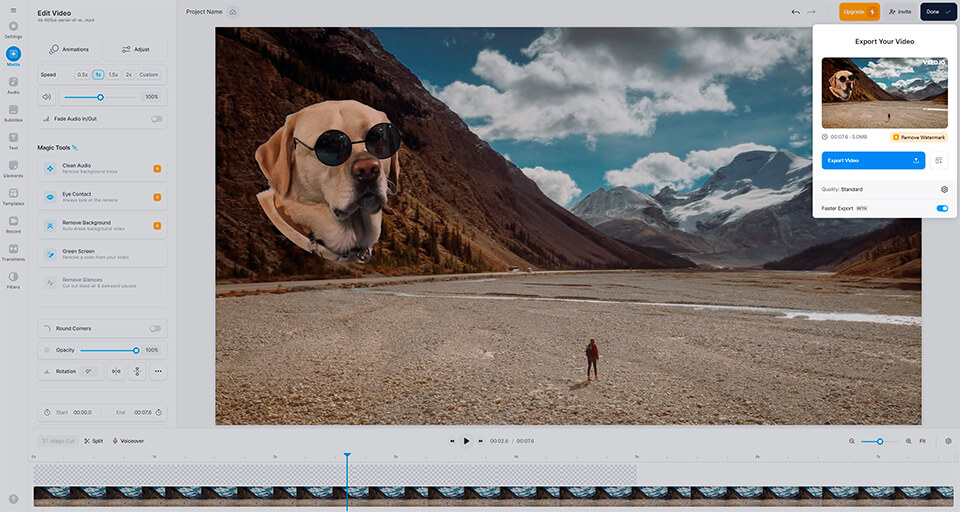 Veed operates with cloud data storage. While cloud-based services are convenient and accessible, concerns about data security and confidentiality do arise. In contrast to cloud services, desktop video editors once again provide more reliable control over data storage and security since they are not dependent on cloud servers.
Use Veed
To summarize, let's consider the benefits of desktop video editors over online video editors using VSDC as an example:
Wide Range of Basic Features: VSDC is a powerful tool with an extensive set of capabilities. Thanks to its non-linear program structure, you can add an unlimited number of media files to the timeline, change their position, and highlight key elements. The array of video effects, transitions, and color filters help to achieve the desired aesthetic even for beginners.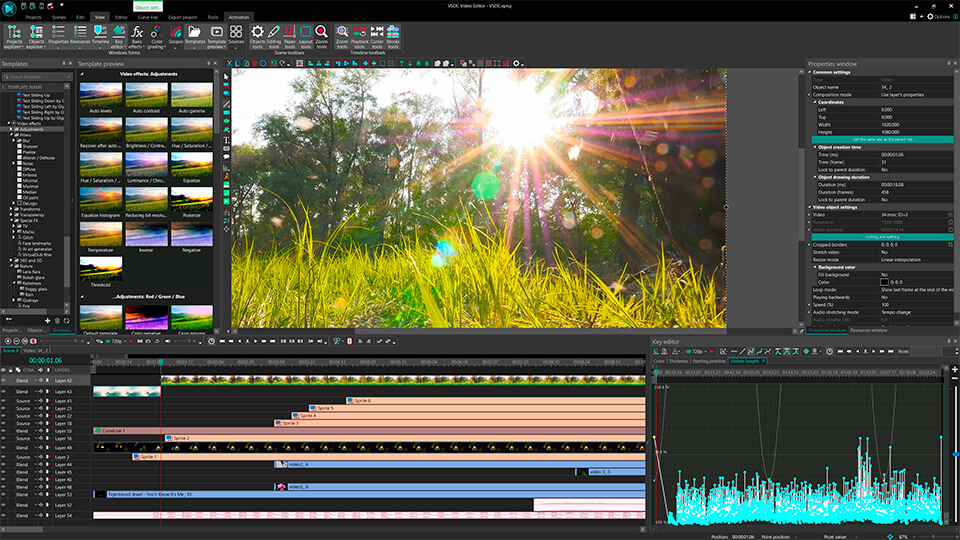 Broad Set of Professional Tools: With VSDC, you can manually adjust colors using color wheels and RGB curves, apply overlay effects, and use filters. The built-in LUT mode allows you to apply ready-made presets or create your own ones, making your projects even more professional and visually appealing.
Convenience: VSDC offers users high-quality editing and exporting options in the maximum possible resolution without watermarks or disruptions related to Internet connection. This is why professionals trust VSDC on desktops for their work.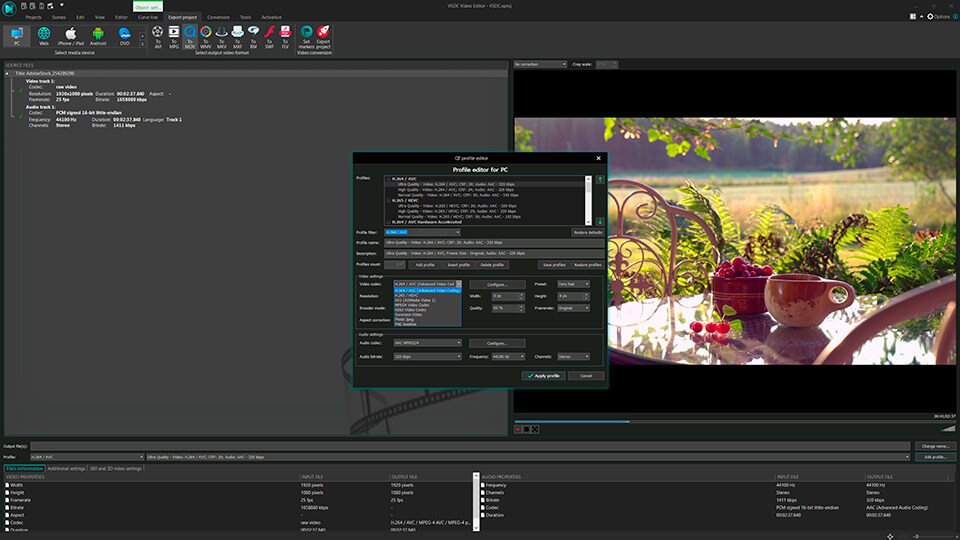 Security: VSDC, like any other desktop editor, is not reliant on cloud servers and doesn't rely on third-party resources for seamless operation. This ensures the safety and confidentiality of your projects.
Online video editors are simple and user-friendly tools for video editing that don't require additional plugins or a powerful PC and can be used efficiently in any web browser. However, the limited set of working tools, the prevalence of paid features, and data confidentiality concerns often make desktop video editors a preferred choice. Regardless, when choosing a video editor, it's essential to consider the user's needs, skill level, and PC performance.