VSDC 6.4: Storyboard mode and the Glitch effect are video makers' best friends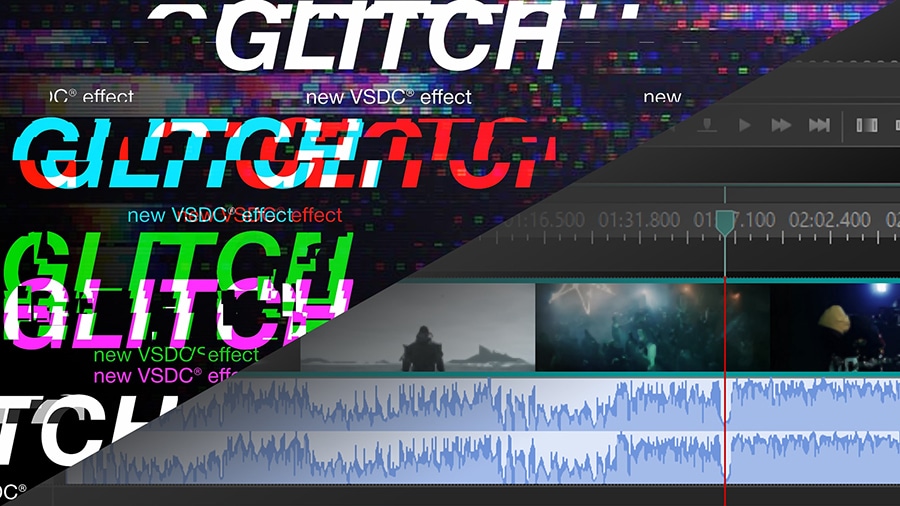 The new VSDC release brings interface enhancements along with expanded feature-set. By popular demand, the editor now includes a storyboard mode and the Glitch effect at users' disposal.
Storyboard mode brings ultra-precise cutting and splitting
As the next step in the series of timeline updates, a storyboard mode has been implemented to provide more precision during cutting and splitting.
From now on, any video file will be processed in the storyboard mode by default. As the name suggests, the new feature creates a convenient way of viewing files as a story with every frame being easily seen and reachable for selection. The new mode allows for zooming the story in and out based on user needs. If you prefer the conventional timeline, you can always switch back to it in the Options section.
Glitch effect helps create trendy videos in a click
The Video Effects menu has received the highly-demanded customizable Glitch effect.
For the past few months, the VSDC team has been working hard to show that cinematic video effects can be recreated for free with a bit of time and effort. And as most users already know, the most popular effects and transitions traditionally end up being added to the menu as ready-to-use presets. This time, the trendy Glitch effect has received the biggest number of requests and it's now available under the Video Effects selection.
The new effect is highly customizable. You can set individual parameters for the transparency, intensity, and power of the effect. Moreover, there's a handy option to find a suitable preset with the required distortion and noise levels.
And more enhancements
The long-awaited waveform update makes working with soundtracks easier by showing your work progress on the timeline.
The choice of supported formats has been expanded with the MXF format - a video container format for professional video and audio content that serves an alternative of actual videotape in a digital format.
The Blending modes menu now optimizes the usage of PC memory and provides more precise results.
Video capture and screen recorder have been significantly improved to ensure better software performance.
Got any questions left? Do not hesitate to drop a line to Bu e-Posta adresi istenmeyen posta engelleyicileri tarafından korunuyor. Görüntülemek için JavaScript etkinleştirilmelidir.
To download the new version of VSDC Free Video Editor, please proceed to www.videosoftdev.com/free-video-editor.