VSDC 7.2 Takes Its Color Correction Toolset to the Next Level (Plus, Other Updates)
It has been another productive couple of months for the VSDC team, and we're thrilled to announce the release of VSDC 7.2 – the new version of our video editing suite.
Although the majority of updates fall under the color correction toolset category, VSDC 7.2 also includes several long-awaited features, such as a new visual Echo filter, advanced animation for coordinate-based effects, multichannel audio effect controls, group file editing, and more.
Let's review each part of this update in more detail.

Download VSDC Video Editor 7.2
Сolor correction toolset updates
As the number of color correction tools in the VSDC suite continued expanding earlier this year, it became apparent that we needed a single dedicated menu for all of them.
That's why the first update we'd like to introduce is a new panel, named Color grading.
Color grading panel
Color grading is a new panel housing all the essential color correction controls:
Basic color effects: Temp, Tint, Contrast, Brightness, Gamma, Saturation, Hue
Lift, Gamma, Gain & Offset color wheels
RGB curves and sliders
HSL curves and sliders
YUV curves and sliders
Color twist settings (RGB color channel components)
Optimized version of the LUT editor
The panel is designed to help you perform a full cycle of color grading in one place, without having to switch between different effect layers and tabs. If you've been using VSDC for some time, you're probably familiar with most tools in the panel, except for the newly-added one, called Lift, Gamma & Gain.
Lift, Gamma & Gain
The Lift, Gamma, Gain (and Offset) wheels will help you apply professional-level color correction on videos and images. Lift allows you to correct dark tones in the video (shadows); Gamma allows you to correct midtones; Gain allows you to correct light tones, and Offset allows you to work with the entire image.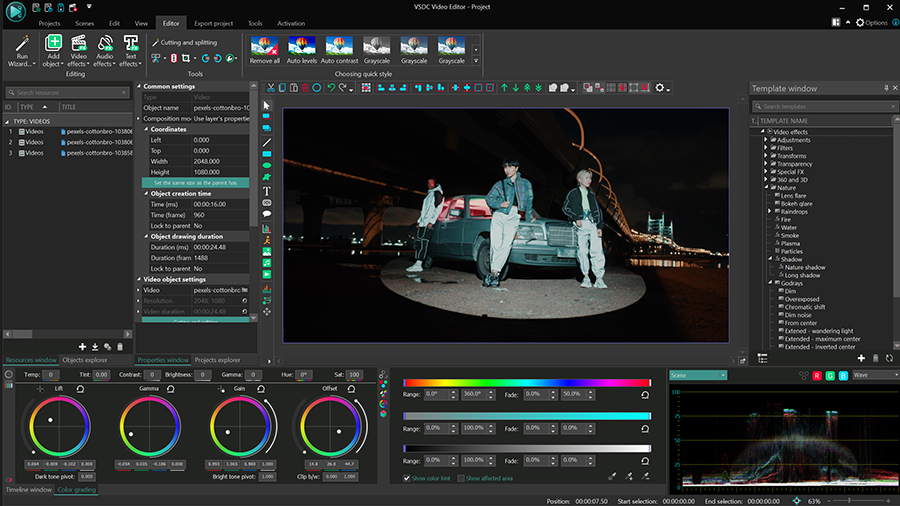 We suggest that you check our dedicated guide to working with the Lift, Gamma, Gain color wheels if you'd like to learn more about them.
Color grading effect
Finally, the new Color grading effect has been added to the Adjustments group of the Video effects menu. Essentially, this effect includes the same toolset as the new Color grading panel, however, since you'll be able to add it to the timeline, it's possible to control the starting and end point of the effect, its duration, as well as intensity.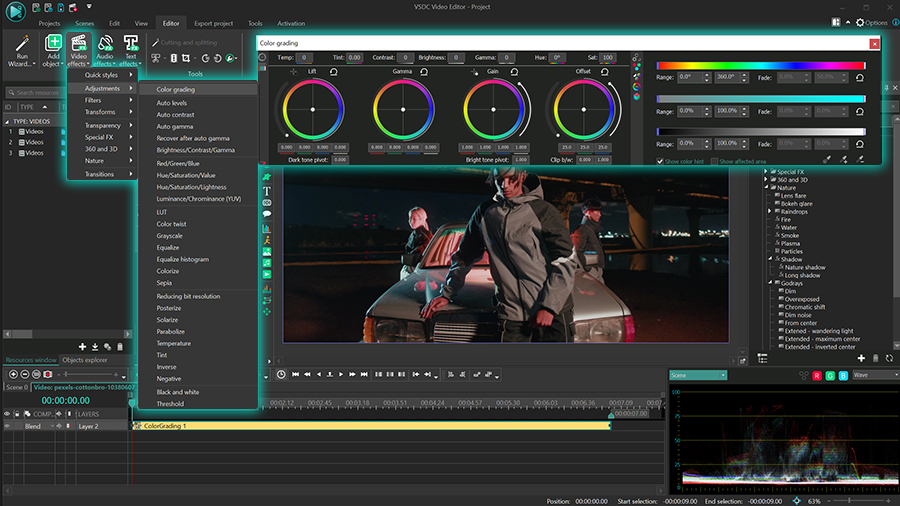 Echo filter in sprite properties
Sprite properties have received a new option, called Echo filter. The Echo filter allows for making a beautiful visual echo effect by overlaying dimmed copies of past frames on the current one. Depending on the settings, you can achieve a long exposure look or a smearing effect.
The Echo filter becomes available only at the sprite level: to apply it, you need to convert a video into a sprite (Ctrl + P) and deactivate the "Use as container" option. Once applied, the filter allows for using the dynamic parameter change, so the effect can be increased or decreased over time.
Tracking animation for coordinate-based effects
Coordinate-based effects, such as Lens flare, Bokeh glare, and God rays, have received a point movement tracking feature. This means that you'll be able to manually create a movement trajectory for the effect to follow.
Moreover, you'll be able to bind other dynamic effects to the tracking point movement and create unique animations, perfect for video ads and intros. Below is an example of how it works with text effects. Notice how the text animation is perfectly synchronized with the movement of the Lens flare:
Multi-channel audio effect strength controls
The next update will bring joy to those who often work on music videos and take a precise approach to sound editing.
Audio effect settings now allow for adjusting strength for the right and left audio channels. In other words, you can control the intensity of audio effects for each channel and create a project with a unique sound.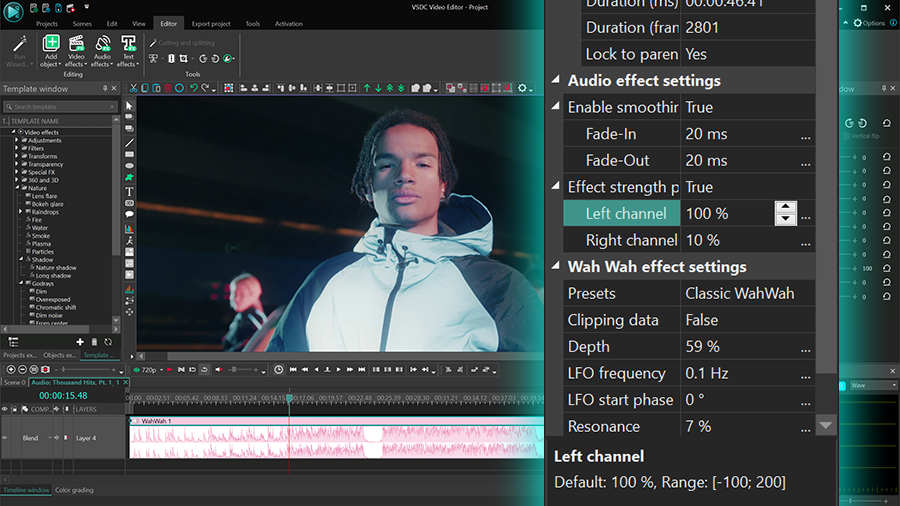 This is an essential, long-awaited feature, and its next iteration is already in the works. For example, in the future, you'll be able to also control audio effect strength for each channel over time.
Group file editing
Previously, VSDC users were able to select multiple media files on the timeline and perform the most basic actions, such as splitting, cutting, and color style application, to a group of files. Starting version 7.2, group file editing becomes more versatile.
Depending on the type of files you've selected on the timeline, VSDC allows for changing any parameters that are common for this group. For example, if you've selected several video files, you'll be able to crop their borders or apply the same speed and audio settings. To make the feature more intuitive, non-common parameters that can't be changed for the entire group will be highlighted in green: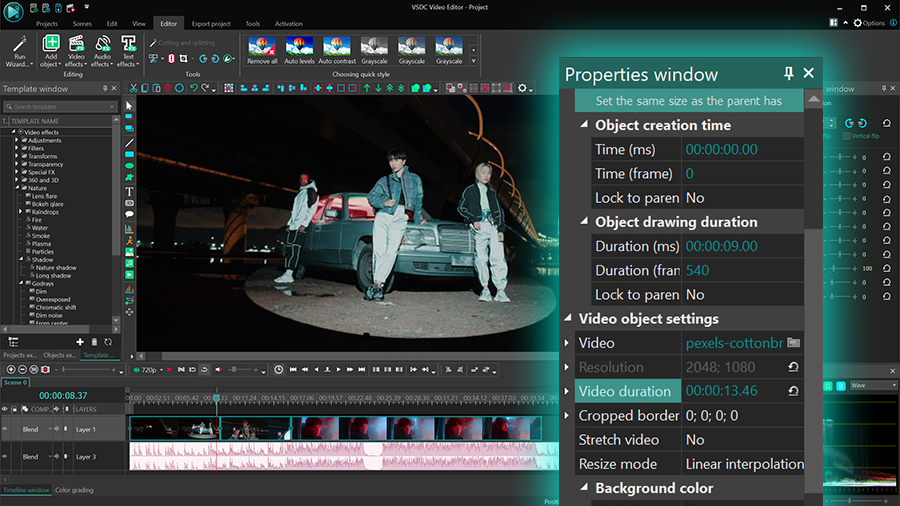 The more files of different types you add to the group, the fewer common parameters they will have. For example, if you select multiple video, audio, and image files as a group, the only common parameters will be Object creation and Object duration settings.
Hardware acceleration mode for transition effects
To decrease processing times, we've added an option to activate hardware acceleration mode to all transition effects, as well as the Noise filter and Clipping mask effect.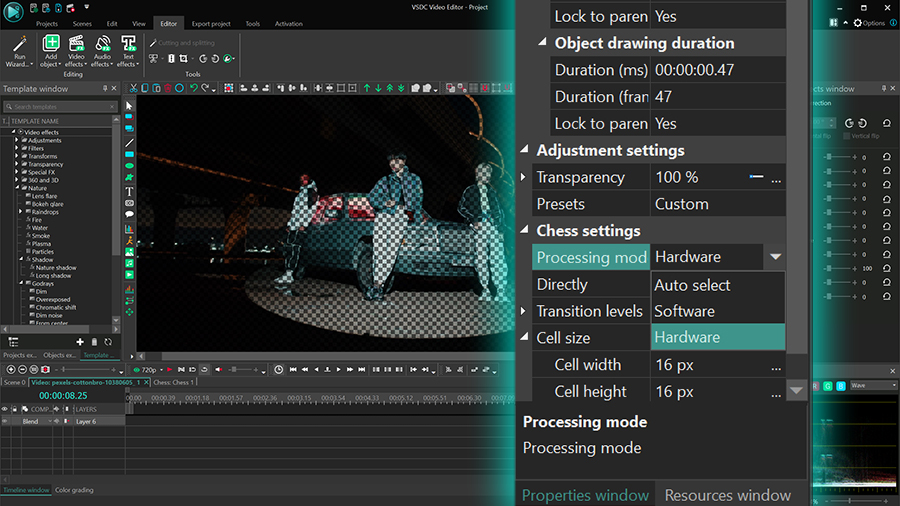 Switching between processing modes is optional. Thus, users of the free version can activate the hardware mode to speed up preview processing times, and the users of the Pro version can take full advantage of hardware acceleration at the export level as well.
VSDC 7.2 is already out
Now that we've hopefully piqued your interest, it's time to download the new version and test it for yourself. VSDC 7.2 is already available on our official website, and we can't wait to hear what you think about it.
Got any questions? Message us on Meta or email us at This email address is being protected from spambots. You need JavaScript enabled to view it..
Make sure to subscribe to our YouTube channel to get notified about updates!

DOWNLOAD VSDC 7.2